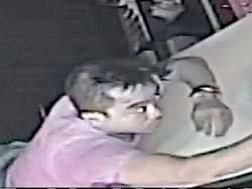 Toronto police are on the lookout for a suspect, following a break and enter at a Malvern Town Centre jewellery store.
Police say a man entered the mall at 9 a.m. on July 28 before retailers had opened for business. He then allegedly gained entry to the jewellery store before making off with jewellery.
The man is described as 20 to 30 years of age, 5 ft, 3 in. to 5 ft, 8 in. 145 to 150 lbs., with short black hair, and a very large tattoo on his left upper arm. He was wearing a red baseball hat with a Detroit Red Wings logo on the front, a red-and-white T-shirt, long black shorts, black shoes, and was carrying a black backpack.
Anyone with information is asked to contact police at (416) 808-4206, Crime Stoppers anonymously at (416) 222-TIPS (8477), online at www.222tips.com, text TOR and your message to CRIMES (274637), or Leave A Tip on Facebook.