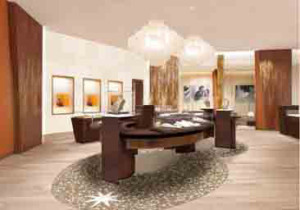 Italian jeweller Bulgari has opened its first boutique in Canada at Toronto's Yorkdale Mall.
Crystal chandeliers by Vistosi and a counter in the shape of an infinity symbol will greet clients as they enter the 167-m2 (1800 sf) store, which incorporates Mediterranean marble and stone, as well as many of the brand's signature architectural elements. The exterior façade features oversized windows and soaring columns of richly coloured Gris Pulpis marble and Trani Chiaro stone.
The boutique will carry the brand's full portfolio of products, including jewellery, accessories, watches, and fragrances.
The store's opening marks a milestone for the 130-year-old brand, said Jean-Christophe Babin, the company's chief executive officer (CEO).
"Bulgari represents the ultimate in craftsmanship, creativity, and innovation," he said. "We are thrilled to open this store and to bring [its Italian roots and spirit of excellence] to Canada in a manner that perfectly represents the modern Bulgari brand, while still paying tribute to our rich Roman heritage."
One of the brand's key design elements, the Condotti eight-point star, is situated at the store's entrance, a reference to the original flooring inside the historic Bulgari via Condotti store in Rome. The iconic star is a unifying symbol found in all Bulgari boutiques around the world.
The store also includes bridal, male, accessories, and VIP areas, where pieces can be viewed in privacy.