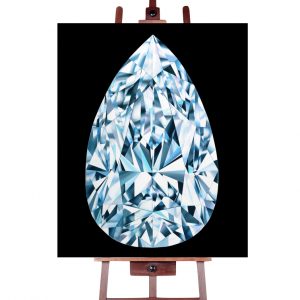 A taste of Canadian talent will be among the offerings at the Jewelers for Children (JFC) Facets of Hope event in Las Vegas. Scheduled for June 3 at Mandalay Bay Resort & Casino, the event will begin with a cocktail reception at 6 p.m. and will feature an auction raising funds for children affected by illness, abuse, or neglect.
Toronto jewellery designer Reena Ahluwalia has donated an original art piece to the auction, as well as several limited-edition prints. Titled 'The Portrait of Perfection,' the painting is inspired by Ahluwalia's work as a jeweller and features a realistic, highly magnified image of a diamond.
"My deepest desire is to create art that can tangibly contribute, touch people's lives positively, and spread joy. I believe the biggest impact one can make is on those around you, so being able to give back means the world to me," Ahluwalia told Jewellery Business. "JFC benefits children in need in a variety of ways, such as by granting wishes, offering foster care support, and in some cases providing for a bone marrow transplant unit or treatment for deadly cancers."
The painting will be displayed during the cocktail reception at the beginning of the event. See the video above for a closer look at its creation.
~By Carly Midgley