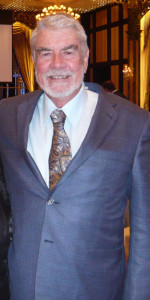 Campbell Bridges, director of the International Colored Gemstone Association (ICA), has been murdered in Kenya in a dispute over mining rights.
 
International news agencies are reporting the world-famous gemmologist was killed by a mob of about 20 people armed with clubs, spears, and machetes in the Taita Taveta District in Tsavo National Park.
Local authorities say the 71-year-old was stabbed to death after stepping out of his pick-up truck to remove a log on the road as he drove to his camp. Bridges' son, Bruce, was with his father at the time and sustained serious, but non-life threatening injuries. It is believed he accompanied Bridges' body back to Nairobi.
According to a Telegraph report, Kenyan police arrested six men in connection with the murder over the weekend.
Susie Kennedy, ICA ambassador to Kenya, and other ICA members are in Kenya and sending reports to the association's headquarters in New York.
"The ICA family around the world is reeling from the shock of the tragic death of Campbell Bridges, who was an industry icon," ICA executive director Barbara Wheat told Jewellery Business. "Respected as a geologist and admired for his contributions to the gemstone industry, Campbell was also well loved by everyone who knew him. In May this year, he was presented with an ICA lifetime achievement award for his notable dedication and contributions to the gemstone industry. This is a tragedy for his family and a huge loss to the gemstone world."
Bridges, of Tsavorite USA, Inc., is credited with discovering tsavorite in 1961 in Zimbabwe after exploring a range of hills near his camp that indicated the formation of gemstone or other minerals. He stumbled on an outcrop containing green crystals after outmanoeuvring a charging buffalo.
Tsavorite USA has an office in Kenya run by Bruce. Bridges and his wife, Judy, spent most of their time at their home in African nation. He is also survived by his daughter, Laura.