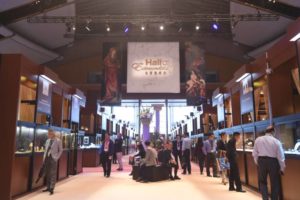 Two major jewellery shows organized by the Hong Kong Trade Development Council (HKTDC) will open in early 2019. The sixth Hong Kong International Diamond, Gem and Pearl Show, which features loose stones and raw materials for jewellery, will run from February 26 to March 2 at AsiaWorld-Expo, while the 36th Hong Kong International Jewellery Show, which focuses on finished jewellery, will take place from February 28 to March 4 at the Hong Kong Convention and Exhibition Centre (HKCEC). The twin shows will welcome more than 4600 exhibitors from about 50 countries and regions, forming the world's largest jewellery marketplace.
Japan as a partner country
HKTDC is collaborating with the Japan Pearl Exporters' Association (JPEA) and Japan Pearl Promotion Society to invite Japan to be this year's partner country for the first time. Group pavilions at the shows will gather about 130 Japanese pearl and jewellery exporters. A wide range of activities, including jewellery parades, press and networking events, and a seminar on market trends, will be organized.
The two shows also continue to attract industry organizations and associations from across the world. Pavilions include Colombia's Emerald Exporters Association (Acodes), Antwerp World Diamond Centre (AWDC), International Coloured Gemstone Association (ICA), Israel Diamond Institute (IDI), Japan Jewellery Association (JJA), New York Diamond Dealers Club (DDC), Tanzanite Foundation, and Thailand's Gem & Jewellery Export Promotion Council. The shows attracted about 87,000 buyers from 145 countries and regions in the last edition, demonstrating the events are key promotion and sourcing platforms for global industry players.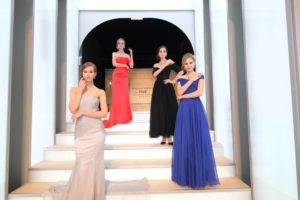 Exquisite raw materials at the Hong Kong Diamond, Gem and Pearl Show
The Diamond, Gem and Pearl Show at AsiaWorld-Expo offers raw jewellery materials, including loose diamonds, precious and semiprecious stones, and pearls. Three special zones include:
the 'Hall of Fine Diamonds,' which will gather global diamond suppliers;
'Treasures of Nature,' a zone dedicated to fine coloured gems; and
'Treasures of Ocean,' which will display quality pearls.
Debut of Amber Jewellery Zone and Avenue of Jewellery Creators
The Hong Kong International Jewellery Show at the HKCEC showcases an extensive array of fine jewellery under various themed zones. The 'Hall of Extraordinary' will display valuable and unique jewellery pieces from more than 100 jewellery companies, while the 'Hall of Fame' will spotlight renowned jewellery brands, including returning exhibitors such as Hong Kong's ELLE, Italy's Giorgio Visconti, Japan's Kuwayama, and mainland China's jewellery chain store Lao Feng Xiang.
A brand-new 'Amber Jewellery Zone' will showcase distinguished amber jewellery from Korea, Italy, Lithuania, Poland, and the United States under one roof. HKTDC is also collaborating with the Asia Pacific Creator Association for the first time to establish the 'Avenue of Jewellery Creators,' housing creative masterpieces from various jewellery creators.
'Designer Galleria' will gather numerous local and overseas designers' jewellery brands, such as those by Hong Kong jewellery designers J.P.Cam, Lisa Lee, and Michael Wong, as well as Ammie Kang and Wang Yue Yaw from Taiwan.
Other enthralling theme zones include:
the 'World of Glamour,' showcasing the haute craftsmanship of Hong Kong jewellers;
the 'Hall of Time,' dedicated to luxury watches and timepieces; and
'IT Solutions for Jewellery,' showing the latest technology and solutions for the jewellery industry.
The Hong Kong Jewellery & Jade Manufacturers Association (HKJJA) and Italian Exhibition Group (IEG) will also collaborate to present the 'T-GOLD+METS' pavilion, featuring international exhibitors of professional jewellery and watchmaking machinery, equipment, technology, and supplies.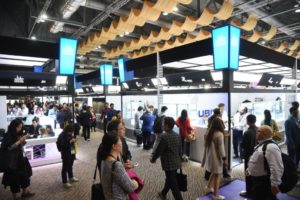 Hong Kong Jewellery Design Competition promotes local designs
To promote local craftsmanship and creativity, HKTDC has joined hands with the Hong Kong Jewellers' & Goldsmiths' Association (HKJGA), HKJJA, and the Diamond Federation of Hong Kong (DFHK) to organize the 20th Hong Kong Jewellery Design Competition. Divided into the Open Group and the Student Group, the competition is themed 'Be Connected, Be United.'
The results will be announced at a press conference in late February. Designs of the finalists will be on display during the show period, unveiling unique local creativity to international players.
Multifaceted program facilitates business exchange
The shows deliver a well-rounded program of jewellery parades, seminars, buyer forums, and networking events that bring trending market intelligence to industry players. On the first evening of the Jewellery Show (February 28), a spectacular gala dinner under the theme 'Dionysus' will be hosted for local and overseas industry professionals to expand business networks over fine food and wine. The presentation ceremony for the biennial International Jewellery Design Excellence Award will also be held at a cocktail reception prior to the gala dinner. The award gathers the winners of various jewellery design competitions worldwide to compete for the title of 'champion of champions.'
To register for the shows, click here.