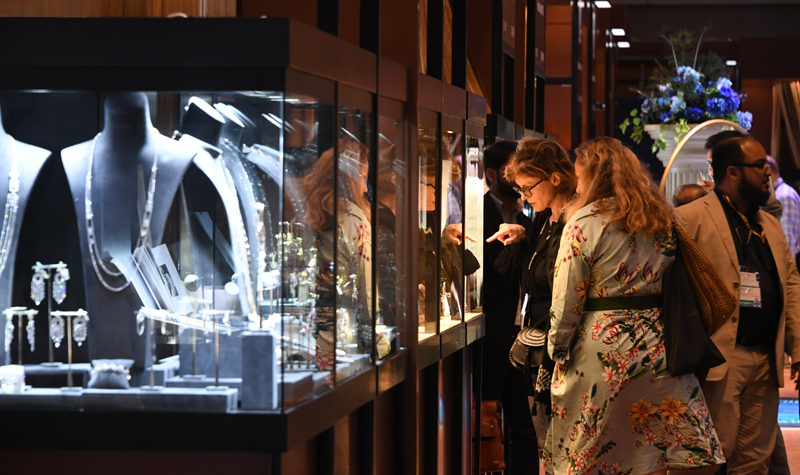 Two major jewellery shows organized by the Hong Kong Trade Development Council (HKTDC) are set to open this March in a revamped hybrid format.
Under the theme of "A Sparkling Feast Crafted in Excellence," the Hong Kong International Jewellery Show and the Hong Kong International Diamond, Gem, and Pearl Show will follow a "EXHIBITION+ hybrid" model.
The revamped model includes four key elements:
the HKTDC-organized physical fairs;
business-matching platform, Click2Match;
online-to-offline seminars (under the Intelligence Hub); and
an online sourcing platform, providing round-the-clock services to boost the flexibility and effectiveness of business promotion for small- and medium-sized enterprises (SMEs).
The twin physical shows are expected to gather more than 2000 exhibitors from around the globe, presenting jewellery and crafting materials. Group pavilions will include Japan Jewellery Association (JJA), Japan Pearl Exporters Association (JPEA), Singapore Jewellers Association (SJA), India's Gem & Jewellery Export Promotion Council (GJEPC), Istanbul Mineral and Metals Exporters' Association (IMMIB), Italian Trade Commission, and more.
The Hong Kong International Jewellery Show, which focuses on finished jewellery, will showcase fine pieces under various themed zones, including "Hall of Extraordinary," which will display valuable and unique jewellery pieces, and "Hall of Fame," which will spotlight renowned jewellery brands.
Other featured zones include, among others:
"World of Glamour"
"Hall of Jade Jewellery"
"Fine Jewellery"
"Finished Jewellery"
"Antique & Vintage Jewellery Galleria"
Meanwhile, the Diamond, Gem, and Pearl Show will specialize in jewellery raw materials, including loose diamonds, precious stones, semi-precious stones, and pearls. The show's three special zones are:
"Hall of Fine Diamond," which will gather diamond suppliers from around the world;
"Treasures of Nature," which will be dedicated to coloured gems; and
"Treasures of Ocean," which will display pearls.
The physical shows will run concurrently, March 1 to 5, at the Hong Kong Convention and Exhibition Centre (HKCEC), while online smart business matching platform, Click2Match, will operate March 1 to 12.
For more, click here.