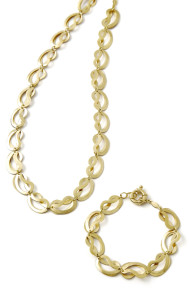 The high price of gold and a slowing U.S. economy are to blame for a less robust increase in the worldwide gold demand for jewellery.
According to the World Gold Council (WGC), global demand increased by six percent in tonnage and 16 per cent in dollars in the third quarter of 2007 due to greater demand in Asia, the Middle East, and Russia. However, the global increase is offset by declining numbers in the United States and Europe.
In its report entitled "Gold Demand Trends," the WGC says that although high- and mid-market demand remains brisk, U.S. gold jewellery demand fell by 13 per cent in the third quarter over the same time in 2006.
According to the report, the change in demand patterns is due to strong investor activity.
"It is clear that gold's safe haven and hedging characteristics have been a major attraction to investors during this period of instability, greater inflationary fears, and a falling dollar," said WGC chief executive officer's James Burton. "Looking forward, we believe investor interest will remain very strong in the near future and, as the price stabilizes, major gold jewellery-buying nations, such as India, China, and the Middle East, will quickly adapt to a higher floor in the price."
While demand in Italy and the United Kingdom is weak, India was up five percent in tonnage, Mainland China increased by 25 per cent, Saudi Arabia saw growth of 19 per cent. Turkey recorded an all-time record demand at 86.3 tonnes, while Russia saw an increase of 23 per cent.