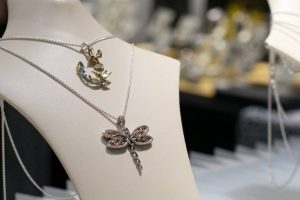 A British Columbian jewellery designer had plenty to celebrate at the recent Showcase Secaucus run by the North American Celtic Trade Association (NACTA). Vancouver-based Keith Jack Jewellery took home three prizes at the trade show, held in New Jersey this spring.
The company's Celtic-inspired pieces earned it the accolade of Best Jewellery Design, while its strong business model helped draw the title of Supplier of the Year. (In August of last year, it earned the same title from the Canadian Jewellery Group [CJG].)
For its recently launched 'Dragonfly' and 'Hummingbird' collections, Keith Jack Jewellery was also awarded Best New Product. In the words of the designer, these collections are intended to embody the themes of courage, joy, good luck, and transformation.