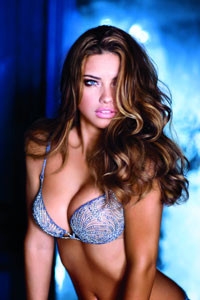 Victoria's Secret's latest 'Fantasy Bra' is a secret no longer.
 
Designed by Italian jewellery house Damiani, the $2-million diamond, sapphire, and topaz bra will be worn by Victoria's Secret Angel Adriana Lima in the Christmas Dreams and Fantasies Catalogue and at the Victoria's Secret Fashion Show, which airs Nov. 30.
This is the second time the Brazilian supermodel has been chosen to wear the bejewelled bra and Damiani's second time designing the undergarment.
Six Damiani craftsmen spent 1500 hours hand-setting more than 3000 brilliant-cut white diamonds (60 ctw), as well as light blue sapphires and oval-shaped topazes (82 ctw). The stones are set in 18-karat white gold in a swirling stars design meant to symbolize the constellations.
Last year's 'Harlequin' bra cost $3 million and featured more than 2355 hand-set white and cognac diamonds weighing 150 carats, along with a rare 16-carat heart-shaped, champagne-coloured diamond.