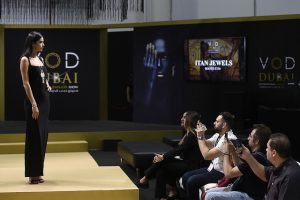 The trade- and consumer-focused VOD Dubai International Jewellery Show closed November 18 after a successful four-day run. The event drew more than 500 local and international brands, as well as trade organizations, wholesalers, chambers of commerce, manufacturers, traders, retailers, and end consumers.
Organized by DV Global Link (a joint venture between Italian Exhibition Group [IEG] S.p.A. and Dubai World Trade Centre [DWTC]), the show spread its offerings across more than 18,580 m2 (200,000 sf) of indoor exhibition space. It engaged visitors with a variety of events, from seminars forecasting the future of the industry to daily catwalk shows. It also played host to the New Jeweller Heritage Jewellery Design Competition and Awards, presented by Jawhara Jewellery Group.
Products and collections were also available to view, separated into the categories of:
Global Brands;
Fine Jewellery;
Gemstones and Diamonds; and
Packaging and Technology.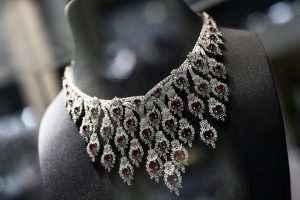 Attendees reported strong sales results, which show organizers believe resulted from VOD Dubai's scheduling (coinciding with a local high season for sales) and a promotional roadshow in which a delegation travelled to 25 cities across the Gulf Co-operation Council (GCC), the greater Middle East, Africa, and Near Asia. The event's 20,000 attending buyers and visitors hailed from these and numerous other areas, including 84 countries outside the United Arab Emirates (UAE).
"Our trade and consumer audiences have responded overwhelmingly favourably to the segmentation, timing, and associated events—three of the key elements of our launch concept," said Corrado Facco, managing director of IEG and vice chair of DV Global Link. "Part of our success must be credited to Dubai, our wonderful home. As a strategic gateway linking Europe, the Middle East, Africa, India, the Commonwealth of Independent States (CIS) countries, and Central and Southern Asia, the emirate's global standing as one of the world's major luxury goods capitals has been pivotal. We have welcomed a huge number of buyers from our key source markets, and we've seen unwavering commitment and involvement from the local community in terms of consumers and buyers."
Facco also noted the group's intent to expand the event and draw even more attendees in the coming year's edition.