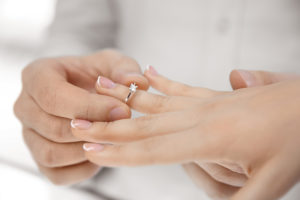 Members of the diamond industry may have reason to be optimistic as 2018 winds down.
Ernie Blom, president of the World Federation of Diamond Bourses (WFDB), says recent reports covering such factors as import and export figures indicate the diamond trade could finish the year strong.
Two major diamond-trading centres (India and Belgium) displayed improvements in the export category in October. India's exports increased by 19 per cent, while Belgium's rose by 17 per cent.
In the United States, the outlook is similarly positive. Research by U.S. industry groups points to an impending five per cent rise in holiday sales, while sales on Black Friday and Cyber Monday this year broke records.
Blom says Hong Kong is also on track for strong performance, having recovered well from the decline induced by Typhoon Mangkhut in September.
He also notes a recent survey by the Diamond Producers Association that stated more than 53 million customers in the United States were planning to buy a diamond between American Thanksgiving and Valentine's Day.
"These figures can give us great confidence as we end 2018 and approach the new year. Of course, not all the indicators are heading upwards, and the global geopolitical situation can always surprise to the downside," said Blom, "but all in all, I believe the overall situation is looking good. We can expect to see good sales results and strong restocking in the coming weeks."