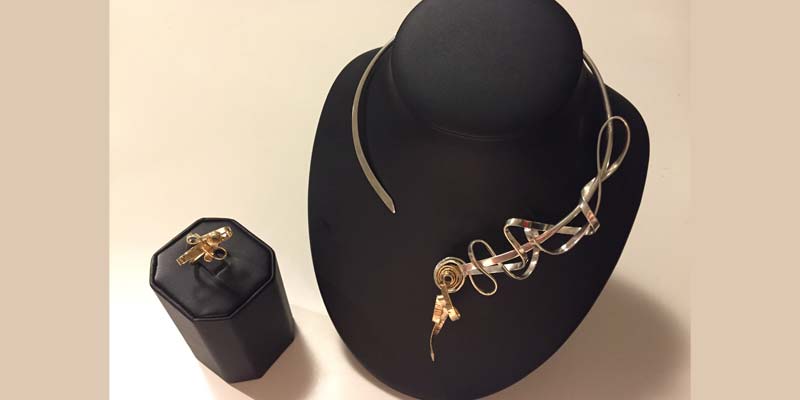 Kayla Lim, a third-year student in Toronto's George Brown College's Jewellery Arts program, has won the 2016 Vaccaro Family Scholarship. Sponsored by CJExpos and Beverly Hills Jewellers, the scholarship competition asked applicants to create a piece based on the theme, "An Evening in Paris," with an estimated retail value of $1500.
"Paris has always been a fashion city to me," Lim tells Jewellery Business. "I have my bachelor's degree in fashion design, so as soon as I saw the theme, I thought about fashion shows in Paris. I wanted to create the movement of fabric on runways."
As for designing her entry, Lim says, "My pieces required a lot of sample work, since they are made out of single pieces of wire. I played with every different way of bending, rolling, and forging wires until I found the right design and length."
Lim has received a $3000 grant in recognition of her design and plans to use the grant to prepare for her third-year grad show.
Ann McCosker at Nova Scotia College of Art and Design (NSCAD) University, Kate White at New Brunswick College of Craft and Design, Yun Ling Tseng at George Brown College, and Janice Ng at Ontario College of Arts and Design (OCAD) University all received honourable mentions in this year's competition.