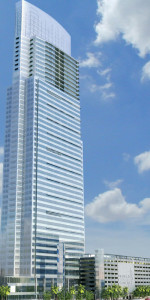 Plans for the World Jewelry Center (WJC) in Las Vegas will move forward now that Las Vegas city council has approved several agreements with the project's developer.
On Jan. 9, council voted in favour of the centre's disposition and development agreement (DDA), which sets out conditions for the purchase of the land and construction of the 50-plus storey tower. The city also set the terms for the owner participation agreement (OPA), relating to the division of property tax revenues between the developer—Probity International Corp.—and the city redevelopment agency over the next 20 years.
The city's green light means plans for what is likely to be Las Vegas' tallest building can proceed. The 102,000-m2 tower is part of a redevelopment project for what is now a barren piece of land in the city's downtown area known as Union Park.
Las Vegas mayor Oscar B. Goodman says the 2.2-hectare WJC will help diversify the local economy, which is largely based on gaming and tourism.
"This will be an important part of Union Park, along with the Lou Ruvo Brain Institute, the Smith Center for the Performing Arts, the Charlie Palmer Hotel, and the Access Medical-Kimpton Hotel projects, that together will create an exciting experience for everyone who visits or does business there," the mayor said.
The project also calls for a three-storey building adjacent to the WJC that will house retail space and a gem museum. Retailers from 20 countries are expected to set up shop there.