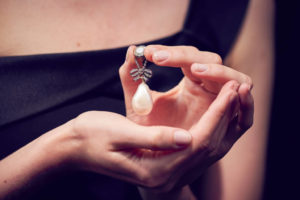 Jewels once belonging to royalty made modern-day history at a recent Sotheby's auction in Geneva. Formerly the property of the Spanish Bourbon-Parma family, the 100 pieces thoroughly exceeded presale expectations and broke price records for the sale of royal jewels. Despite a presale estimate of US$7 million, the entire collection sold for a combined total of US$53.1 million, outpacing the previous record of US$50.3 million achieved at a sale of the Duchess of Windsor's jewels in 1987.
"More than 30 years ago, I was part of the specialist team entrusted with the landmark sale of the jewels of the Duchess of Windsor—a sale that has held a legendary status ever since," said David Bennett, worldwide chair of Sotheby's international jewellery division. "Tonight a new benchmark was established in the sale of royal and noble jewels, a field in which Sotheby's has been the pioneer for many years."
Although 90 per cent of the pieces offered sold for prices beyond their estimates, jewels from the collection of Marie Antoinette were particular standouts. A natural pearl and diamond pendant from the queen's personal collection set a new auction record for a natural pearl, fetching US$36.1 million (compared to its high estimate of US$2 million).
The pendant was sold alongside nine of the French queen's other jewels, including:
a three-strand pearl necklace (selling for US$2.2 million compared to a high presale estimate of US$300,000);
a yellow diamond brooch (achieving US$2 million compared to a high estimate of US$80,000); and
a monogrammed diamond ring featuring the queen's initials and a lock of her hair (fetching US$443,786, a number 50 times its high presale estimate of US$10,000).
Altogether, the collection drew US$42.7 million, many times the initial estimate of US$1.6 to US$2.9 million.
"Tonight we saw the Marie Antoinette factor work its magic," said Daniela Mascetti, Sotheby's jewellery chair for Europe. "No other queen is more famous for her love of jewels, and her personal treasures, pearls and diamond that survived intact the tumults of history, captivated the interest of collectors around the world."
The sale attracted buyers from 43 countries, 55 per cent of whom bid online and 25 per cent of whom were new to the auction house.