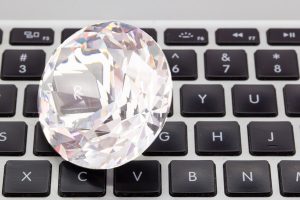 With a new memorandum of understanding (MOU), the International Diamond Exchange (IDEX) has agreed to use its online trading platform to support the diamond-backed cryptocurrency offered by startup Carats.io. The diamonds behind this digital currency (termed the 'Carat coin') are valued based on market data and audited by accounting firm Ernst & Young.
IDEX will assist Carats.io in sourcing diamonds to back the coinage, leveraging the 750,000 diamonds, 1500 suppliers, and 7000 traders on its platform. In the first stage of the agreement, up to US$120 million worth of diamonds will be acquired from companies based in areas where it is legally permissible to trade diamonds based on cryptocurrency.
"We are delighted to announce our co-operation with IDEX. Its worldwide reach, excellent international position, and exceptional strength in Antwerp will enhance our business operations," said Eli Avidar, Carats.io's president.
IDEX will provide services such as sourcing and vaulting to aid Carats.io in the diamond-buying process.
"We are pleased to be co-operating with Carats.io and to be able to take advantage, on behalf of the diamond industry, of the synergies created by our two organizations working together," said Ehud D. Cohen, chair of IDEX.