By Katinka Champion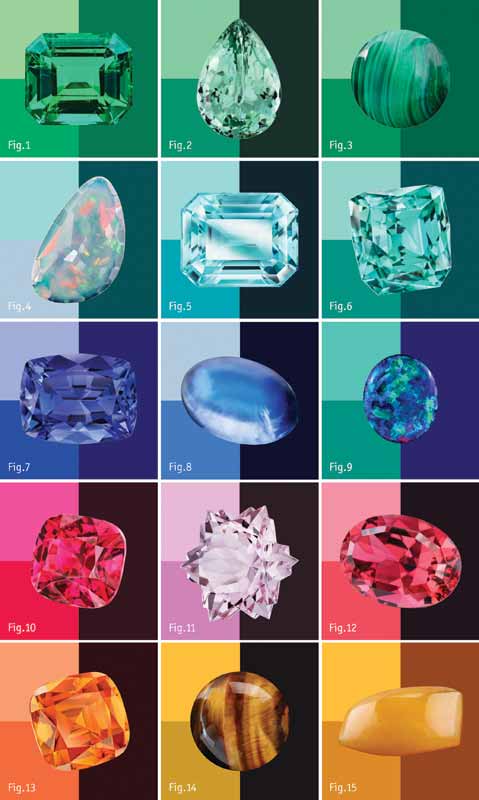 Gemmologists often ask me if colour forecasting is a science or an art—something fuelled by pure inspiration. My answer is it is a combination of in-depth research and flashes of intuition. A forecaster is constantly immersed in the world of colour; he or she lives, breathes, and dreams in colour. For the past several years, I have chosen to focus my colour vision on the world of gemstones and the jewellery into which these gems are artistically incorporated.
Color Marketing Group (CMG), an international association for colour design professionals, holds Global ChromaZone Colour Forecasting Workshops between March and September every year. At these events, professionals across all industries discuss and identify the trends and influences driving future directions in their fields.
During the 2018 workshop, held in Toronto last May, participants were asked to project what their industries' forecast colours for 2020 might be. The 2020 forecast colour palette featured in this article was created through the view of a gem industry loupe and grounded in thorough research.1
The red forecast in my 2019 palette (created in 2017) is similar in hue to Pantone's 2019 colour of the year, 'Living Coral.'2 I had seen this colour usage being promoted across industries and evolved the hue in May 2018 for incorporation into my 2020 forecast colour palette as well (Figure 1). This coral red has similar retro and positive qualities to many other colours in my forecast.
Currently, multiple trend forecasting agencies are suggesting 2019 and beyond will bring a vibrant, reimagined take on the 1970s. I believe part of the reason for this '70s nostalgia is the creative leaders at many large design houses were teenagers in the 1970s and that time holds good, vivid memories for them. The individuals who make wholesale buying decisions for many large retailers also fit into this demographic.
South African tiger's eye and malachite gemstones were in vogue in the '70s for simple beaded necklaces and bracelets. Today, these gems are once again trending and being reinvented: long necklaces and beaded bracelets with elaborate gold clasps, as well as single-bead gold rings, are being designed by some of the top jewellery houses. The light, cool blue cast of minty green found in some samples of malachite plays well into this '70s theme, as do the warm yellow tones in tiger's eye and natural amber.

Amber embodies the retro and nostalgic feel. For example, my mother wore amber beads, as did my grandmother. Now, younger consumers are wearing this gem again for its warm, fresh yellow palette and intriguing, unique organic inclusions.
Mandarin spessartite garnet has a warm orangey glow that is also part of the forecast palette. There is still a lot of beautiful material coming out of Africa from multiple sources, which helps increase this colour's prominence.
Ethiopian emeralds, a much-talked about and relatively new find from November 2016, were documented in an article by the Gemological Institute of America (GIA) in spring 2017.3 Even if this new source of emeralds comes to market slower than originally anticipated, others—like Zambian, Colombian, or Afghan emeralds—might answer the demand for this retro mint green. Additionally, natural green beryl from Nigeria, which is becoming increasingly available, could also answer the call for this hyper pastel (Figure 2).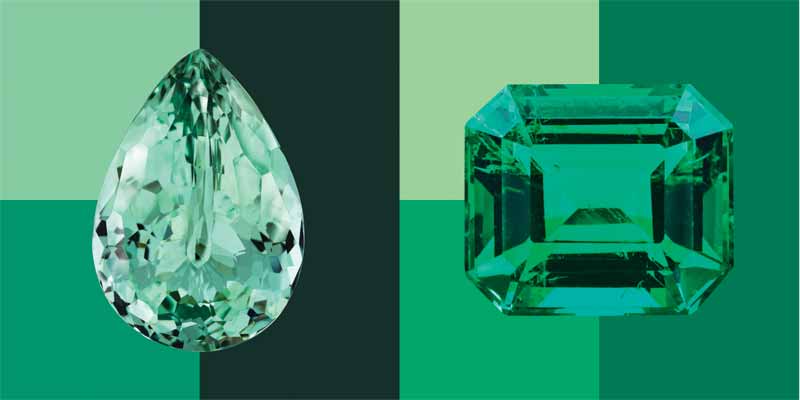 The industry is also seeing natural, unheated Nigerian aquamarine gemstones with a warm cast becoming more desired. Cutters are leaving the beryl in its natural state, as the demand for this sea foam colour is growing, most likely brought on by the exorbitant prices of the coveted Paraiba tourmaline. Tourmalines in this Caribbean ocean colour palette (which are also mined in Africa and Afghanistan) remain popular with designers and consumers alike (Figure 3).
As an example, the 'Blue Princess,' a large aquamarine rough purchased by jewellery brand IVY New York last year, was not heat treated, as aquamarine so often is. It was merely faceted into several gemstones, which possess this beautiful warm aqua glow.
Morganite, the other popular member of the beryl family, is still trending well, and with the increasing prevalence of this fuchsia pastel, it will likely continue to do so (Figure 4). The hyper fuchsia pastel palette is also well illustrated in the spodumene mineral, kunzite, which is growing in popularity due to its incredible colour and transparency. It is called an 'evening stone,' as it can unfortunately fade when exposed to direct sunlight due to the heat and intense light.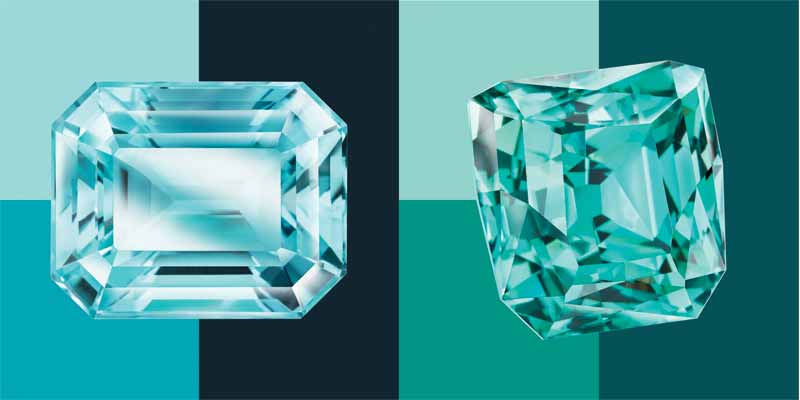 To get first-hand feedback on gemstone trends from the Tucson gem and mineral shows, I interviewed Katherine Dunnell, mineralogy and geology technician at the Royal Ontario Museum (ROM) in Toronto, as she attended several of the main shows.
"I found stall after stall of beautiful malachite and tiger's eye beads, both in high-end and more casual options," said Dunnell (Figure 5). Her observations feed into my research on the 1970s nostalgia resurgence, which is likely to continue well into 2020 and beyond.
When asked if any gemstone stood out for her at Tucson, Dunnell responded, "Yes! There were some beautiful freeform faceted high-end Brazilian bead strands of dumortierite blue rutilated quartz. This rare cornflower blue-to-violet mineral typically occurs as needles and fibrous masses in gneiss and schist."
This plays into the 'uniques trend' carrying on from 2017, when rutilated gold-coloured quartz was strong. The trend now encompasses other interesting included quartzes, such as lodenite, tourmalated, and phantom quartz.
Dumortierite blue rutilated quartz, which Dunnell mentioned, also reinforces another colour grouping in the 2020 forecast palette: a range of cobalt blue shades often reflected in fine blue sapphires and tanzanites, as well as in the blue adularescence displayed on fine rainbow moonstones. Many high-end jewellery houses are incorporating rainbow moonstones to get that blue shimmer into their palettes. Some avant-garde ateliers are even using large, traditionally lower-value, commercial-grade grey and green moonstones to create a unique look and add a bold impact to their pieces without adding too great a premium to the final cost of the piece.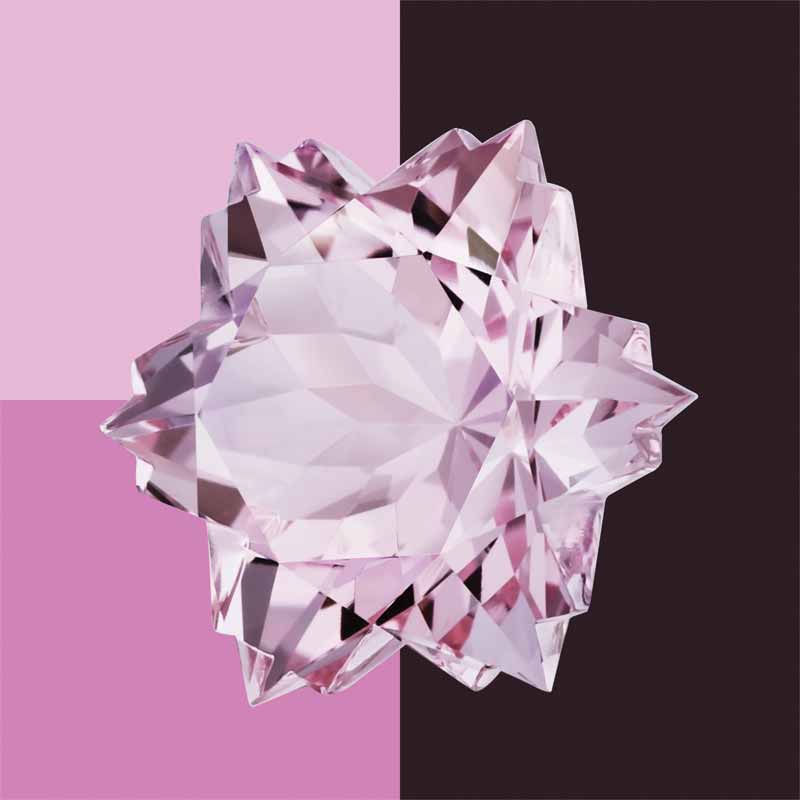 Another observation Dunnell shared was the overwhelming presence of 'unicorn colours' dominating many stalls. This rainbow iridescent look is here to stay for a while longer. Some common names of gemstones with this appearance include mystic topaz, aqua aura quartz, and rainbow aura quartz.
A more gemmologically appreciated, 'natural' addition to this rainbow palette can be seen in opals, like the Ethiopian Welo and the Australian black varieties (Figure 6). The black opal, with a green/blue play of colour, offers a colour combination readily found in nature, which I am endorsing in this 2020 forecast. A similar combination can be seen in some malachite/azurite cabochon and bead samples as well.
Bicolour gemstones are becoming increasingly sought after by designers. For example, consider high-end jewellery houses like Nuun Jewels, Yara Figueiredo, and Nadine Aysoy. They all offer elaborate designs incorporating bicolour tourmaline gemstones. Also, while at Tucson last year, Dunnell acquired, on behalf of the ROM, a 12.01-carat, emerald-cut, rare bicolour beryl displaying a beautiful subtle pastel green-to-pink gradation similar to that of a watermelon tourmaline.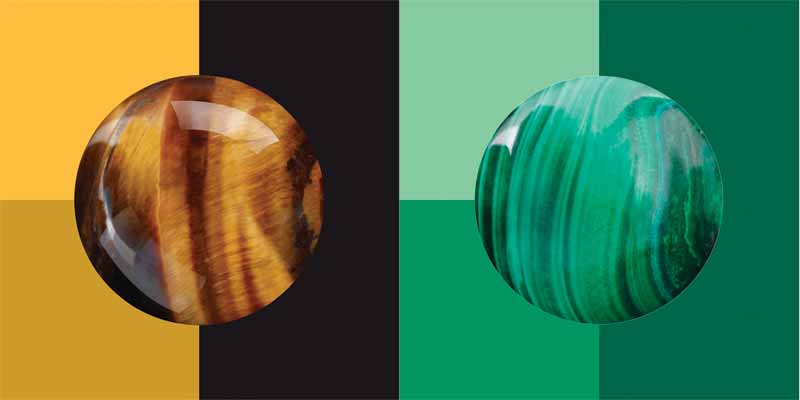 Tourmalines are still massively popular, as they are a way to incorporate varying red hues into jewellery without breaking one's budget. A pink tourmaline with a warm-toned red hue is suggested for one of the colours in the 2020 palette. As the year progresses, this shade of tourmaline may be harder to find as the Pantone colour of the year grows in popularity. The other, more intense blue/purplish-based crimson red included in the 2020 forecast colour palette can be seen in red spinel (Figure 7).
The bespoke experience and process comprise one of the main trend drivers for the near black and soft white palettes. Millennials are looking for an experience, which bespoke artisan jewellers, gem cutters, and lapidaries can provide. First and foremost, millennials want their jewellery to be environmentally responsible, locally sourced where possible, and transparently, ethically, globally sourced where necessary. They want their gems and jewellery to be unique, rare, and one of a kind to reflect their own individuality. They like the concepts of renewability, upcycling, and ecological waste management.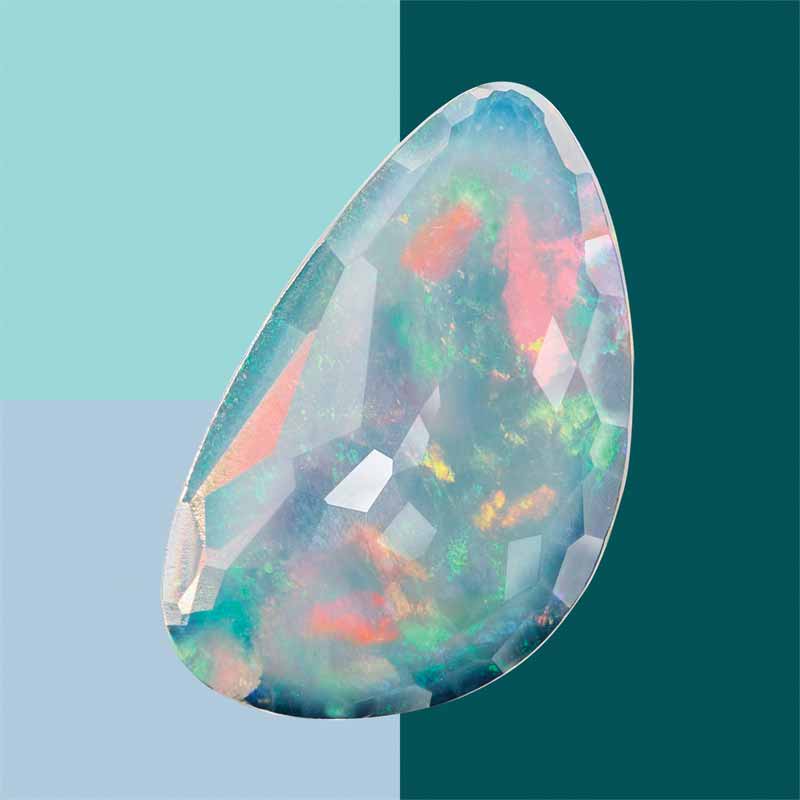 Currently, rustic diamonds—particularly 'salt and pepper' diamonds—are gaining traction with young couples looking for an alternative to the 'perfect' white diamond. These diamonds are viewed as more environmentally responsible because they are considered a 'byproduct' of conventional white diamond production. Rustic diamonds are being cut into unique custom shapes, or slices, to maximize their visual impact. They are also being set into bespoke solitaire engagement rings. Previously, these diamonds were treated as inferior, but now they are described as 'unique,' as no two are identical. They are true individuals, like the consumers themselves! These diamonds reinforce the forecast palette, which foresees the use of more near black and white in both fashion and jewellery (Figure 8).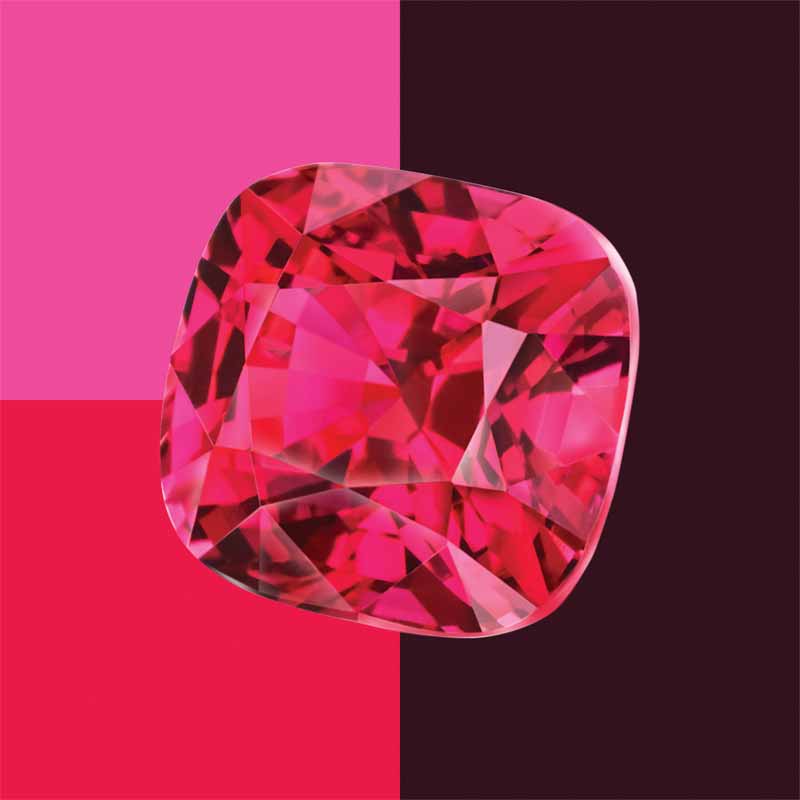 Since 2014, black diamonds have risen in popularity and price. To get a similar black look with a different gem, many designers are turning to black onyx and spinel. Another, more sustainable option is offered by Montréal company, Cinderella Garbage. The company has created an environmentally responsible black 'gemstone' out of garbage that could otherwise be headed for a landfill. These 'black diamonds' speak to clients who are environmentally conscious.
Also in the black and white category, the use of Georgian- and Victorian-era mourning jewellery has been trending for a couple of years now, and some individuals are wearing it as a dramatic fashion statement. 'Memorial jewellery,' as it is also known, incorporates classic black jet and onyx gemstones and sometimes highlights the black insets with Victorian-style seed pearls, which are becoming more popular as well (Figure 9).
Pearls in general have been appearing more often in jewellery over the past several years and will most likely continue to grow in popularity. The beautiful soft hues available in all the different species of pearls give designers lots of iridescent, subtle tones to work with. Another mineral that also appears to capture the soft white in the forecast is howlite. The 'Tuwaiq' collection by Nuun Jewels, for example, combines howlite with white diamonds and rose gold.
This 2020 forecast colour palette can be used to guide you toward more informed coloured gemstone purchases for future projects. Catching a trend at the right time could result in greater sales!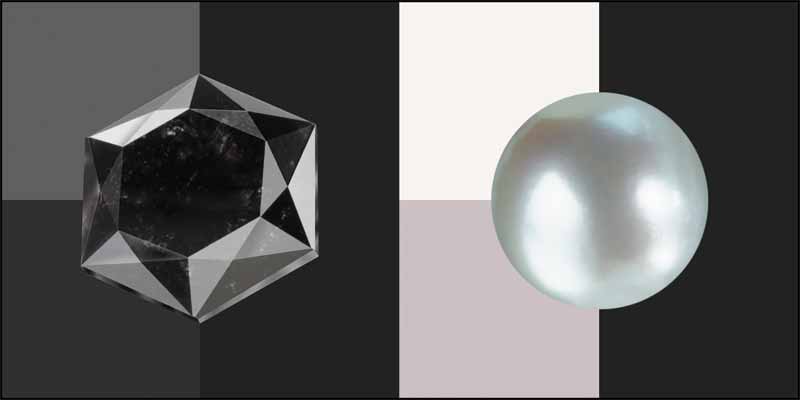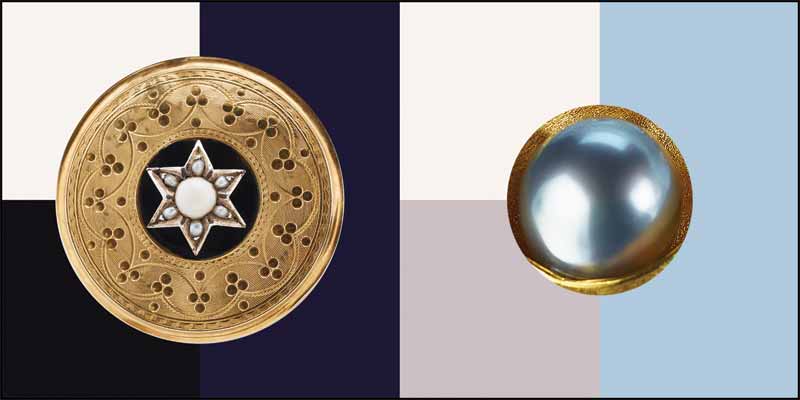 Notes
1 The author would like to thank Rudi and Ralph Wobito of Wobito Gems Ltd. and David Walsh of Freebourne Co. for sharing some of their gems, which Clive Champion of Champion Photography Ltd. shot for the palette. Wobito and Walsh can be reached on Instagram at @wobitogems and @freebourneco, respectively. Thanks also go to Katherine Dunnell, mineralogy and geology technician for the Royal Ontario Museum (ROM), for sharing her knowledge of and observations on the 2018 Tucson shows.
2 The 2019 forecast colour palette was published by Gemworld International in its January/February Gem Market News, Volume 37, Issue 1, as part of The Gemguide.
3 For more, see the article, "A New Discovery of Emeralds from Ethiopia," in the spring 2017 edition of the Gemological Institute of America's (GIA's) Gems & Gemology, Volume 53, No. 1.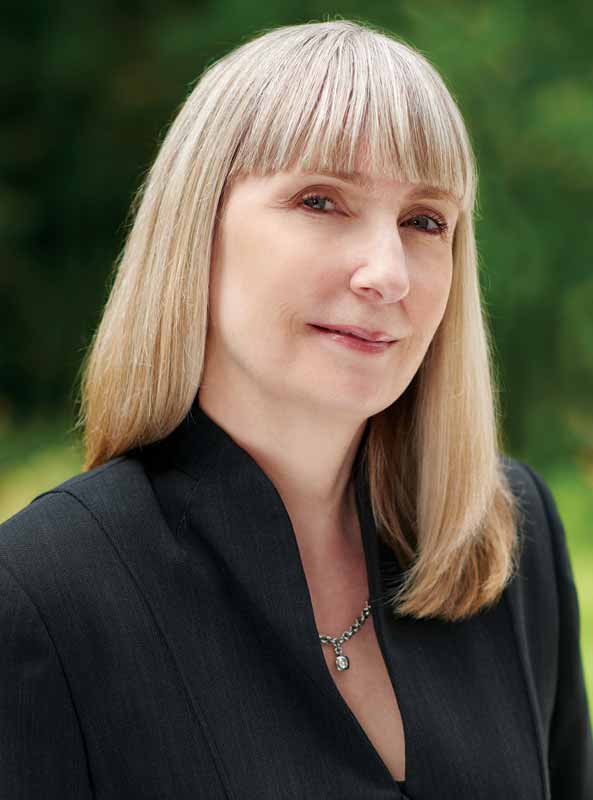 Katinka Champion, AOCA, active Color Marketing Group (CMG) ChromaZone participant, is a Toronto-based professional graphic designer, photo art director, and coloured gemstone fanatic. Her passion for colour was ignited when she joined CMG in the mid-'90s and collaborated in workshops to help develop the international association's ever-evolving palettes. She can be contacted via e-mail at katinka@championphoto.com, reached on Instagram at @gemcolorida, or found online at www.championphoto.com.