By Lauriane Lognay

Have you ever wondered if there was any rhyme or reason to the structure of rough gemstones, or how can geologists and gemmologists can differentiate one crystal rough from another? Well, wonder no more! This article discusses the differences between crystal systems, as well as ways jewellery professionals can expertly tell them apart.
First thing first, though: What is a crystalline structure? Simply put, this is a regular or repeated, three-dimensional arrangement of bonded atoms which come together to create a specific formation (i.e. rough mineral). The classification of crystals into their systems is based on their shape, symmetry, morphology, appearance, and similarities in physical properties.
There is some debate about the exact number of crystal systems—mainly because some are quite similar. However, for the sake of representing the whole, we will discuss all eight systems commonly considered:
Cubic
Hexagonal
Quadratic
Orthorhombic
Monoclinic
Rhombohedral
Triclinic
Amorphous
While No. 8 (amorphous) is a system which does not contain any crystalline structure, it is, nonetheless, an important category. Amorphous stones are composed largely of atoms, molecules, or tiny crystalline parts, oriented in random ways. As such, these take no specific crystalline shape.
The eight crystal systems cover all the precious and semi-precious stones used and known in the fields of jewellery, gemmology, and lapidary. Once you have memorized it, you will find it much easier to identify each mineral.
Cubic
In crystallography, the cubic system is among the most recognizable. It has a single refraction, so it is a crystalline system that groups stones with cubic symmetry, which are isotropic (See: "Notes on refraction").
Several gemstones in various shapes fall into this group:
Diamond: Macle (triangular), octahedral, and cube
Spinel: Octahedral or macle
Pyrite: Cube, octahedron, or pentagonal dodecahedron (also called "pyritohedron" on the market)
Garnet: Rhombic dodecahedron, trapezoid, or a mixture of both
Fluorite: Cube or octahedron
Other stones in the cubic system include lapis lazuli, sodalite, magnetite, pollucite, cuprite, sphalerite, yttrium aluminum garnet (YAG), and gadolinium gallium garnet (GGG).
Hexagonal
The hexagonal prism has, as its name implies, six sides. It is often elongated.
It is, therefore, a crystalline system which groups stones with hexagonal symmetry. This system has double refraction.
There are two main gemstone families in this group:
Beryl (emerald, aquamarine, morganite, heliodor, goshenite, etc.): Truncated hexagonal bipyramidal pinacoid form, often with diagnostic surface markings
Apatite: Often broken, the roughs are hexagonal prismatic crystals. If unbroken, they are finished as pyramidal prismatic crystals with six to 12 faces at both ends. Crystals in this category are easily confused with yellow or green beryl due to their colour and shape.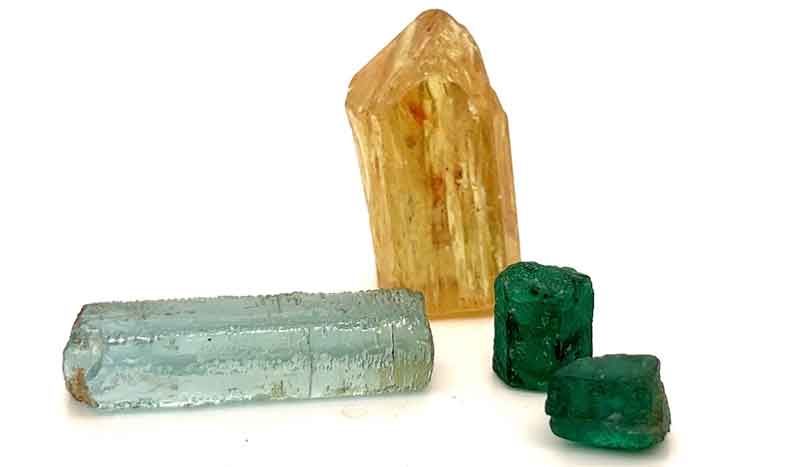 Quadratic (Tetragonal)
Though found in very few stones used in jewellery, the quadratic system is, nonetheless, important. Its shape can be elongated or short, as well as square-like or rectangular.
Rough stones often have two pyramid-shaped ends. It is, therefore, a bipyramidal or prismatic crystal. The apex (i.e. pointy top) of the pyramid should always be toward the middle of the stone. (This is important because, in quartz, the top the pyramid is often off-centre—indeed, this is a vital clue for identification!)
There are several stones in the quadratic group, including:
Zircon: Elongated or short bipyramidal prism
Idocrase (or vesuvianite—from Québec): Truncated bipyramidal shape (varies according to crystal provenance)
Scapolite: Elongated, silky-looking prism. This is often confused with the hexagonal and orthorhombic systems. Additionally, due to its colour, this stone is sometimes mistaken for citrine or amethyst.
Other stones in the quadratic system include cassiterite, scheelite, wulfenite, and rutile.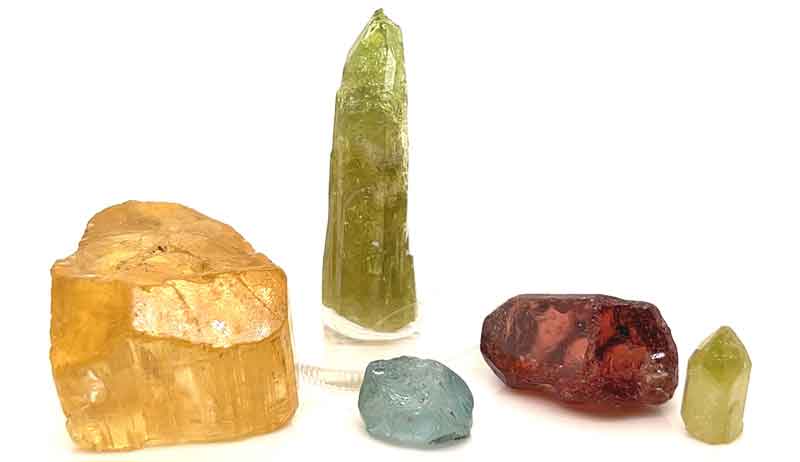 Orthorhombic
An orthorhombic prism consists mainly of four faces parallel to different axes. It can be difficult to differentiate these from rhombohedral prisms (No. 6). Orthorhombic prisms are often found in jewellery, so it is important to know which ones are most used. This system has double refraction.
The following stones are in this group:
Peridot: Lozenge-shaped cut (rhombus); both ends with orthorhombic prism and with pinacoids on the sides
Topaz: Rhombic-cut section, often terminated by flat cleavage. With lines parallel to the C-axis, it is essential to cut this stone at an angle to avoid the cleavage in the stone (i.e. perpendicular to C-axis).
Chrysoberyl (cat's eye, alexandrite): Composed of cyclic macles that form a kind of snowflake shape (i.e. six "arrows" joined together to form a flake with re-entrant angles). From the side, it resembles a flattened orthorhombic hexagon. As such, it has a pseudo-hexagonal appearance.
Tanzanite: Both ends have orthorhombic prisms, with pinacoids on the sides. Typically, only one side remains intact and the second is broken at the base. More often, the stone will be flattish. There is pronounced pleochroism.
Other stones in the orthorhombic system include andalusite, iolite, aragonite, danburite, kornerupine, and dumortierite.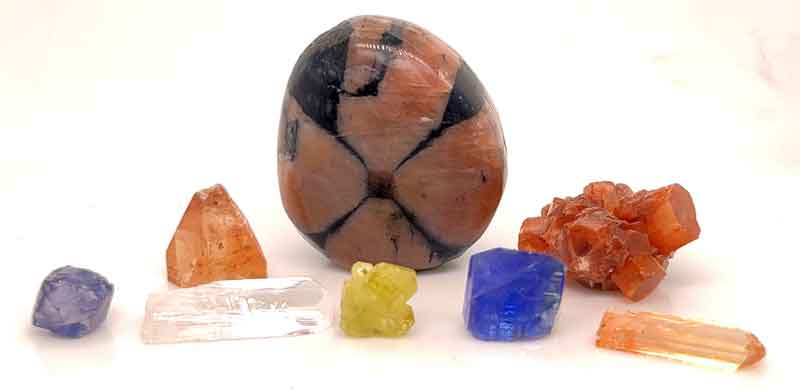 Monoclinic
The monoclinic system is not pyramidal or bipyramidal, but, rather, tabular. This means there are two axes at right angles to one another and one inclined. All three axes are different lengths. This system has double refraction.
The following stones are in this group:
Gypsum: Often colourless or pale-yellow crystals, this crystal's macle is arrow-shaped. The habitus is in the form of diamond-shaped tabular crystals. The rough often resembles that of feldspar.
Feldspar (orthoclase, moonstone, peristerite): Can be monoclinic or triclinic, depending on variety and composition. Often seen with cleavage marks and cracks, the crystalline form of the shape of the rough resembles that of gypsum, if visible at all (rarely the case).
Other stones in the monoclinic system include diopside, jade (jadeite, nephrite), spodumene (kunzite), and sphene (titanite).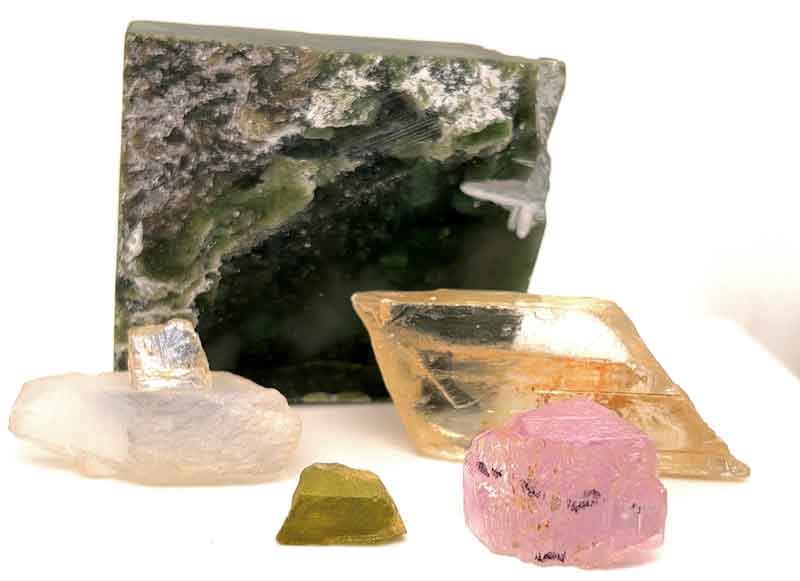 Triclinic
The triclinic crystal system is very similar to the monoclinic and, as such, the two are often confused. Indeed, some gem researchers and writers group the two systems together because of their similarities. The key difference between them is that, in the triclinic, all three axes are inclined to each other, and all the axes are the same length (whereas, in monoclinic, all axes are different lengths and there are two axes at right angles to one another and one inclined). Like the monoclinic system, the triclinic has double refraction.
The following stones are in this group:
Turquoise: This is never really in crystalline form—you'll see it without a crystalline structure to the naked eye.
Feldspar (Labradorite, Amazonite, sunstone): Feldspar can be monoclinic or triclinic, depending on variety and composition. Often seen with cleavage marks and cracks, the crystalline form of the shape of the rough resembles that of gypsum, if visible at all (rarely the case).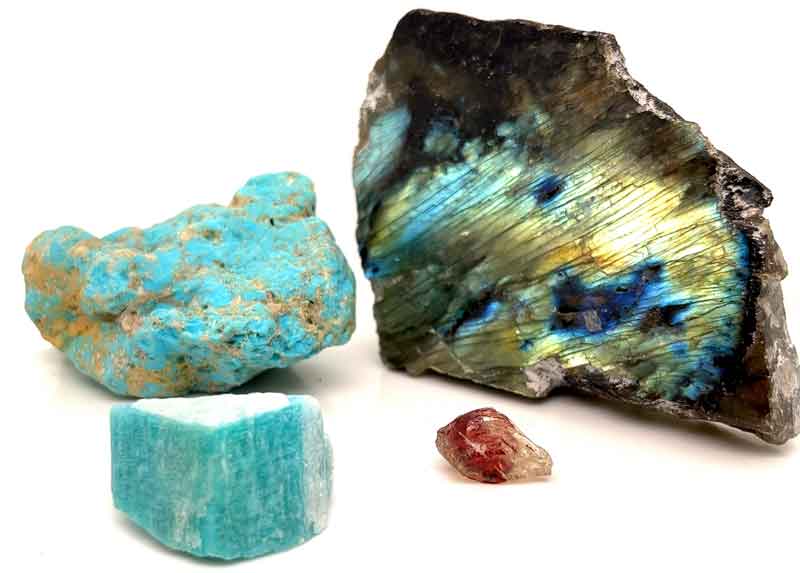 Rhombohedral (Trigonal)
The rhombohedral system is, in my opinion, the most important for jewellery professionals to familiarize themselves with, as it includes some of the most important stones in the field of jewellery, gemmology, and lapidary. Further, to the inexperienced eye, the roughs in this category are all very different from one another.
The following stones are in this group:
Ruby: Often tabular and flattened, ruby can present hexagonal colour zones and surface trigons. It is also often alluvial, so the shape can be unrecognizable and rounded.
Sapphire: Often in an elongated bipyramidal or barrel shape, sapphire features striations perpendicular to the C-axis. Hexagonal colour zones are also present. Contrary to other origins, the Montana sapphire has the same shape as the ruby: tabular and flattened, with trigons on the surface.
Quartz: Features striations perpendicular to the C-axis. The habitus is prismatic, capped with two rhombohedral shapes that form a pyramid on both ends. This crystal often grows uneven, and the top of the "pyramid" is generally off-centre.
Tourmaline: Domed or flat triangular prism (trillion), often strongly striated along the length of the prism. Typically elongated rough. The top frequently ends in a domed three-sided pyramid or is broken and flat. Pronounced pleochroism.
Other stones in the rhombohedral system include calcite (with intense double refraction, which can be seen in the rough with a sheet of paper), dioptase, phenakite, and rhodochrosite.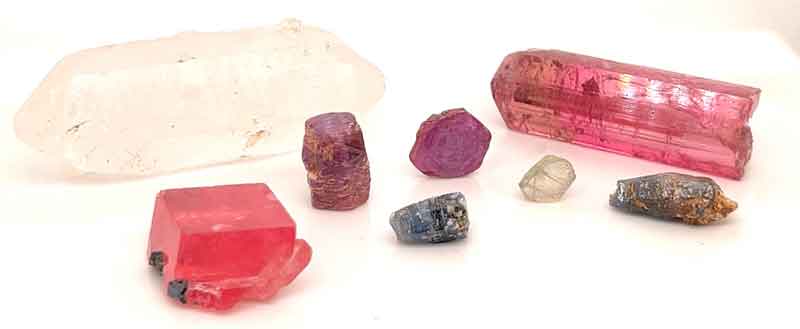 Amorphous
Sometimes, a lack of symmetry creates a new category—for this reason, the amorphous system is included in the crystalline systems, even though it contains no crystalline form or symmetry of its own. Composed of particles, atoms, and/or tiny crystalline parts randomly oriented, this is a system with simple refraction.
This category includes many materials with which we are familiar, including:
Amber (aged tree sap)
Obsidian (natural glass of volcanic origin)
Opal
Glass (man-made and, therefore, unnatural)
Plastic (also unnatural)
All these "stones" have no axis of symmetry, crystalline face, or habitus. They appear in amorphous form.
A simplified system
While the above outlines the most important aspects of crystalline systems, we must keep in mind there are also a lot of factors I opted not to mention for fear of falling into a dark hole of rough gems analysis.
The rough world is, indeed, wide and endless in its possibilities. I hope this small guide will assist you in a pinch, as well as help you to better understand the gems you use in your jewellery.
NOTES ON REFRACTION
Refractive index: Ratio of the optical density of a substance
Single refraction: Light always behaves in the same way—whatever direction it travels through, the material it penetrates
Double refraction: An optical splitting effect caused by the division of visible light into two distinct components in the material it penetrates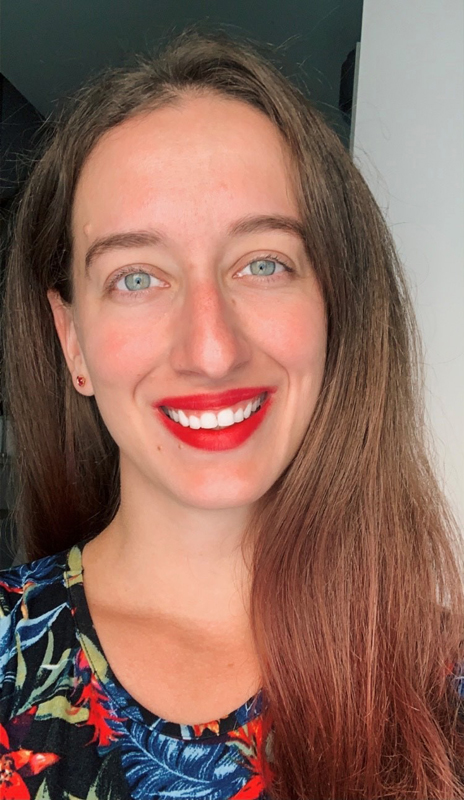 Lauriane Lognay is a fellow of the Gemmological Association of Great Britain (FGA), has an Applied Jewelry Professional (AJP) certificate from the Gemological Institute of America (GIA), studied gemmology in Montréal, and has won several awards. She is a gemstone dealer working with jewellers to help them decide on the best stones for their designs. Lognay is the owner of Rippana Inc., a Montréal-based company working in coloured gemstone, lapidary, and jewellery services. She can be reached at rippanainfo@gmail.com.
Sources
La Gemmologie – Notions, principe, concept (2014) by Francine Payette
Gemstones of the World (2013) by Walter Schumann
Identification of rough crystals, crystallin systems and habitus (1997) by Michel Auzat