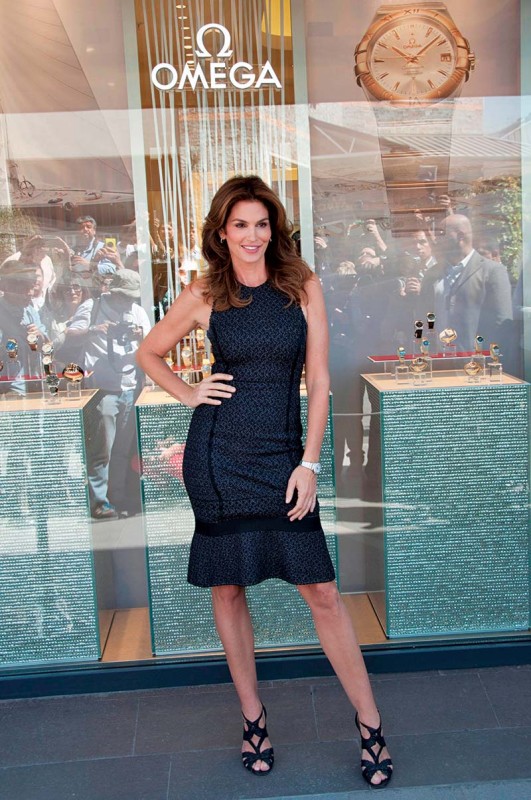 JB: You've worked with Omega since 1995. What does it mean to be a brand ambassador for a company with such a storied history and how do you view your role in its legacy?
CC: When I started working with Omega, the company had a great reputation as a watchmaker. It had been around since the middle of the 19th century, it was famous for its sports timekeeping, its diver's watches, and, of course, its association with the space program and all the moon landings—a lot of stereotypical 'guy stuff.'
While Omega watches were fashionable, fashion had not been the brand's main focus in how it communicated its values to the market. I'm proud to have played a role in establishing Omega's fashion credentials and now, nearly 20 years later, the styling and fashion of the watches are among the factors that make them so popular around the world.
JB: "¨"¨You were instrumental in designing Omega's ladies' Constellation line. What were you looking to convey about a woman's sense of style with this particular design concept?
CC: I would come back to the point I made before. Omega already had a reputation for the quality and innovation of its watches, but there was a certain 'toys for boys' orientation—robust, sporty, great performance in extreme conditions, and so on. Omega had made great women's watches for decades, but the focus and the perception in the eyes of potential customers was more on men's watches.
When I was given the opportunity to be involved with the design of the Constellation in 1995, I wanted to be able to bring a different perspective to the brand and, of course, the eye of someone who came not from the world of watchmaking, but from fashion. From the beginning, my feeling was this perspective was essential to create watches that could complement and accessorize any wardrobe—they could both 'dress up' and 'dress down' the women who were wearing them. I think history has shown it was the right approach. The number of women who wear Omegas has increased considerably since then, so we've been very successful in getting the message across.
JB: "¨Your dedication to the brand is quite remarkable, given the numerous personal appearances you've made over the last 19 years. What is it about Omega that appeals to you?
CC: It's quite an extraordinary relationship. After 19 years, we know each other very well. Each time I make an appearance for Omega or participate in an event, it's like seeing family or old friends. I've been able to welcome some of the brand ambassadors who arrived after I did like Michael Phelps, for example. It's great to be able to meet these incredibly talented men and women.
Working with Omega has allowed me to do some amazing things. The Olympic Games in Beijing in 2008 were terrific—"¨I was there with my family, so it was very special. Over the years, I have opened boutiques all over the world; I've ridden elephants in India; and I've helped host events in such places as China, Japan, and Kuala Lumpur. Each of these Omega 'adventures' was memorable in its own way.
JB: ҬӬHow many watches do you own and which is your favourite and why?
CC: I'm in a privileged position in that I am able to own a number of Omega watches, thanks to my role as brand ambassador. Regarding a favourite, it's a difficult question. For the evening, I'd probably choose a Constellation Luxury Edition watch—this is an incredibly elegant timepiece. For the daytime, my choice would be a Constellation jewellery watch in red gold with a white rubber strap. It is not only sporty, but it's also very fashionable.
JB: Do you remember the first watch you ever received/bought? Is there a story behind it?
CC: Not clearly. I can imagine that it had cartoon characters on the dial.