By Sam Michael Dilts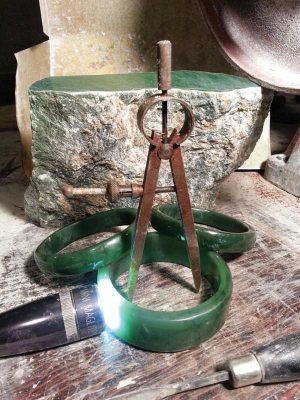 Jade is one of the most sought-after gems in the world, yet as a producer, Canada is the least-recognized exporter. Each year, hundreds of tonnes of nephrite jade leave Canada, bound for Asia where the stone is engrained in the culture and used in making jewellery and for carvings. And while jade is a source of pride for Canadian producers, as an industry, it is lacking in regulation to its own detriment.
For decades, countless tonnes of gem-grade jade have been purchased at rock-bottom prices in Canada and exported to Asia where the stone is sold at market value. These low and unfair wholesale prices are fuelling efforts to develop a Canadian Jade Code of Conduct (CJCC) and a certificate of origin. Modelled after the Canadian Diamond Code of Conduct (CDCC), the voluntary code looks to protect Canadian producers of jade.
Around 1850, Imperial green jade exports from Burma helped meet China's demand for this variety, as its own long-worked quarries had become depleted. As a result, jade traders were forced to source alternative supplies farther from home. With Sturgeon eggs from British Columbia's Fraser River popular on the Asian caviar scene, many shallow-water fishmongers wading for the spawning 'white ghosts' on the banks of B.C. rivers spied the water-tumbled shining green gems and quickly recognized their significance and value.
Changing times introduced cultural influences on a rapidly developing mining industry in the Pacific Northwest. Migrant Asian workers with thousands of years of rich mineral history in places like China and India began to develop B.C.'s jade export trade with China, Bangkok, Hong Kong, and Jakarta.
For almost 150 years, B.C.'s nephrite jade producers shipped the stone to China, without mention of origin or branding of any kind. Even today, Canadian nephrite jade—considered top-quality material around the world—is advertised in Hong Kong shops as originating from regions of China, which has a notable history of high-quality jade mining. To clarify, Imperial jade from Burma is actually jadeite jade, while nephrite jade is the original Imperial jade of China—and British Columbia is full of it.