From junk to gem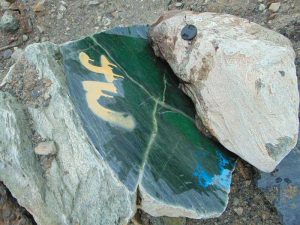 In 2013, I began to consolidate market research my fellow jade producers, designers, and I had gathered over the previous five years during meetings with Asian manufacturers, traders, retailers, artists, underground jade dealers, museums, auction houses, trade departments, jewellery design studio owners, and others.
We wanted to better understand the needs of groups and individuals who source B.C. nephrite and to link them with Canadian expertise in processing, appraising, authenticating, and design. Our goal was to develop Canadian guidelines and standards that would ensure the sustainable development of the gem's mining, production, appraising, and exporting. My colleagues and I thought it important to help establish a standard that removed barriers to the development of the Canadian nephrite brand as a precious gemstone.
In 2014, our jade research team introduced the B.C. Jade Standard. A registered Canadian Industrial Design, the standard is a tangible asset with defined parameters that fits with the existing—albeit loosely defined—nephrite grading system. In addition, it creates a system of validation of origin and authentication. In the shape of a rhombohedron, the B.C. Jade Standard's 10-kg mass is calculated using the known geological density range for nephrite and its proprietary dimensions meet the requirements of the world's jade jewellery manufacturers.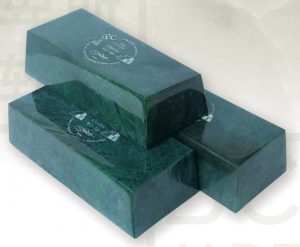 In November 2014 and February 2015, we held product launches in Hong Kong and Shenyang, China, introducing the B.C. Jade Standard to the trade, consumers, and media. We are now working with the Canadian consulate in Hong Kong to build brand awareness for B.C. jade.
Around that time, we also began discussing the need for a certificate of origin for jade with several key players involved with the CDCC's development. In particular, we approached Jewellers Vigilance Canada (JVC), the Canadian government's minerals and mining sector, and federal and provincial ministries of international trade and foreign affairs. All have been instrumental in encouraging our efforts to use the diamond code as a template for a proposed Canadian Jade Code of Conduct.
In consultation with JVC executive director Phyllis Richard and Louis Perron, Natural Resources Canada's senior policy advisor for diamonds, we learned Industry Canada's Competition Bureau, which supported the development of the Canadian diamond code in 2002, had since changed its policy—it would no longer support or endorse any voluntary codes spearheaded by private industry. This came as a bit of a blow to our efforts, although we haven't given up. That said, we recognize financing and establishing a secretariat to govern our proposed jade code is one of our biggest obstacles.
In 2015, we streamlined our business and branding initiative for the B.C. Jade Standard and held meetings with key stakeholders who we felt would benefit from a voluntary code for nephrite jade. This year, we are continuing our work to establish a brand identity for Canadian nephrite through the registered 'jade bullion' design. In addition to focusing on financing the project, we also want to attract the best minds in the industry to join our efforts. These could include mining companies, environmental organizations, jewellery manufacturers, jade producers, government, retailers, gemmologists, lapidists, jade carvers, or gemstone appraising associations. We are confident we will meet our goals with this support.