How the dealers deal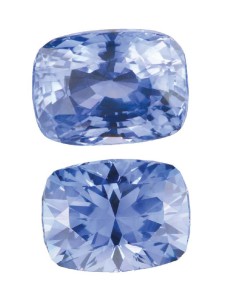 Gem cutter Rogerio Graca, owner of Pristine Gemstones in Victoria, supplies cut gemstones to jewellers throughout Canada. He notes the use of traditional machines in cutting centres in the third world offers a partial explanation for poorly cut stones.
"If consumers were better informed, the demand for finer cut gemstones would speed up the transition to precision-cut machines in the major cutting centres," Graca says, noting the economic and cultural barriers many countries face. "Ultimately, it is up to those of us in this industry to continue educating the general public about gemstones."
The preference to buy poorly cut diamonds and gemstones and recut them to enhance their quality and appearance is one way to add margin to the bottom line, as well as speed up the sale of goods.
Dino Giannetti, co-owner of Toronto's 18Karat, says grasping the impact of cut-to-value is one facet of the business retailers should consider embracing. "While we live in our own little world, we need the right people behind us like expert cutters and appraisers to lend trustworthy advice, so we can make informed decisions when a recut is being considered," he says. For instance, with an antique stone, one must consider the slight chance it could fracture from internal stresses unique to a well-worn stone that would be not be present in one newly cut.
Giannetti says he sees a lot of high-end family heirlooms come through his doors. Often, customers are reluctant to recut a poorly cut gemstone, even when the result can up the value and brilliance. "While one can make a case for recutting to release the stone's potential, often sentiment trumps common sense," he finds. "What we are dealing with is emotions, after all."
Charles Carmona, author of The Complete Handbook for Gemstone Weight Estimation, underscores the challenges facing cutters when considering a recut. "Each gem species presents unique attributes and challenges to cut properly, taking into account the shape of the rough, the orientation of the optic axes, and clarity considerations," he says. "It's a pleasure to discover a well-cut stone and to appreciate the cutter's knowledge and skill that went into making it so. We're reminded of it every time we see a native cut stone coming out of an old mounting. It's often an agonizing decision whether to 'just fix it' or to go further and make it beautiful, but smaller."
Diana Jarrett is an award-winning trade journalist and graduate gemologist (GG). In addition to being a member of the National Association of Jewelry Appraisers (NAJA) and a registered master valuer, Jarrett is a popular conference and trade show lecturer. She writes a syndicated column called "The Story Behind the Stone" for the Southern Jewellery News and Mid-American Jewellery News and is also a writer for magazines such as Texas Jewelers, New York Mineralogical Club Bulletin, and the gem trade blog, Color-n-Ice.