By Carly Midgley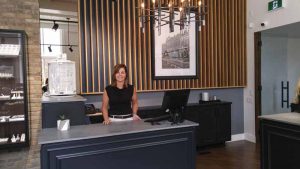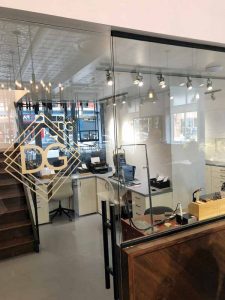 From the moment you cross the threshold of Dana's Goldsmithing in Port Perry, Ont., the store is a hub of activity. Customers browse sparkling 360-degree display cases while staff flit from counter to consult table to upstairs office in a routine that seems smooth and practiced. The store is such a fast-running, well-oiled machine, you might be surprised to learn it's a newly transformed space.
"I started thinking about renovating last summer," says owner Dana Smith. "We celebrated the store's 25th anniversary in July, and I think it started right then.
I thought: who do we want to be?"
A new look
Completed in May, the store's renovation brought with it a slew of modernization efforts and new technologies. Dana's Goldsmithing is now home to a 3D printer and laser welder, as well as two custom consult stations. The second-floor office and design space is another new addition, as is a glass wall at the back of the shop giving visitors a view of the jewellers' benches and working areas.
Designed by Lisa Weisgerber of WEIS WERK, the new concept was partly inspired by a visit to Seattle's Green Lake Jewelry Works, where owner Jim Tuttle has focused almost entirely on custom design, moving away from the traditional jewellery store model.
"I also wanted to promote our onsite custom work, but to do it in a really refined way," says Smith.
She adds a major priority in the revamp was making those who shop at Dana's Goldsmithing more comfortable and relaxed, and those who work there more engaged and connected.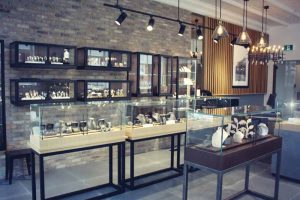 "We wanted to have a casual feel—less pretentious, less of a jewellery store look," she says. "We wanted more ability for personal interaction."
The nontraditional display case layout is one way the team achieves this open, connected air.
"Before, our counters were in between the customer and staff, but now, people can walk anywhere and look at any case," she says. "There's nowhere they can't go. There's nothing restricting them, so it's more personal."
To ensure this welcoming atmosphere didn't stop with the physical space, Smith dovetailed the renovation with changes to branding and store policies. These policy revisions were all made with the store's tagline, "We make it personal," in mind.
"If a policy didn't make things personal, it didn't make the cut," she says.
Smith and her team are also making a redoubled effort to embrace the tools of the digital age, adding flatscreens on custom stations, working with iPads throughout the store, and using apps for communication between staff.
"From how we market our products on social media to how we communicate with customers or team members, technology has completely changed how we do business," she says.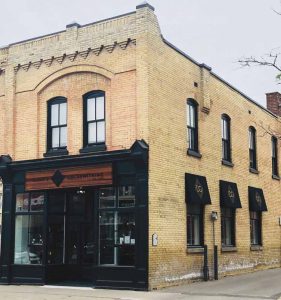 In other words, Smith believes bumping up the focus on technology was a necessary step to thriving in the modern world.
"With technology, I can make pieces for customers anywhere. There are 10,000 people in Port Perry, but technology allows us almost unlimited reach," says Smith. "I can Skype a consult. I can e-mail each detail about a design to a customer anywhere, instantly. That can eliminate the need to come to the store, although I think those that do are in for a treat!"
Spreading the love
So what inspires the proprietor of a 25-year-old jewellery business to make such drastic changes? For Smith, it comes down to people—not just customers, but also family.
"A couple of things resonated with me," she says. "My parents were very sick and unfortunately passed away within a three-month period. Right around the same time, my youngest went off to university five hours away. With so much change happening in my life, I wanted to put my energy into a project I had always envisioned for both myself and the store. Once I made the decision to start, I put everything I had into the new design. We just went for it."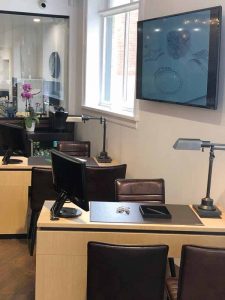 Smith's parents certainly weren't absent from her thoughts during the overhaul. She found a subtle way to keep them at the heart of all the store's happenings.
"Our logo is a diamond shape with the initials DG, which were my parents' initials," she says. "It's Dana's Goldsmithing, but it's also Don and Gloria. It has a little piece of our story as well."
Smith weaves this people-focused feel into all of her endeavours, prioritizing 'giving back' professionally and personally. She frequently contributes to local charities (such as the Port Perry Hospital Foundation, the Rotary Club of Port Perry, and Big Brothers Big Sisters of North Durham) and takes great care to understand her clients and exceed their expectations.
"Our new model is all about our customers' stories," she says. "We strive to bring their personal stories to life with jewellery. Whether our clients are friends, neighbours, or live across the country, they've all got a story to tell."
Smith says many of her latest custom designs have involved re-envisioning clients' estate pieces or their family gemstones.
"There's a difference between doing custom from the ground up and doing custom by ordering pieces. I compare it to designing and building a home," she adds. "There's buying in a subdivision, where you can choose your finishes and materials from a small selection of options. Then there's actually sketching the entire house and being part of building every aspect. That's my analogy for true custom. We make it from scratch, from beginning to end."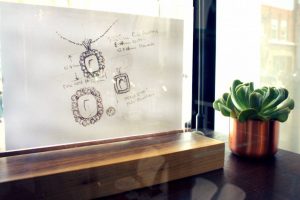 Despite bespoke pieces' immense popularity with clients, custom collections have traditionally had limited leeway in Smith's showcases, thanks to the balancing act of running a jewellery business.
"Prior to now, I didn't have the resources to make it a reality," she says.
To solve this problem, Smith trained existing staff and hired several new team members as part of her overhaul. Dana's Goldsmithing now has two more CAD model makers, three jewellery designers, and a second goldsmith to help expand the store's custom offerings.
"Right now, we're extremely busy," Smith says. "We have more than 30 custom pieces in the queue, and many amazing stories to tell! In a few years, our goal is to have more in-house jewellery collections in addition to our one-of-a-kind custom designs for clientele."
On the same wavelength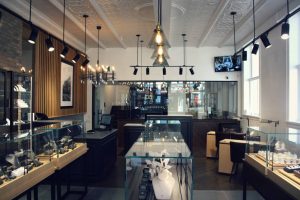 So far, Smith says customer response to the makeover has been overwhelmingly positive, with a sharp uptick in foot traffic keeping the store bustling.
"Before, we didn't have an upstairs area, a lunchroom, or office/design space—we were on top of each other all the time," she says. "With nowhere to go, there was a lot of noise and not much privacy, and I'm sure the customers could feel that. Now they're coming in to a space where we're all so happy. I think they feel the energy."
Of course, it's not just customers who are enthusiastic about the new design.
"Our team is so excited about it, too—we all love the space," says Smith. "It's like we've earned the right to do what we want to do."