What are the diamond types?
As most industry professionals already know, diamond is a mineral composed of carbon. The arrangement of carbon atoms within the crystal is symmetrical (Figure 1). Gem-quality diamonds are typically 99.95 per cent carbon and can be up to 99.99 per cent pure. This makes diamond one of the purest of all gems found in nature. (In fact, diamond is the only gemstone composed of a single element!)
To better understand diamond composition, imagine the carbon atom like a black ball; each ball (carbon atom) is connected to the other carbon atoms in a tetrahedral arrangement (like a pyramid with a triangular base) to form the diamond molecule. As diamond molecules connect, they form a crystal structure (i.e. the crystal lattice), which has the base geometry of a cube. From there, rough diamond crystals are able to take on all sorts of shapes based on the cube depending on the temperatures and pressures at which they form. The most common is the octahedron (Figure 2).
Beyond carbon, the remaining 0.01 to 0.05 per cent of a diamond's chemical composition includes other trace elements that are not a part of its essential chemistry. These elements can cause diamonds to be different colours; to fluoresce (nitrogen in specific arrangements); to conduct electricity (boron); or have other unique properties.
These trace elements are sometimes called 'impurities'—but do not be fooled by the word's negative connotation. Some of the rarest, most expensive diamonds are considered as such thanks to these 'impurities.'
A diamond with a perfect crystal lattice made entirely of carbon would be completely colourless. As such, atomic impurities are also sometimes referred to as 'colour centres' or 'optical centres' because they influence the colour of the diamond.
The most common atomic impurity in diamond is nitrogen. This is because it is (a) abundant; and (b) easily incorporated into the diamond lattice because it is similar in size and valence shells with carbon (this is a technical way of saying nitrogen fits nicely into the diamond crystal lattice). Approximately 98 per cent of mined diamonds have tens to several hundred parts per million (ppm) of nitrogen.
Nitrogen (Type I)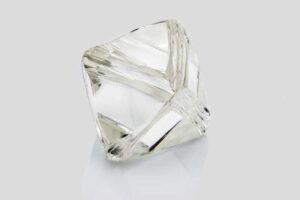 Nitrogen determines how scientists classify (or 'type') diamonds (Figure 3). Based on the presence or absence of nitrogen, gem-quality diamonds are divided into two types:
Type I diamonds have detectable nitrogen.
Type II diamonds have no detectable nitrogen.
'Detectable,' in this usage, refers to whether there is nitrogen visible in the spectrum when Fourier-Transform Infrared (FTIR) spectroscopy is used.
Type I and Type II diamonds are further subdivided based on the structure of the nitrogen:
Type I is subdivided into Type Ia and Type Ib.
Type Ia is further subdivided into Type IaA and Type IaB based on the arrangement of nitrogen atoms within the diamond crystal lattice.
Type II is subdivided into Type IIa and Type IIb.