Some jewellers block policies cover the following:
Policyholder's inventory for sale, findings, and raw materials, as well as parts for manufacturing and repair; consumer property that has been delivered or entrusted to the insured jeweller;
Property of others in the jewellery business that has been delivered or entrusted to the policyholder, often referred to as 'memo goods';
ҬJewellery shipments;
Travel losses;
"¨Damage to customer's jewellery that occurs as a result of the jeweller's handling or work on the item;
ҬJewellery carried or worn away from the described premises by the policyholder and his or her associates, such as merchandise taken off the premises for social occasions or events; and
Merchandise displayed in show windows when the operation is open for business.
Coverage for jewellery displayed at trade shows, on the road with a sales representative, or loaned to a customer is also available as an option.
Work with a knowledgeable jewellers block specialist broker who can assist you in customizing and structuring the policy to cost-effectively meet the needs of your particular jewellery operation.
Once you know your insurance policy has been customized to meet your individual needs, it's time to start building sound security habits within your retail store.
Preparing for the unpredictable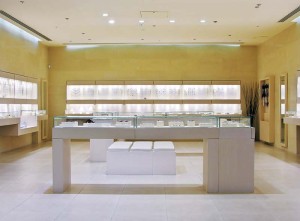 To select the appropriate limit of insurance coverage, you need to know what your exposure to loss can be. An effective and consistent inventory-control methodology is central to protecting your company's assets. Conducting an annual physical inventory is one of the best things you can do to protect your business. Although every jewellery business may operate differently, there are inventory software solutions designed specifically for a variety of jewellery operations.
Your accountant, jewellery-specialist broker, or jewellery-specialist insurance carrier may be a great resource in helping you make an informed decision in selecting the inventory software solution that's best for you.
To maintain accurate and current records, jewellers should update inventories daily. In addition to saving your purchase invoices and sales receipts for future reference, inventory records should chart the following information:
Item number;
ҬDetailed description of the item;
Date it was received;
Price paid for the item;
Value of the item;
Date it was sold; and
Price received for the item.
Remember, finished goods are not the only type of inventory your business may need to consider. Loose diamonds and coloured stones, settings, replacement materials, and customer repairs should also be included. For loose stones, each gem over .20 carats should be assigned a specific number and value on the day it was received. For gems less than .20 carats, stones that are purchased in bulk and are equal in colour, cut, and clarity can be inventoried by weight.