By Jacquie De Almeida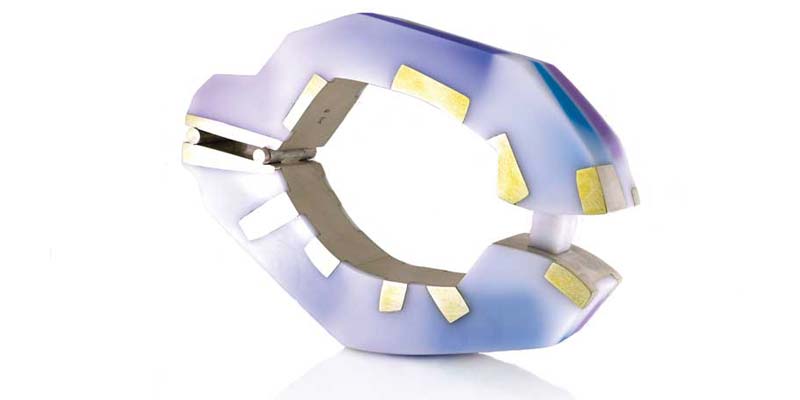 Ask a foreigner what they know about Canada and they'll likely praise us for our maple syrup and giving the world the game of hockey. They'll also likely offer words of comfort for the months of frigid temperatures a good deal of the country 
endures every winter.
That's exactly the idea Quebec-based jewellery artist Dominique Audette had in mind when she designed 'Winter,' a sterling silver and resin bracelet that took Best in Show and Best in Design at the Great White North Exhibition.
Now in its second year, the competition invites goldsmiths and metal workers from across the country to create a piece of jewellery exploring some facet of Canada's identity, whether its culture, history, or stories. This year's theme, 'In Flux,' challenged artists to confront the idea of national identity and what it means to be Canadian in the context of intrinsic complexity and constant change.
"Our country is associated with winter, cold, ice, and snow," Audette tells Jewellery Business. "The general lines of the jewellery, consisting of broken curves, refer to the cold. Similarly, the colours chosen are reminiscent of ice breaking on the shores of rivers—turquoise hues bright as the snow turn lilac or blue, depending on the time of day."
Audette says she designs almost exclusively in resin. "This relatively lightweight material allows me to create sculptural pieces without unduly burdening the jewellery," she says. "The resin also allows me to use colour in a way stones alone ever could."
Audette says her design process typically begins with drawing random lines and shapes. "It is only when these forms talk to me that I transform them into jewellery," she explains. "It is at this point the technical side comes into play and together with the artistic aspect, transforms a basic idea into a tangible object that is sculptural, balanced, portable, and wearable."