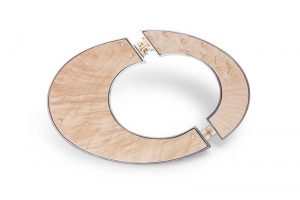 "Secondly, they allow us to measure ourselves and know the value of our creations by informed and impartial judges," she explains. "And when one wins an award, it validates our artistic choices. Further, competitions open doors and present opportunities that might not otherwise happen.
"Now that my teaching career has slowed down, I can devote myself to work on my own jewellery and to devote time to the creation of pieces for contests like this one. This is certainly not the last time I'll be entering a competition."  
Other participants in the Great White North Exhibition were:
Sarabeth Carnat – Calgary
Mandy Deskur Murray – Elora, Ont.
Nicole Gauvin – Laval, Que.
Sarah Groves – Vancouver
Ann Lumsden – Ottawa
Petra Luz – Montreal
Katharina Möller – Toronto
Meggie Roy – Vallée-Jonction, Que.
Michaela Wolfert – Almonte, Ont.