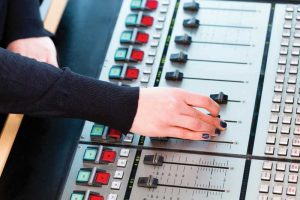 Music and sound effects. It was noted previously that using the same voice-over announcer as other businesses may not help you stand out. Likewise, using the same stock library music as everyone else will certainly not help your ad results. Take a moment to recall the ads you know best. Now think about the music associated with those ads. It is likely the ads you thought of featured completely original music. Perhaps it was a custom music background, a full jingle, or an ending jingle tag. When people hear musical cues repeatedly, they immediately associate what they hear with the business. For example, "ba da ba ba ba" (the five notes before "I'm lovin' it") immediately makes you think of McDonald's without having to hear the whole spot, even when you're barely listening. This shows the power of music and why it makes sense to use this influence for your store.
Lastly, sound effects can help your ads stand out. Perhaps it is wedding bells ringing or the sound approximation of a diamond sparkling. When played enough times, these sound effects become your store's memory cue. Just be sure no one describes the effect as annoying, as you want to illicit positive emotions whenever the ad plays.
After putting some of these ideas into practice, imagine going to another dinner party and describing your jewellery store. It will probably be much easier now that you have a unique announcer, a distinctive slogan, and especially memorable custom music and/or sound effects. Chances are, you won't even need to say too much, because the person you're speaking with will tell you all about your 'branding strategy.'
David Rodgers helps jewellery stores maximize radio and television advertising results by providing memorable jingles, custom background music, full radio spot production, and on-hold music messages. He can be reached via contact@doctorjingles.com or at (248) 291-7735.