Revert to type
As noted, the first phase is the chemical environment in which the diamond crystal is formed. In the case of natural diamonds, the environment deep inside the earth's crust is rich in nitrogen, which means the majority of natural diamonds are Type Ia. These stones range from colourless to light brown and yellow, while their reaction to short- and long-wave ultraviolet light can be anywhere from none to blue, yellow, green, or in very rare instances, red.
In the case of CVD or HPHT diamonds, the environment in which the crystal is grown is controlled. In order to obtain a colourless CVD diamond, the growing environment must comprise pure carbon, which results in a Type IIa stone. These diamonds are distinctly invisible (i.e. inert) to short-wave ultraviolet light.
Classified as Type Ib stones, HPHT diamonds must also be grown in a controlled environment; however, the process can create a wide range of synthetic yellow diamonds, which are the result of the introduction of nitrogen atoms. More recently, though, one company has been able to create near-colourless diamonds through the HPHT process that would be classified as Type IIa. Whether grown through the CVD or HPHT process, a synthetic may either exhibit a yellow-green fluorescence under short- or long-wave ultraviolet light or it may be inert.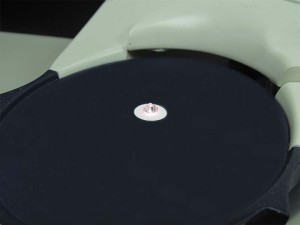 With this information in mind, it is possible to use the diamond's fluorescence as a key screening tool for separating natural and synthetic. Using a Type II spotter and ultraviolet light that emits in short- and long-wave, it is possible to separate ambiguous diamonds from their natural counterparts.
A Type II spotter is a piece of handheld equipment featuring a viewing chamber coated with a highly fluorescent substance. By placing a short-wave ultraviolet light source against a diamond mounted inside the device, the user can see whether the light is being transmitted through the stone and onto the reactive surface. When the diamond is a Type IIa, the surface fluoresces and the stone can be flagged as a possible CVD or HPHT synthetic, an HPHT-treated natural diamond, or a naturally occurring Type IIa diamond.
For those diamonds viewed through the Type II spotter that don't react, two possibilities exist: a natural Type I diamond or an HPHT synthetic. Next, view these diamonds under short- and long-wave ultraviolet light to observe their reaction. If the diamond fluoresces blue, it is natural. If it fluoresces any colour other than blue, observe whether the intensity of the colour under ultraviolet light changes as short- and long-wave UV light are applied. If no change is observed or the colour intensity is at its strongest under long-wave UV, the diamond is also natural.
Lab-grown diamonds exhibit an increase in intensity in the reverse order, or more accurately described, the colour is stronger under short-wave UV than long-wave. When a diamond exhibits an afterglow (i.e. it continues to fluoresce after short-wave UV light has been removed), this is called 'phosphorescence' and its presence confirms the stone is lab-grown. Diamonds remaining inert throughout should be noted as ambiguous and sent for further testing.