Spreading your wings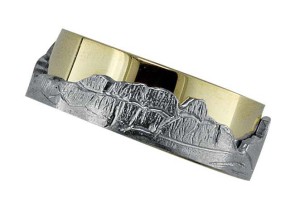 With the exceptions of subcultures of the 'hippie' era when flower children (male and female) wore beads and chains and the current trend of rap stars weighed down with masses of gold chains, skulls, and mammoth diamond (or more likely CZ) studs in their ears, men's jewellery is rather drab and predictable. Certainly there are a few anomalies in the entertainment business, such as the late Liberace and other Vegas, Hollywood, and pop star celebrities. Perhaps that notoriety has actually discouraged 'regular' men from indulging their 'inner peacock.'
The 'average' man today may wear a class ring, engineer's iron ring, or a wedding band. The adventurous few may sport a discreet earring or even a simple bracelet. Others may have a single pair of cufflinks they bought from a tuxedo rental shop when they graduated school; if they have a lifestyle that includes black tie functions, they may even have a set of shirt studs, as well.
In something of a chicken-and-egg scenario, mass-marketed men's jewellery presupposes we are not the adventurous type and, therefore, even gents who may be interested in more exciting adornment will have a lot of trouble finding something that catches their eye. There must be joint effort on the part of the jewellery industry to lead the charge, and the male consumer to demand the industry to rise to the challenge.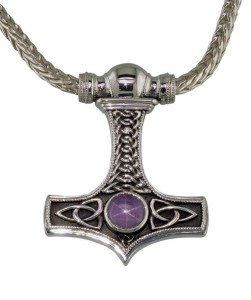 Recent years have seen a modest improvement in the situation. Young, fashionable men in their 20s and 30s are wearing a wider variety of neckwear, such as simple leather cords with pendants, chains in silver, or some of the newly popular alternative materials like stainless steel, titanium, rubber, and carbon fibre. Rings, cufflinks, and bracelets can be found made of these materials in addition to classic gold, silver, and platinum either alone or combined with tungsten carbide or space-age ceramics. The wedding band selection has expanded as well—some hold-outs still want no more than a simple narrow plain gold band, while we are seeing both traditional and alternative metals being used in interesting and creative ways.
Yet, fine jewellery is still a relative rarity in the men's category. Watches are a notable exception—it seems that collecting fine (and often very valuable) timepieces is one activity considered manly enough that it is accepted. Of course, the stereotype of the masculine penchant for things mechanical has its influence and is a credit to the designers and makers of these intricate pieces of horological art. While some successful men spend thousands of dollars to add a watch to their collection (and likely own a similar array of automobiles and other 'toys for boys'), there are more modestly priced, though still well-designed, timepieces to allow up-and-coming gentlemen to change their watch to suit the occasion.
Other men who have gotten past that lone pair of cufflinks stage often have a large and varied collection—some precious, others sentimental, commemorative, amusing, or symbolic—to wear as an event demands. It is also easier now to purchase French cuff shirts in fashionable styles and colours that are not limited to the classic tuxedo shirt.