East meets West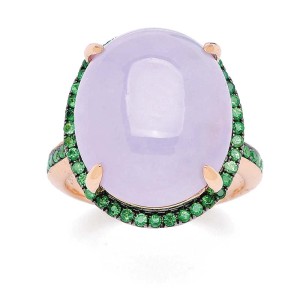 The lure of jade spread to the West during the 1920s when leading design houses embraced the gem. Designers decorated art deco brooches and jabot pins in green jade with diamonds and rubies, setting them in platinum, while jade added contrast to elongated ear pendants and multi-link plaque bracelets. Depending on the design and usage, the jade would be set carved or cabochon, often with diamond details.
Renowned jewellers like Tiffany & Co., Cartier, Van Cleef & Arpels, Janesich, Chaumet, Lacloche Freres, Boucheron, Garrard, and David Webb have made imaginative use of this stone. Elsa Peretti created a collection of bean-shaped cufflinks and pendants in varicoloured jade for Tiffany & Co.
Add another zero
Why is one piece of jade priced at $2000 and another worth up to 100 times as much? Optimal quality and pricing are dependent on various criteria, including translucency, colour shade, saturation, and uniformity. Thickness, size, shape, symmetry, and surface texture are also taken into consideration. Excellent translucency or semi-transparency is most desirable—the finest jade seems to glow from within, almost with a vivid force that's otherworldly. Intensity of colour and its overall distribution, as opposed to a variegated pattern such as what's known in the trade as 'mottled', are other pricing factors. Different shades of green have different values, too. In descending order, we have imperial jade, kingfisher jade, apple jade, and moss-in-snow jade. Some markets prefer whites and lavenders.