By CiCi Yim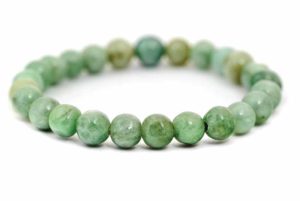 Whether you buy your materials at the jade market, an annual jewellery exhibition, or a friend's jade factory, you don't need to be an expert to make a smart purchase. However, you should at least know the difference between Type A, B, and C jadeite, as well as how to identify them with the naked eye. I teach this method of observation in my Canadian Master of Jade Valuation program and emphasize how important it is to recognize these diagnostic features when you are purchasing for your jade business.
Type A jade
Natural jadeite jade is known in the trade as Type A. Back in the olden days, this gem was only worn by kings and emperors. It was a symbol of status and power. The visual distinguishing features to look for in this type of jadeite are tiny brownish-yellow or black inclusions hidden near outlines of carvings or prong settings (if it is set into a ring or pendant). These dark-coloured imperfections can be omitted from the jade if the lapidary carver cuts around them.
Unfortunately, there are often dark inclusions in areas where the best green colour is present. Therefore, it is sometimes very hard to avoid, especially when you are trying to cut out a bangle of a certain size. Cabochons, bead necklaces, or smaller dime-sized jade cabochons used for rings and pendants are easier to cut out. Another way to avoid having these imperfections in your jade is to carve a design over them—for example, a Buddha or other meaningful motif that will be attractive to a destined owner.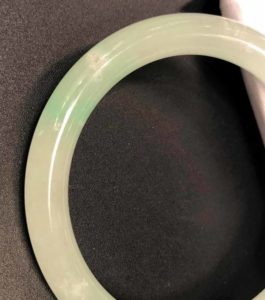 Type B jade
Type B first appeared in the 1980s, and is known as 'bleached jade.' The purpose of bleaching jade is to remove undesirable yellow, brown, or black inclusions. To do this, polymer resin is injected into the stone to increase its transparency. The traditional method for making B jade involves soaking it for a few hours in plum vinegar, a mild acid that removes blemishes, oil stains, and smears. After that, the stones are soaked in warm wax to fill up any holes and cracks to achieve a smooth surface. The end product is covered in a hard, clear, plastic-like coating.
Although bleaching beautifies the appearance of the stone, the internal crystalline structure of all B jade is altered and its grains are no longer interlocked, posing durability problems. Low-quality jadeite with poor transparency, such as moss-in-snow, flower green, and extreme pea green jade, is commonly used for bleaching. These poor varieties of jade all reveal their original distinctive characteristics even after bleaching, and some are more visible than others. Those that are more visible are often made from extremely low-quality jade. For example, while bleaching only increases the transparency of the green base, flower green jade's black distinctive flowers would only be lightened in colour (but not completely removed), becoming less defined and more blurry in appearance.
Although it looks just as good as and sometimes even better than natural jade, B jade should not be worn on your skin if you have skin irritations. This jade type is subject to instability and discolouration over time because the polymer is broken down by heat and household detergents. Nevertheless, B jade is still real jade and has fully natural colour.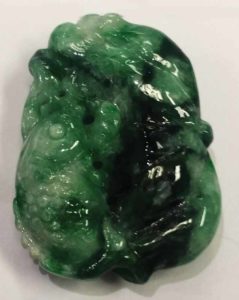 Type C jade
Jade that has been dyed is known as C jade. This artificial treatment has been around since the Qing Dynasty (1644 to 1912), the last imperial dynasty of China.
Dyeing is a relatively quick and inexpensive way to beautify jade. Lower-grade jadeite is often treated to improve its marketability, using both dyeing and bleaching methods. Green jade is most popular, with lavender next in popularity, followed by red. However, the effect is not stable, because with time and heat, the dye will fade. To see how this works, simply place your jade on a windowsill and expose it to the hot sun.
Since jadeite is a polycrystalline material with tiny spaces between crystal granules, it is described as 'porous' and takes dye very well by capillary action (i.e. the ability of liquid to flow into narrow spaces). Lower-quality, coarse-grained material will look more unnatural after dyeing and is easily identifiable with the naked eye.
On the other hand, jadeite varieties with higher transparency and finer grains (such as glassy and icy varieties) are easier to dye. In fact, the finer the texture and smaller the grains of the untreated stone, the better it will take the colour and the more natural the finished piece will look. Sometimes, this treatment can even transform a $100 opaque jade bangle into one worth $10,000 or even $100,000! Nevertheless, this makes Type C jade extremely deceiving; further lab tests would be required to accurately confirm the dye present.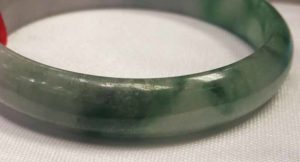 Acetic acid is commonly used to dye jade. With this method, the cleaned jadeite is heated gradually to enlarge the spaces between the grains to prepare for dye. A vacuum is then used to drive out any air still present in the stone. This allows quicker absorption of the dye. Finally, it is placed in a premixed dye solution and soaked for days or weeks—depending on the variety of the jadeite and the colouring agents used—before it is taken out for cleaning.
Even if you have real jade in your hands, this precious material may still have been treated by dyeing and/or bleaching to enhance its appearance and value.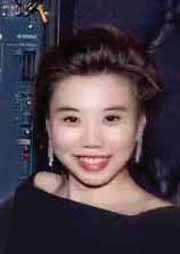 CiCi Yim is one of the few Vancouver-born, Hong Kong-nese gemmologists in British Columbia. She focuses on the evolution of historical designs and the importance of jade in ancient Chinese culture during the Qing Dynasty. She is director of education for the Canadian Institute of Jewellery and Design and program author of Canadian Master of Jade Valuation. Yim has been a visiting lecturer for the Registered Master Valuer program at Vancouver Community College and Sacramento California Institute of Jewellery Training. Her students range from jewellery store owners to members of the mining industry. She is a designated gemmologist from the Canadian Gemological Association (CGA) with an MBA in supply chain management. Yim is fluent in English, Cantonese, and basic Mandarin, and can be reached at ciciyim@gmail.com or by visiting www.jadevaluation.com.