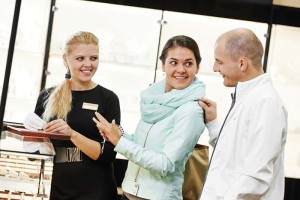 Value safety above property. Discuss with your staff the very real possibility that an armed robbery could occur at the store and what they will need to do to facilitate a safe outcome. Remind them property can be replaced, but a life cannot. That is why you have insurance.
When an armed robbery unfolds, it is essential associates remain calm and co-operate fully with the thief's (or thieves') instructions. This discussion before an actual event may lessen the trauma that follows an armed robbery event.
Trust your instincts. Whenever you or an associate have reason to believe the store is being cased, share your suspicions with staff and notify local law enforcement and/or mall security of your concerns with due dispatch. Remind staff that interactions inconsistent with your usual customer exchange can be an indication you are being actively cased. When associates feel something isn't quite right, they are probably correct.
Be smart about hiring. Internal theft is very real and potentially devastating. It can also be effectively addressed and, in great part, mitigated by jewellers committed to the discipline of consistently observing certain hiring practices, such as a thorough background check of all potential hires. This includes following up on all references, as well as checking out candidates on social networks, such as Facebook.
The majority of losses reported by jewellers can be eliminated when jewellers establish and consistently observe sound security procedures at their operations. For more security tips, check with Jewellers Vigilance Canada and/or visit the safety and security page at JewelersMutual.com.
For training resources regarding safety and security when carrying or working with jewellery, visit JM University at JewelersMutual.com. Jewelers Mutual Insurance Company is the only company specializing exclusively in jewellery insurance in the United States and Canada. It is licensed in all 50 U.S. states
and Canada.
David J. Sexton, CPCU, is vice-president of loss prevention consulting at Jewelers Mutual Insurance Co., in the United States. A graduate of the University of Wisconsin, Sexton serves on the Underwriters' Laboratories' (UL) Security Systems Council, where he is a corporate member of the insurance category. He also sits on the board of directors for Jewellers Vigilance Canada (JVC), and worked on the Central Station Alarm Association's (CSAA's) Insurance Liaison Committee that assisted in the development of the UL burglar alarm modular certificate program and revised UL standard. Comments and questions can be sent to lossprevention@jminsure.com.