Making the grade: Tips to ensure your lab is up to snuff
February 1, 2015
By Gina D'Onofrio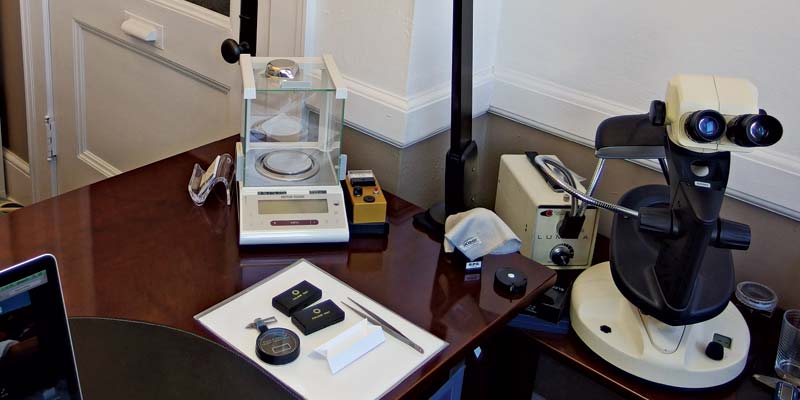 They say diamonds are like snowflakes—no two are alike. Well, it appears the same goes for lab reports. The demand for diamond grading reports has increased in this age of online trading and mistrust. To consumers, they provide a sense of validation of a diamond's 'pedigree.' Labs may come and go, but there will always be differences of opinion regarding diamond grading standards and the subjective element of the process itself. What is an appraiser to do?
We all know the scenario: Mr. Smith comes to your office with a new diamond in hand, along with a report from XYZ lab. He needs an appraisal to insure the stone, but he's also seeking verification. You grade the diamond only to find your opinion of colour, clarity, or both are different to that of XYZ lab. Now what? Before you give your client what is sure to be unwelcome news, verify your own lab is in check and the 'discrepancy' is not your own doing.
In-office lighting
Given its subjective nature, grading diamonds is a complex business. But before you get down to the actual process, there are a few things to consider about your working environment that can help you arrive at a proper grading.
Let's start with lighting. How often do you replace the light tubes in your lab/office? What colour temperature are they? For decades, the industry standard has been to use full-spectrum daylight-equivalent fluorescent light. This is a balanced, diffused, and cool white light. Typically, a bulb is classified as 'full-spectrum' when it has a colour rendering index (CRI) above 90 and a Kelvin temperature rating between 5500K and 6500K. Gemological Institute of America (GIA) has determined the useful life of a lamp for colour-grading purposes is 2500 hours, although it replaces its lamps approximately every 1800 hours. Therefore, if your diamond grading light is on 40 hours a week, that works out to almost 46 weeks of illumination before it is time to replace the bulbs. When grading, be sure to maintain the recommended 20- to 25-cm (8-to 10-in.) viewing distance from the light bulb. This can prevent overgrading diamonds that exhibit fluorescence, as they may react when brought closer to the bulb.
How about your wall paint?
Walk into any grading lab and you'll likely find the walls painted white. Recently, though, GIA has recommended using neutral medium-grey, as it helps reduce eye fatigue. Various standards organizations such as ASTM International and International Organization for Standardization (ISO) also suggest neutral medium-grey walls. If you're fond of wearing colourful clothing to work, consider putting on a white or light grey lab coat when grading diamonds to prevent colour spilling into the grading environment.
Lighting in the field
There are a few things you can do to create the right lighting environment outside your office. When I appraise a diamond or diamond jewellery at a client's home, it's not unusual to find myself surrounded by colourful paint or wallpaper, or to be given the option to set up on the dining room table under a dim chandelier. Instead, I use the kitchen counter near an outlet where I can 'plug in my lab,' which consists of portable full-spectrum lamps and a white paper base and background. When in doubt, I step outside and grade the diamond colour a second time in natural northern daylight, location, time of day, and weather conditions permitting, of course. After all, this is the type of daylight full-spectrum bulbs are attempting to mimic.
Master diamond grading set
How often do you clean your master diamond grading set? If you have an older set, inspect it to see whether the girdles are bruted. The rough surface can trap dirt, grime, and metal fragments from your tweezers, causing the stone colour to appear darker. Regular cleaning in sulphuric acid resolves this.
GIA recommends cleaning a master set every two to four weeks. Since I use my master set less frequently than a lab like GIA, I clean it every few months. Your local bench jeweller or diamond cutter should be able to help.
Calibrate your instruments
No matter how precise, digital gauges can change over time due to wear; they can also become misaligned after being dropped. To check that your gauge is accurate, consider picking up a calibration block at your local jewellery supply house. Made from steel, calibration blocks offer precise measurement. (I own a 5-mm and a 10-mm block.) You can determine the accuracy of your digital gauge by simply measuring the block. I recommend doing this monthly and keeping a log of the date and measurements.
Colour vision
Proper equipment and a consistent grading environment are of little use without the regular screening of your own colour vision. American Society of Appraisers (ASA), American Gem Society (AGS), and National Association of Jewelry Appraisers (NAJA) require members regularly take (and pass) the Farnsworth-Munsell 100 hue test to ensure they have normal colour vision.
Take-in procedure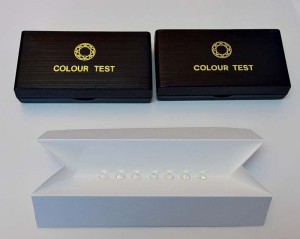 Your take-in procedure is critical to the appraisal process. First off, ask your client to bring all relevant paperwork that came with their diamond, including the purchase receipt, prior appraisals, and of course, the lab report. These papers reveal what the client paid, along with what they understand to be the quality and value of their stone. They also alert you to potential areas that need to be discussed or clarified.
A great deal of my time is spent educating my clients. Given the subject matter, the substantial cost of the item being appraised, and the emotional or sentimental circumstances surrounding it, what I say during the evaluation is critical. As appraisers, we are required to be impartial third parties. If you arrive at a grade that is several off from what the report states, it's time to have a very delicate conversation with your client. After explaining you've verified the diamond is in fact the one described in the report, your next course of action is to describe how you arrived at your opinion, the typical tolerances for grading a mounted or loose diamond, and how and why labs differ in their grades. You may also want to give the client the backstory to the standards you follow (e.g. GIA, AGS, etc.) and what the industry finds to be an acceptable variance (i.e. one colour and one clarity grade). If the stone is mounted, you should also indicate how colour grade can be affected by the metal around it, and that to remove the stone from the setting may affect your opinion of the grade. Finally, explain how you will be approaching your research and replacement value. As always, include limiting conditions in your report. Remember that appraisers don't mediate disputes between client and vendor—we merely offer our opinion and disclose any limiting conditions in our valuation.
The appraisal report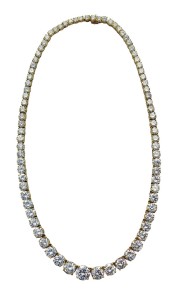 The starting point for the appraisal is to determine the report's intended use. This affects the report's content and/or discussion with the client, approach to value, and differences in opinion (if any). For example, you may be writing an appraisal report for orderly liquidation, dissolution of marriage, or estate taxes. For the purposes of this article, we will focus our discussion on appraisal reports for the intended use of obtaining insurance coverage, the type of value being 'replacement value, new' (for most cases) or 'replacement value, comparable' (when working with diamonds set in period jewellery). Also, for the sake of brevity, I will preface this section of the article by stating that I grade to GIA standards.
I grade the diamond as I see it, within the limitations of the mounting (if set) and my grading environment. In the diamond description, I state my grade and, when different, include the lab report's grade next to mine in parentheses. When there is a difference in measurements beyond the industry's accepted tolerance of ± 0.10 mm, I state mine, along with the lab report's measurements.
When the diamond is more than one carat and accompanied by a report other than GIA or AGS, I include my own plot of inclusions. I also include the laboratory name, date, and report number, and attach a copy of the report to my appraisal.
As per the ASA's report writing standards, I include an explanation of tolerances for mounted and unmounted stones in my report, which are as follows:
Diamond colour grading tolerance for unmounted diamonds is ± one grade;
Diamond colour grading tolerance for diamonds set in white metal is ± two grades; and
Diamond colour grading tolerance for diamonds set in yellow metal is ± three grades.
I also include an explanation of the diamond grading standards I follow, a diamond grading scale, definitions, and conditions that may limit my ability to accurately measure or grade the diamond.
At the 2013 Rapaport Diamond Certification Conference, RapNet presented the findings of its survey of laboratories that included GIA, IGI, EGL USA, HRD, EGL HK, and EGL Israel. Although the differences in grading standards may be factored into how the market adjusts diamond prices arrived at by each lab, the study revealed these differences were not always enough to account for the inconsistency among grading results.
I keep this RapNet study in mind when determining replacement value, which is based on my research of the market for diamonds as per my grade and grading standards. In addition, I research the market for diamonds accompanied by a report from the lab in question as per its grade. An explanation of this approach is prominently stated next to the value conclusion. Since I do not know how the insurance company will choose to replace the diamond, I want to ensure the client is covered for either scenario. All market research and analysis is saved in the client work file.
Inconsistent grading
We're all aware of the different grading standards between labs, but what else may be adding to the confusion? I've seen incidents where a dealer may fail to remove markings on diamond job bags when the stone is submitted to a lab. Depending on the laboratory's procedures, the label on the bag may be visible to the grader, swaying his or her decision. The same may occur when the diamond bears a laser inscription from a competing lab. Appraisers have reported cases where this has resulted in a matching grade by the second lab, but also incidents where the inscription was completely ignored, revealing the problem of inconsistent grading standards. In addition, sometimes the laser inscription is cited in the second lab's grading report and sometimes it isn't.
Difference of opinion or deception?
Recently, I graded a 1.01-carat princess-cut diamond with a small corner chip visible beneath the prong setting. The chip was not represented in the diamond plot or the report, and my measurement of the diamond's length and width was smaller than what was indicated. Also, the report stated there was a laser inscription on the girdle, although I was unable to locate it on the diamond. I surmised the diamond had been re-polished to remove most of the chip after the lab report was issued. It appeared they were hoping the setting would cover the chip, which meant they could retain more diamond weight by not polishing it out altogether. This was a brand new, custom-made engagement ring! With most of the chip polished out and the subsequent difference in measurements, the diamond probably weighed less than one carat, thus reducing its value. After discussing the discrepancies with the client, I was asked to issue a damage report instead of an appraisal.
Don't pre-judge the lab grading report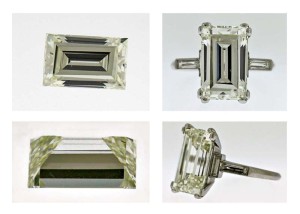 Don't you love when clients retain all their reports and documents? Last year, I graded a large diamond rivière necklace. Each stone was accompanied by either a GIA or EGL USA report, which had been prepared 25 years ago. I was surprised to find the grading standards between the two labs were much closer back then than they are today. I've seen this happen repeatedly with single-stone items, but it was interesting to see it consistently on a multiple-stone piece. This reminded me that appraisal dates can matter and to keep an open mind when presented with a lab report.
We've all seen the news coverage. It's hard to pick up an industry publication that doesn't analyze differences in grading between labs, lawsuits between vendor and consumer, and Martin Rapaport's efforts to protect the industry's reputation. At the end of the day, however, we must avoid the hype and provide appraisal services in the most professional, ethical, and impartial manner.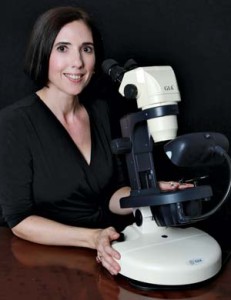 [6]Gina D'Onofrio has provided gemmological and jewellery appraisal services since 1992. She is an accredited senior appraiser, master gemmologist appraiser (American Society of Appraisers) and certified senior member of National Association of Jewelry Appraisers (NAJA). D'Onofrio is co-instructor for the American Society of Appraiser's GJ-202 appraisal report writing for insurance coverage class. She may be contacted via e-mail at ginajewels@gmail.com[7].
Endnotes:
[Image]: http://www.jewellerybusiness.com/wp-content/uploads/2015/02/Light_a.jpg
[Image]: http://www.jewellerybusiness.com/wp-content/uploads/2015/02/Gauge_b.jpg
[Image]: http://www.jewellerybusiness.com/wp-content/uploads/2015/02/Master_a.jpg
[Image]: http://www.jewellerybusiness.com/wp-content/uploads/2015/02/Riv_a.jpg
[Image]: http://www.jewellerybusiness.com/wp-content/uploads/2015/02/Bag.jpg
[Image]: http://www.jewellerybusiness.com/wp-content/uploads/2015/11/Gina5C0A0497Ret21.jpg
ginajewels@gmail.com: mailto:ginajewels@gmail.com
Source URL: https://www.jewellerybusiness.com/features/making-the-grade-tips-to-ensure-your-lab-is-up-to-snuff/
---