By The Langerman Diamonds Team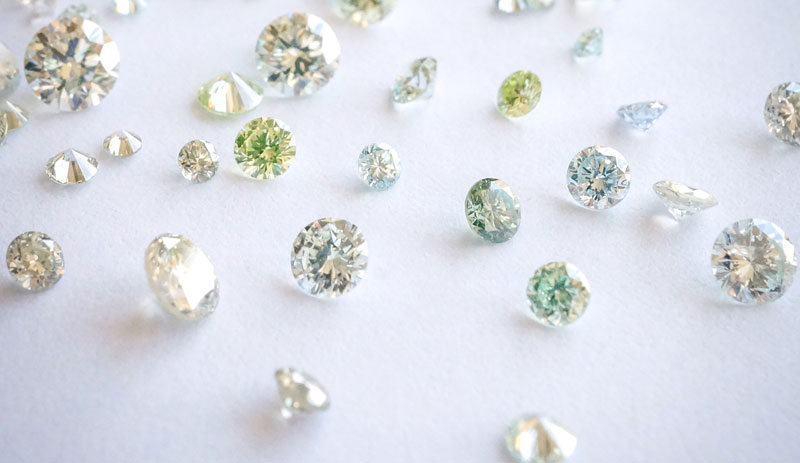 For centuries, professionals in the diamond business have known how to make the most of melee, the unsung hero of jewellery making. Indeed, melee is often the secret trick that helps make a diamond centre stone look larger, brighter, and more distinct. And, when they are in different hues and shades, these tiny, tough gems can transform a piece of jewellery from 'nice' to 'unforgettable,' as well as add deep, luscious colour.
More about melee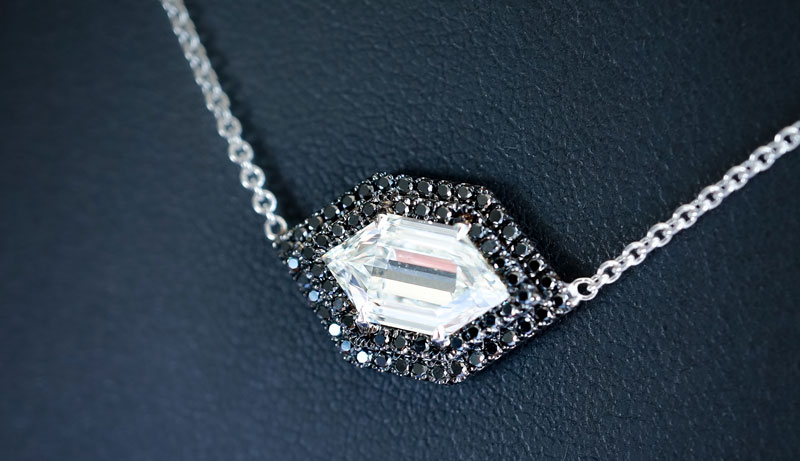 Pronounced mel-ay (emphasis on final syllable), the name comes from the French verb mêler, meaning 'mixing sizes.' The term was, perhaps, more accurate in the past when melee diamonds were sold in bulk with various weights and colours mixed together. Today, melees are sorted and sold in parcels of similar sizes and colours for added convenience. A melee diamond is typically less than 0.10 carats and is most often round with a full cut (57 facets), much like their big, round counterparts.
Due to their relatively low price and high quantities, melee diamonds do not come with certificates. This makes it so much more important to buy your melees uniquely from a recommended diamond company with a good reputation. After all, jewellers should always strive for the best quality stones, even if they are modest in size. 
Small, but mighty
There are many ways in which melee can enhance the 'wow' factor of a piece of jewellery.
In rings, for example, melees are often cast in a supporting role, surrounding a piece's centre stone in a halo setting. This style creates an optical trick whereby the main diamond appears larger in size and possesses a clearer, more vibrant reflection and colour. Indeed, adding two melee halos around a diamond will, visually, almost double its size. Additionally, the small stones reflect light to the centre diamond, which can sometimes even make up for a low-grade cut or clarity.
Where melee truly has the opportunity to serve as 'star of the show' are in pieces such as eternity bands, studded hoops, and classic bangles. Here, melees stand on their own and create a beautiful look because of the large number of diamonds used in a single piece of jewellery.
Melees are typically set in either a pavé or a channel setting. Pavé is another word of French origin, meaning 'paved' (as in a paved road). It's a suitable word to explain the setting, as melees set in pavé style are placed so closely together there are no gaps of metal between them.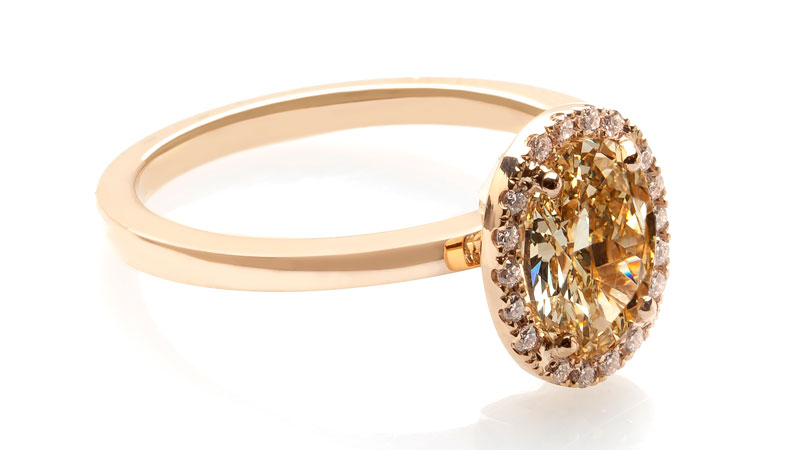 Meanwhile, in a channel setting, melees are typically placed further apart in a 'channel' of gold or platinum. Both settings work well on their own as well as in a design with a centre stone.
Hundreds of shades
As with any diamond, when it comes to options of hues and colours, the possibilities are endless.  Natural colour diamond melees in raspberry, toffee, and lime are as deliciously delightful as they sound. Likewise, melees in honey, canary, or apricot offer such deep, clear sunlight colours, the effect is wildly disproportionate to their size.
Incorporating raspberry, old rose, or burgundy melees allow designers to produce pink diamond jewellery pieces at a fraction of the cost of a larger-sized pink diamond. The same can be said for blue, sky, or steel natural colour diamond melees—these beautiful stones allow for the production of pieces very few people in the world could afford to purchase if larger diamonds were used. Indeed, melees make natural colour diamonds more accessible to a wider audience and, in turn, can bring your jewellery design and offerings to a whole new level.
Incorporating natural colour diamond melees
In addition to helping a centre stone appear larger, natural colour diamond melees can also enhance and deepen the shades of the main stone by either matching or contrasting its colour. Finding the perfect combination of colours is very gratifying and, further, a true skill. After all, each natural colour diamond is completely unique, as only one diamond in every 10,000 falls into this category. As such, it takes some time and patience to find natural colour melee diamonds in the perfect nuance to match a centre stone.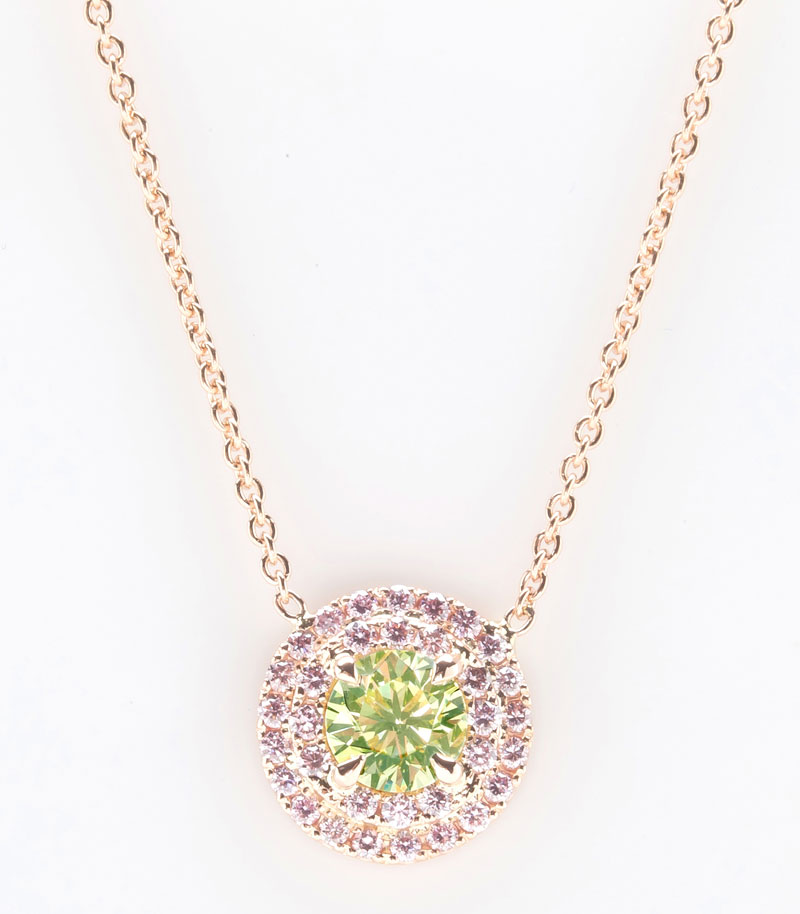 That said, incorporating melees in a slightly lighter nuance or even a completely contrasting colour can also create an incredible effect—all it takes is the willingness to experiment and a keen eye for which nuances go together.
The diamond insider's best tips to using melees
Experimenting with natural colour melee diamonds is a fantastic way to try out different combinations, gauge the reactions of your clientele, and add new designs to your collections. Whether you are new to working with these small masterpieces or a seasoned connoisseur, there are several tips to keep in mind that may be helpful.
Picking proportions
Melees come in many different sizes, and, if you are using these diamonds to set off a centre stone, it is important to get the proportions just right. Notably, if the melees are too big, they can overpower the centre stone, making it look insignificant and miscast for the main role. When you hit the sweet spot, however, the little diamonds will do their job effectively and let the main attraction take centre stage.
Selecting shades
Likewise, choosing melees in a slightly different nuance than a piece's 'main attraction' can help the centre stone appear larger and deeper in colour. Melees can also elevate the appearance of a natural colour diamond toward a more expensive category—for example, using raspberry melees in a double halo setting around an old rose diamond will make the centre stone appear pinker.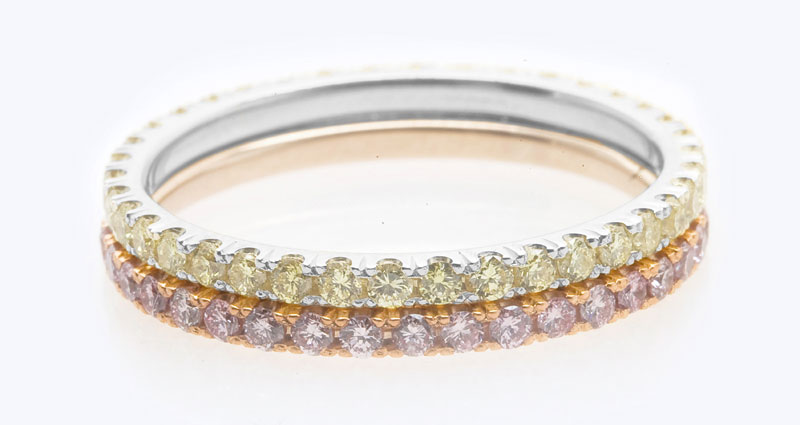 You can also mix natural colour melees to create a rainbow or gradation, or simply group together hues that spark the most joy—like deep flashes of honey and saffron coupled with cognac and champagne, or the refreshing sparkles of mint and vanilla paired against the grounding hues of grey and dark chocolate.
Partnering with suppliers
Entering the terrain of natural colour melee diamonds is challenging, as jewellers and retailers are not able to rely fully on their 4C knowledge and certifications. Even the most experienced diamantaire might not be able to recognize a good cut on such a small scale or discern diamond chips from melees.
Thus, it is incredibly important to buy from companies with a solid reputation and history in the industry. The diamond business is heavily based on relations and reputation—if a supplier has survived in this industry for many decades, it is because both are intact. A knowledgeable diamond company will also be happy to advise on the two points above: getting the proportions right for a specific piece and how to get the desired effect from a colour scheme.
Above and beyond
Tiny in size but big in effect, natural colour melee diamonds are the secret ingredient to a dazzling jewellery collection. Indeed, these stones can do a lot of heavy lifting to help elevate a luxury piece to an entirely new level.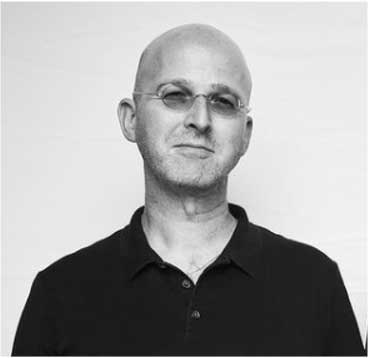 Stefan Langerman, PhD, is CEO of Langerman Diamonds, a family-owned and -operated business with the world's largest selection of natural colour diamonds. He can be reached at contact@langerman-diamonds.com.
This article was researched and written by the Langerman Diamonds team. Based in Belgium, Langerman Diamonds is recognized for its expertise, dedication to craftsmanship, and to the highest standards of service excellence. For more information on natural colour diamonds, visit www.langerman-diamonds.com.