Canadian contrast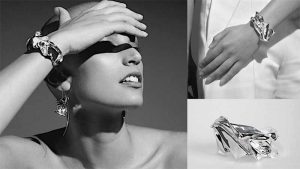 Beyond the faddish statement styles, this season's most popular jewellery trends, by and large, aren't large at all. To balance this fall's ready-to-wear (RTW) retro boldness, daily-wear jewellery is much more diminutive. From earrings to anklets, the dominating look was, in a word, demi-fine. Canadian designers predominantly selected 14-karat yellow gold plated over sterling silver, with solid gold reserved for the daintiest of designs. For gems, white diamonds were upstaged by Ultra Violet-toned stones, a nod to Pantone's colour of the year.
Half a carat or less of natural and manmade amethysts, sapphires, and grape garnets in faceted, unique cuts joined cabochon opals, moonstones, and pearls set in modern, minimalistic designs.
Great White way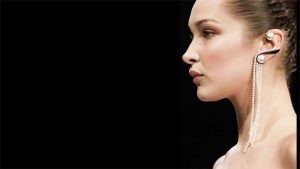 The word of Canada's strong presence within NYFW's shows and the broader fashion spotlight has shifted from enlightened gasps to bountiful applause. At first, no one could quite pinpoint why Canadian brands were suddenly top of mind.
"Until recently, Canadian artists seemed to work in the shadows," noted Lea Remski of WhoWhatWear.com. "Suddenly, a bright light is being shined on some very talented Canadian designers. Canada is definitely having its day in the sun."
That day should turn into a decade as Canada's top creatives pick up their pace and pick up awards.
"Our artists have been creating in secret in a lot of ways. To everyone's surprise, something special is happening, and it's about time!" said Vanessa Laurin, producer of the Great White North Exhibition (a juried, annual competition dedicated to awarding Canadian jewellers).
It's exciting for a designer who calls Canada home to win a Canadian award, but when a contest created by and for the global jewellery industry acknowledges a Canadian artist, the accolades reach longer and stronger. Such was the case for Shelly Purdy, one of three winners of the 10th annual Centurion Emerging Designer Competition. (For more on Purdy, click here. A list of all the winners can be found here.)
"It feels a bit odd to be honoured as an 'emerging designer,'" said Purdy, who started designing early in her life. "In 1991, I opened a studio in Toronto's fashion/entertainment district, where we remain today. With the discovery of the first Canadian diamond mine, I wanted to give bridal consumers the choice of pledging their commitment with locally and ethically sourced diamonds in hand-sculpted settings."
These designs won the coveted De Beers Diamond Today Award and resulted in Purdy's selection as a featured designer in Rio Tinto's 'Diamonds with a Story' campaign (representing Canada's Diavik Mine). Purdy purchased her first loose diamond from the Canadian Ekati mine and set it in an achievement ring.
"My achievement ring is something I look at while I'm sketching. It reminds me of the significance of what I'm creating for others," Purdy said.
She recalls purchasing a selection of rose-cut grey diamonds due to their appearance alone, not a preconceived design they would be set within. Those diamonds sat with her in her studio until the birth of the 'Bound' collection two years later. Why the name 'Bound?'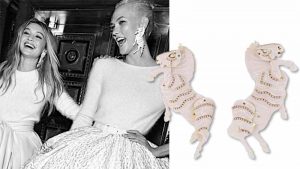 "'Bound' may be playfully sexual or denote a lifelong tie between two people," Purdy said.
So, she sculpted the appearance of a weave set around each stone. Think of corded silk wrapped tightly around your finger…slightly pronounced skin would naturally be seen between each revolution. This was the thought process refined in the hand-tooled look of Bound.
Befitting of this fall's outside-the-box fashion look, Bound delivers and goes beyond trends. After all, bridal jewellery is a symbol of sanctity. Purdy understands engagement rings and wedding bands are meant to be worn every day, and should speak to the life and style of the user. People should want to wear deeply symbolic designs, not feel forced to.