Face off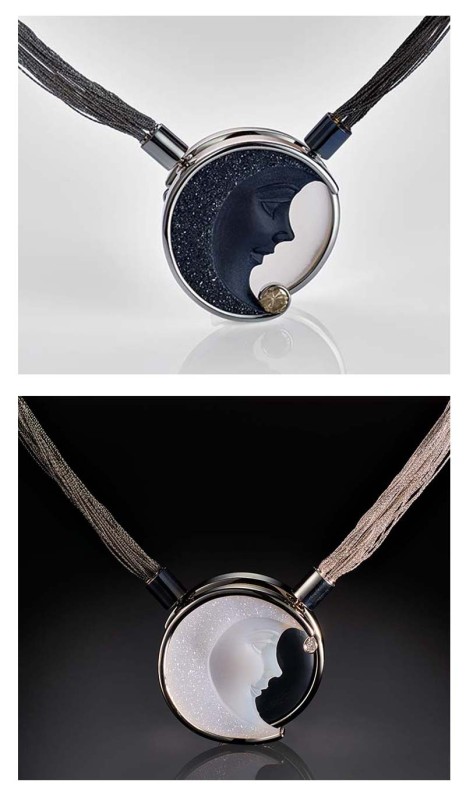 The carvings used in the pendant were cut from the inside of agate geodes encrusted with druzy quartz (i.e. tiny quartz crystals that look like the surface is dusted with sugar). One carving is white, while the other is dyed black. (Natural black agate is actually quite rare. The vast majority of black 'onyx' is neutral-coloured agate that has absorbed a saturated sugar solution before being immersed in acid to carbonize the sugar. The result is a dark-brown colouration that appears black unless held up to bright light.)
Druzy quartz crystals are not porous and remain transparent, which makes for artistic potential. The carvings I bought were in the form of crescent moons, the crescent retaining the druzy crystals with the moon face carved in low-relief silhouette into the base agate. The contrast between the face's matte surface and the druzy quartz's glitter is quite striking.
When I purchased these carvings, my original design concept was to use both the faces as the feature of a neckpiece. Three design problems came to the fore, however. First, the black carving was larger than the white one. Second, both faces were carved to show the right profile view, which didn't look good. And third, at 50 mm in diameter, the larger carving was simply too big to be practical for wearing.
Upon further reflection, I came up with a solution: set the two carvings back to back and create a reversible piece. Of course, this meant I had to cut down the larger moon to the same diameter as the smaller carving, which was approximately 39 mm. I turned to a local lapidary for that.
My idea for the design called for a 19-karat white gold bezel for each carving. From a technical point of view, these bezels would be both tricky and very time-consuming to make. The carvings are not flat and linear, but rather undulate gently, reflecting the original form of the inside of the parent geodes. It would be difficult to hammer a bezel over the front of the carvings without the possibility of damaging the druzy crystals. However, our laser welder allowed us to set the carvings in their bezels from the back with no risk to the gems.