The circle is complete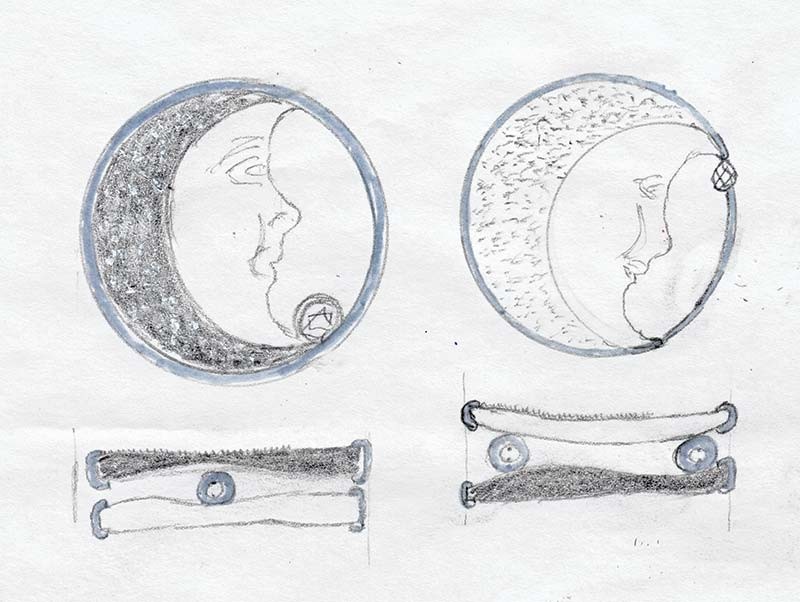 After we finished and delivered the piece, I received the call for submissions to the 45th German Award for Jewellery and Precious Stones competition. By happy co-incidence, this year's theme was 'Moonlight.' My client was generous enough to loan the pendant back to me so I could send it to Germany. However, since this competition does not allow the use of organic gemstones like pearls, which was my first choice for a carrier, I had to find an alternate method to make it wearable.
Another German supplier (this one from Phorzheim) provided the ideal solution: two 25-strand ropes of very tiny chains gathered together in tubular end caps. Both were 18-karat white gold, but one was electroplated with black ruthenium. The style of the individual chains provides a subtle glitter that was a perfect complement to the druzy quartz crystals, while maintaining the black and white theme. They were each 18 in., which would have been too long and too small in scale for the centre pendant. However, doubling them provided the perfect proportions.
My first thought was to simply combine the two necklaces in one 18-in. rope of 50 bi-coloured strands. However, taking the necklaces apart and re-attaching 100 ends of tiny chains was a daunting task. We decided to simply double each rope and loop them together at the back. Next, we made two new tubular white gold end caps, each large enough to accept the chains' existing end caps. We welded the four ends inside these new caps and attached the male bayonet findings to complete the neckpiece, which we called 'The Other Side of the Moon.'
While enjoying a vacation in Italy last October, I was in a taxi from the train station to our hotel when my cellphone rang. A good friend and gem dealer from Idar who is part of the competition's governing committee stunned me by saying 'The Other Side of the Moon' had won first place in this year's contest. Though I am not often speechless, I must confess I was flabbergasted and it took a while for reality to sink in. Of course, this meant another trip back to Europe to attend the awards presentation in Idar-Oberstein. The hospitality and generosity of my German hosts was fantastic and it seemed completely appropriate that a piece inspired by carvings originating from Idar should return there for recognition.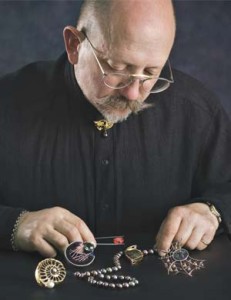 Llyn L. Strelau is the owner of Jewels by Design, a designer-goldsmith studio in Calgary established in 1984. His firm specializes in custom jewellery design for a local and international clientele. Strelau has received numerous design awards, including the American Gem Trade Association's (AGTA's) Spectrum Awards and De Beers' Beyond Tradition—A Celebration of Canadian Craft. His work has also been published in Masters: Gemstones, Major Works by Leading Jewelers. Strelau can be reached via e-mail at designer@jewelsbydesign.com.