Shape
The rarest and most sought-after pearls are perfectly round or with a pronounced drop shape. For convenience, shape is categorized by the following descriptors:
round;
oval;
drop;
button;
near-round;
baroque;
semi-baroque; and
circled.
 
Colour
Since light is refracted through the nacre's prismatic calcium crystals, pearls can display almost all the colours of the rainbow. A pearl's colour does not affect its quality, but influences perceptions of its beauty according to personal taste. Most pearls are white, light grey, or cream, but some may even have pink, green, or yellow tones. Gold, cognac, peach, green, and champagne pearls do occur naturally, but this is very rare.
Some colours have become more popular in particular markets. For instance, white is very much in demand in the United States, while silver-grey is big in Asia and creamy pink in France. Strong demand for certain colours can drive up a pearl's price.
Freshwater cultured pearls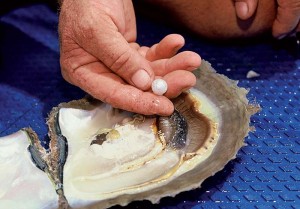 Freshwater pearls are cultured in mussels called Hyriopsis cumingi (i.e. triangle shell). These pearls are generally very inexpensive, since one mussel can produce as many as 50 at a time and they generally take less than a year to grow. The term 'Chinese pearl' often has a negative connotation, since this variety can be extremely inexpensive and of lesser quality. However, Chinese pearls with better shape and lustre are also appearing on the market. Freshwater pearls are generally valued according to the same criteria as other cultured pearls. Here are some of the qualities to consider when buying freshwater pearls.
Shape
A pearl's value is determined by how round it is, although most freshwater pearls are irregular in shape (also known as baroque). The rounder shapes are priced higher than oval or flat.
Smoothness
Smooth freshwater pearls are more valuable than those with bumpy or wrinkled surfaces.
Colour
Freshwater pearls come in a wide variety of colours: white, pink, orange, yellow, lavender, grey, or bronze. For this reason, 90 per cent of white freshwater pearls sold today are bleached. On the other end of the scale, a great number are also dyed.
Nacre thickness
Nacre thickness is an important factor in both freshwater and saltwater pearls. Often, nacre thickness is very high in freshwater pearls, as they do not have a nucleus. However, the quality of this nacre is much lower than of a saltwater pearl's and, consequently, so is the price.