The question of 'branding'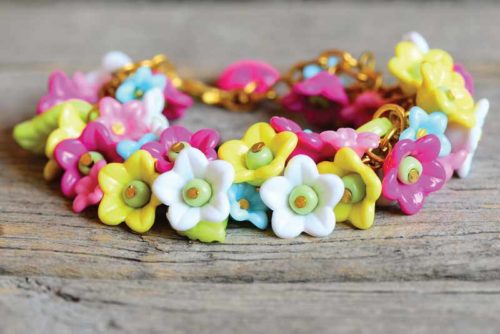 The 'Polar Bear Diamond crash' served as a warning for jewellers, reminding them not to lose their identity to any single brand.
Twenty years ago, 'branding' was a buzzword referring to the creation of a strong, unique expectation for stores. At that time, it was all about developing your own display systems, packaging, and messaging and creating an immersive, branded experience for your customer.
When we talk about branding today, however, most retailers argue there's a benefit to featuring popular established brands within your business. If you perform a Google search for jewellery retailers in different towns and cities, you'll find those that carry recognized brand names are no doubt the ones you would be most interested in visiting.
Gift stores have always excelled at creating branded presentations. From filling pastel chalk-painted antique buffets with candles, cookie jars overloaded with colourful bath-bombs, and homemade jams and chutneys on live-edge wood shelving, gift merchants are keen to draw customers in using unique layouts and offerings. While jewellery retailers in the early 2000s tried to emulate the simple homogeneity of Tiffany's, gift stores remained branded (or at least segmented).
A funny thing happened on the way to the jewellery store…
Having worked as a travelling sales rep for 17 years, I can tell you something you jewellers might not want to hear: even if you maintain an amazing store, you're not the only option in town.
I spent two years trying to get Keith Jack products into Woodland Jewellers in B.C.'s beautiful Cariboo region before the store's owner, Cindy Watt, finally made room to stock it. A year later, she literally punched me in the shoulder and said, "Why didn't you talk me into carrying this line sooner? It's amazing!"
By contrast, when a second jeweller in another town declined to even look at the line, I visited an attractive gift store around the corner. They enthusiastically adopted the brand, thrived, and have continued to do so ever since. Though the shop wasn't a fine jewellery store, I did the best thing for the company I represented by finding a retailer that would promote and sell the product well.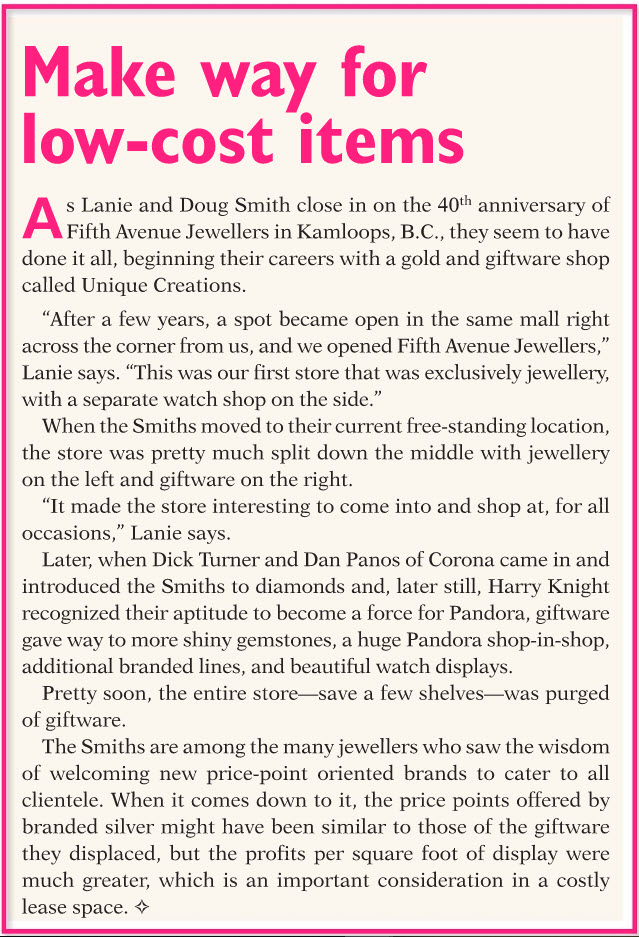 Mind the gap
Jewellers in smaller centres tend to find it prudent to maintain a giftware section to bridge the (often sizable) gap in the jewellery purchase cycle.
I recently discussed this with Ron Caine of Caine's Jewellers in Rocky Mountain House and Whitecourt, Alta. He sees the value in the strategy, but adds it's important for jewellers to stock giftware that can't be found in stores nearby, and that the pieces they bring in are consistent with 'jewellery-worthy' celebrations.
Marie Wade (retired, formerly of Ware's Jewelers in Stettler, Alta.) echoed Ron's sentiments on exclusivity.
"If we opened a new store, we would have giftware in some shape or form depending on space," says Marie. "It brings people in who are not necessarily looking for jewellery, but who might try something on while they are in."
Working in tandem
The jewellery and giftware industries are, without a doubt, linked—if you doubt this, simply look at how critical it's been for the dates and locations of the Canadian Jewellery Expos to line up with those of the major gift shows.
For Marie, she was happy with a 15 per cent revenue share from the giftware she carried, and you might expect more or perhaps less. Even still, keep your eye on the gift-store owner down the street; they might become your competitor before you know it!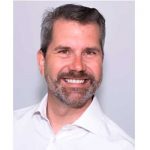 Todd Wasylyshyn stumbled into the jewellery world while completing an arts degree at the University of Alberta in 1987, and still possesses the very first loonie he made in the industry. Having worked retail and been an owner, traveller, gemmologist, and writer, Wasylyshyn has seen the vast jewellery business from many angles, and is always on the lookout for new trends. Currently, he is general manager of Keith Jack Inc. of North Vancouver. He can be reached via e-mail at toddwaz@gmail.com.