Typecasting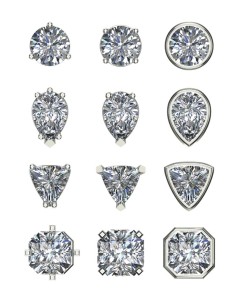 Fancy and designer gems tend to fall into one of three general categories. The first encompasses standard gemstones that may not exhibit their distinct shape when set in a regular mount. Here, careful consideration to the setting can make a big difference in creating visual impact. In some instances, a standard claw setting can actually distract from a gemstone's shape. Four claws, for example, can make a round gem look more square, while a pear shape may appear less so when the setting does not feature a V-claw at the stone's apex. Consider a pair of earrings. From normal viewing distance, it is difficult to discern whether the stone is round, square, or triangular. And yet, by designing the setting to the gem, it is possible to highlight those shapes to greater effect.
While some people do not like the idea of a full bezel setting, it does allow a gem's outline to be clearly defined, separating it from the surrounding background, rather than confusing the eye as a claw setting might. As long as a gem is cut with proper pavilion angles, it still sparkles as it should. Rim bezels—which only wrap a gem's girdle—can avoid the 'tube' look of a typical bezel.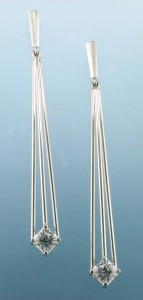 The second category refers to diamonds (or other smaller gems) with standard girdle outlines/shapes, though with creative variations on traditional facet arrangements. There are various proprietary cuts on the market, all of which are sold for a considerable premium over regular cuts. Using a standard claw or bezel setting with one of these may actually do it a disservice, as it may simply look like a 'normal' gem and not exhibit the distinctions that come with its premium price.
In the third category, we have coloured stones cut by gem designers in a wide variety of fancy custom shapes. These works of art are truly something to behold—they are complex and an exercise in precise calculation. The details of these cuts are easily visible when looking at a large stone, but often, their true magic is only seen under magnification. Some fancy cuts simply have distinct outlines with fairly standard facet arrangements, while others have typical outlines, though innovative facet structure. The former could benefit from bezels or claw styles that enhance the distinctive outline, while the latter really do look their best with a setting drawing attention to the stone's innovative cutting.
For the purposes of our discussion, we'll take a look at two recent projects using cuts that fall under the second and third categories and how I maximized their potential using a technique to magnify images of the actual facet patterns.