By Bénédicte Lavoie

Sapphires are considered precious gemstones, along with rubies, emeralds, and diamonds. This is not surprising, considering the amazing range of colours these gems can show, as well as being the third hardest mineral on the Mohs scale, after only diamonds (10) and synthetic moissanite (9.5). While sapphire exists in a wide spectrum of hues, the most prized and popular of these gems are blue, and all other colours are referred as 'fancy coloured' sapphires.
This article offers a brief overview of this incredible gemstone, along with a closer look at some of the most popular, as well as the lesser-known, legendary sapphires.
Early history
The history of sapphires dates back to at least seventh century BC with the Etruscans, located in what is now Tuscany. These beautiful stones were then imported from the region of Kashmir in India and what is today known as Sri Lanka.
Medieval times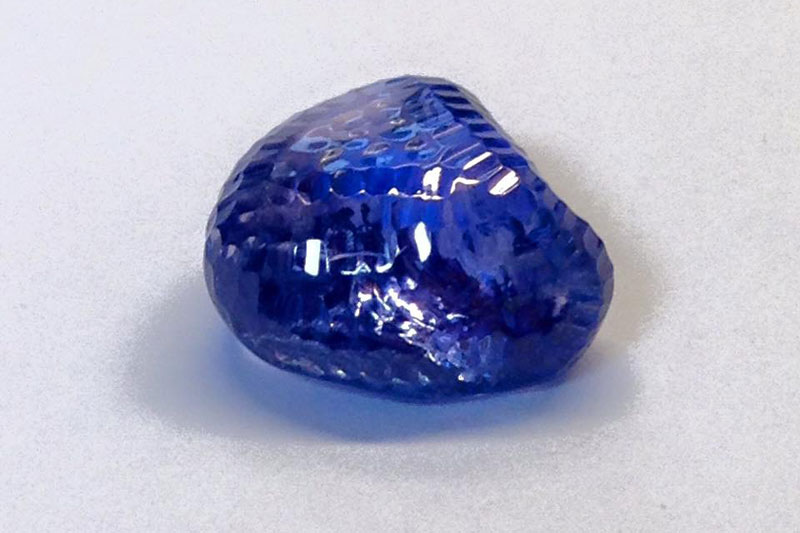 Sapphires have been decorating kings and queens since the medieval age, and are said to protect against harm, disease, and envy. These regal stones were transported from India through trading routes and were brought to the Mediterranean region, which, ultimately, became a hub for their distribution through the rest of Europe. It was much easier for long-distance travellers to carry many small valuable gemstones rather than heavier cargos when making such a long journey.
Renaissance
During the enlightenment period, Italian goldsmiths and stone carvers were inspired to push the limits in regard to transforming sapphire pebbles into real works of art. Indeed, this was the birth of lapidary, which brought faceted stones to the world. (Of course, cutting styles of the time differ from what we see today; a crown and a pavilion, for example, resembled more of a modern rose cut.)
This era also saw an increase of world trade, resulting in the emergence of the bourgeoisie, a new social class outside of royalty, clergy, and nobility who could afford to wear these gemstones.
Modern time
Today, thanks to globalization, sapphires are more accessible than ever. Most everyone (including those outside the jewellery industry) are familiar with these popular blue stones, and sapphire pieces can be purchased at almost any jewellery store around the world.
Sapphires of note
Of course, while sapphire has become increasingly available and accessible over the years, there are a few specific highly regarded gems that have made their mark in the world of jewellery and gemstones.
Buddha Blue
Weight: 15.73 carats
Origin: Ceylon (now Sri Lanka), faceted around the 13th to 15th century AD
Current location: 'Somewhere In The Rainbow' collection
The Buddha Blue might be the least known sapphire mentioned in this article, but it carries significant history. The stone is exceptional in its resilience, having survived in its unusual and historical cutting style for centuries without ever being re-cut into a more modern fashion.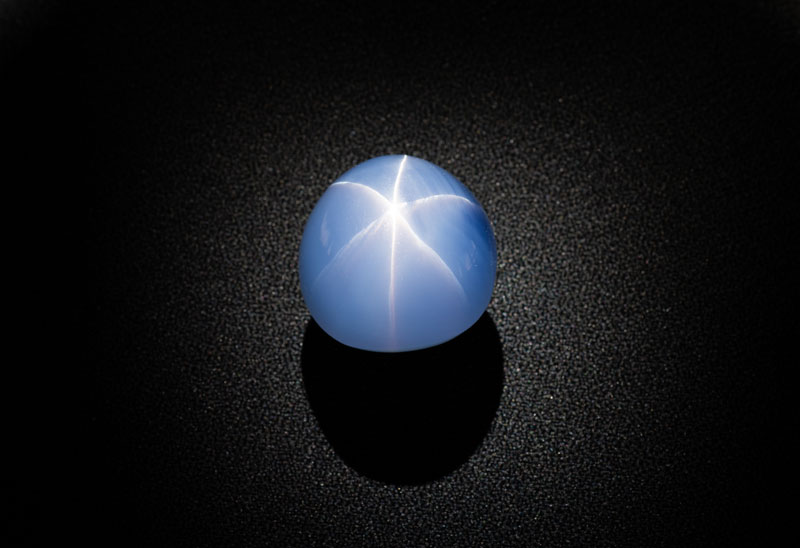 While very little information is available about this stone, thanks to Shelly Sergent, the collection manager of Somewhere In The Rainbow, this author was able to access a report compiled by Çidĝem Lüle (Gemworld International) and Christopher P. Smith (AGL), filled with fascinating details.
The report explains there are many ways to date a gemstone—sometimes, during excavation of a site, a gem is found near other objects that are able to be dated; other times, dating is based on the jewellery style in which a stone is set or its engravings (early lapidary on coloured gemstones mostly involved engraving and polishing, for example). When the Buddha Blue was sent for report, however, it was just a loose gemstone with a very odd faceting style that had never been seen before. The stone's owner said the sapphire had been purchased by his late grandfather in the 1920s and was said to come from the ruins of a stupa in Sri Lanka.
The Buddha Blue was described by the report's authors as, "repeated grooves, as if ground out of the material, rather than polished facets on the top. The back of the stone looks like a regular cabochon." After conducting significant research, two other sapphires cut in a similar manner were found: one was set in a gold ring (circa 14th or 15th century AD) and another was a loose blue sapphire from a 13th century excavation site in Sri Lanka.
The Star of India
Weight: 563.35 carats
Origin: Believed to have been discovered in Sri Lanka more than 300 years ago
Current location: American Museum of Natural History (New York City)
Once known as the world's largest gem-quality blue star sapphire (until, of course, it was dethroned in 2015 by the 1404.49-carat Star of Adams), the Star of India was acquired by J. P. Morgan through mineralogist George Kunz for an exhibit at the Paris Exposition of 1900. After the event, the greyish-blue sapphire was donated by Morgan to the American Museum of Natural History along with the rest of the impressive gemstone collection.
In 1964, three thieves orchestrated a robbery and stole many important stones from the museum, including the 563.35-carat sapphire. One of the culprits eventually told the police where to find the stones and most were recovered in a bus locker in Miami (the Star of India among them).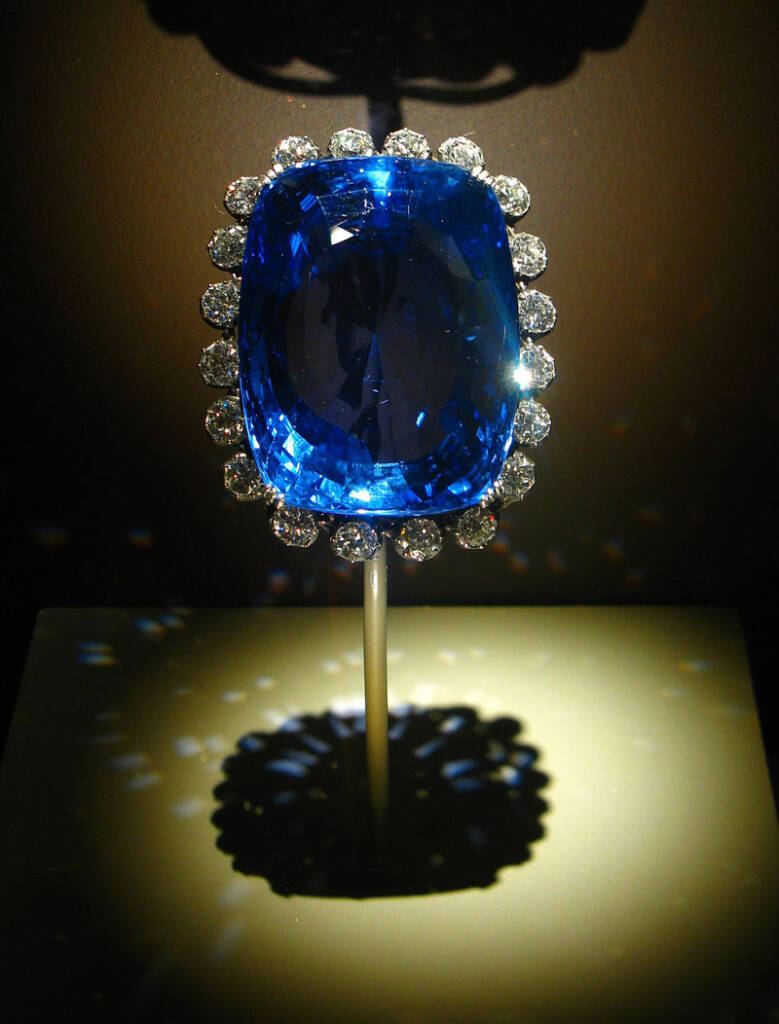 Currently, the Star of India is on display in the new Allison and Roberto Mignone Hall of Gems and Minerals, located at the American Museum of Natural History.
The Logan Sapphire
Weight: 423 carats
Origin: Sri Lanka
Current location: Smithsonian National Museum of Natural History (Washington, D.C.)
Roughly the size of an egg, the 423-carat Logan Sapphire is the world's largest faceted blue. The Smithsonian received the gem in December 1960 as a gift from Rebecca Pollard Guggenheim, who had received the sapphire as a Christmas/anniversary gift in late 1952 or early 1953 from her then-husband, Colonel M. Robert Guggenheim. She retained possession of the piece until April 1971; by then, she had married to John A. Logan (hence, the sapphire's 'Logan' name).
Before the colonel purchased the gem, it had reportedly belonged to the wealthy Sassoon family, who had acquired it from a maharajah in India.
Royal blues
The current Imperial State Crown (1937) has two famous sapphires: the St Edward's Sapphire and the Stuart Sapphire.
St Edward's Sapphire
Weight: Unknown; Octagonal rose cut
Origin: 11th century; believed to be sourced from Asia
Current location: Set on the Imperial State Crown (Tower of London)
St Edward's Sapphire is among the oldest sapphires of the British Crown Jewels and is believed to have be set in the coronation ring of Edward the Confessor (1042-1066). It was added to the Imperial State Crown in 1937 for the coronation of King George VI (modelled after a design made for Queen Victoria in 1838), a piece which includes many historic stones of the Crown Jewels.
The Stuart Sapphire
Weight: Approximately 104 carats; partially drilled cabochon
Origin: Among the jewels James VII and II (1685-1688) took with him when he fled to France after the revolution
Current location: Set on the Imperial State Crown (Tower of London)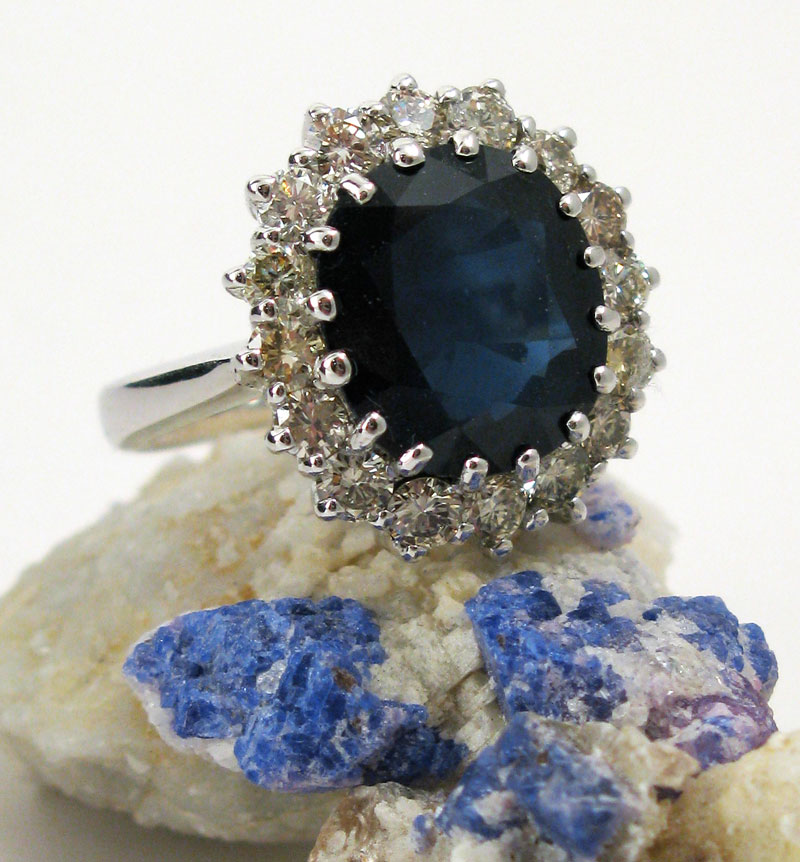 The Stuart Sapphire is an oval shaped cabochon, drilled on one end (likely for it to be worn as a pendant). After James II of England, the gem was passed down for two generations until the death of Henry Benedict Stuart in 1807, the last of his line. Stuart entrusted a nobleman named Monsignor Angelo Cesarini to care for his collection of gems. Cesarini apparently sent a few items to the Prince of Wales, but the Stuart sapphire is believed to have been bought by a dealer who had been sent to Italy specifically to buy pieces from the Stuart collection.
Princess Diana's sapphire engagement ring
Weight: Approximately 12 carats
Origin: Stock piece at House of Garrard, purchased in the 1980s
Current location: Engagement ring of Kate Middleton, the Duchess of Cambridge
This show-stopping sapphire might not be the oldest or the largest affiliated with the British royalty, but much ink has been spilled about this gemstone in the years since it graced the hand of Diana, Princess of Wales.
This gem was initially dubbed the 'Commoner Sapphire' by the press, as Lady Di opted for a stock piece instead of having a custom ring crafted for her engagement to Prince Charles.
Indeed, for presumably the first time, anyone with money had the opportunity to purchase the exact same ring sported by a princess. The ring itself was initially heavily criticized, but, thanks to Diana's impeccable modern sense of style, it soon became to most popular engagement ring setting for decades to come.
When Diana tragically died in 1997, Princes William and Harry were allowed to pick two keepsakes from their mother's collection. William chose a Cartier gold watch, while his younger brother selected Di's engagement ring. When William became engaged to Kate Middleton, the brothers switched items, with both stating they felt the ring belonged on Kate's finger. It was also a way for William to have his mother present at his wedding.
A case of the blues
Steeped in history and legend, sapphires have proved their longevity and desirability time and time again. Indeed, these storied precious gems continue to dazzle in unique and striking pieces, adored by royals and 'commoners' alike!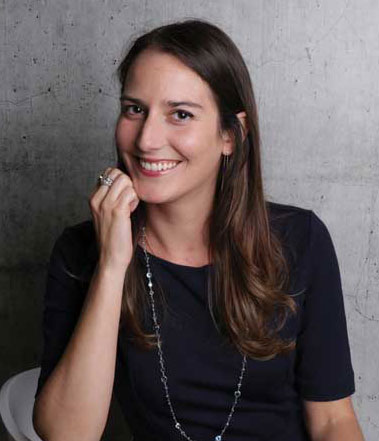 Bénédicte Lavoie, FGA, is co-owner and vice-president of Pierres de Charme and specializes in fine coloured gemstones. She joined the family business after completing a bachelor's degree in business and human resources (HR) management and was awarded the internationally recognized title of Fellow of the Gemological Association of Great Britain (FGA–Merit). Based in Montréal, Pierres de Charme supplies fine gemstones to jewellers, goldsmiths, and award-winning artists across Canada and the United States. Lavoie can be reached via email at info@pdcgems.com.