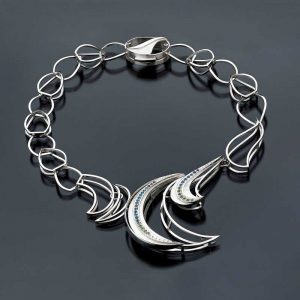 Quintal, who won first place in the emerging jewellery artist category, says her one-of-a-kind 'l'Oiseau de la Nuit' was inspired by tropical birds. The piece is also representative of a sunset, reflected in its name, which translates as 'Bird of the Night.'
"I represented the lightness and imposing character of tropical birds with large feather-like shapes made with square silver wire, and
I also added a textured silver sheet to represent the birds' texture," she explains. "On that same sheet, I pavé-set blue sapphire, blue topaz, and peridot to recreate the colours of the sky when the sun is setting."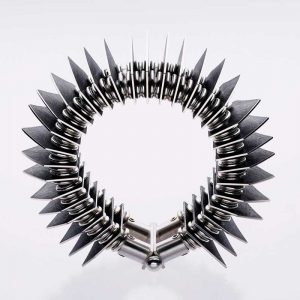 A graduate of l'École de Joaillerie de Montréal, Quintal says the necklace is one of three pieces of jewellery she made as her final project. While artistry is important, creating wearable jewellery is also critical, she says.
"I always picture a woman's body, whether it is her neck, fingers, ears, or even wrist," she explains. "When creating a piece of jewellery,
I want it to be comfortable, so I always keep that in mind when I am thinking of new ideas and concepts."
Quintal says design competitions, such as the Saul Bell Awards, can significantly help young artists gain exposure within the industry and among consumers.
"Participating in some craft fairs and exhibiting jewellery in some galleries requires peer recognition, one thing that winning the Saul Bell Design Awards competition gives me," she says. "The award ceremony was also a great place to meet fantastic people from the industry. I will surely participate in other competitions like this one in the future."
Frunze says she is thrilled to be sharing the award spotlight with her husband and business manager, Steve Lynch.
"Wearing an artist's hat and a jewellery maker's hat is already a significant challenge, but to undertake the operation of a business would be a serious distraction from my work," she says. "Steve confronts the formidable task of translating my artistic voice into today's technologically driven sales and marketing. He also plays a very important role in many of my design choices, to the extent that I really consider my winning a Saul Bell Design Award as a partnership."