By Carly Midgley
How can a business subvert expectations without sacrificing tradition or a hard-won reputation? This is a difficult question and a common one, particularly in the history-rich jewellery industry. It's also one Jonathan Klippenstein-Epp, co-owner of Winnipeg's Independent Jewellers (IJL), is eager to meet head-on.
Now run by Klippenstein-Epp and his brother, Jeremy Epp, IJL was founded by the men's grandfather, John H. Epp, in 1937. In 2017 and 2018, the pair oversaw the construction of a brand-new building with a bigger sales floor and boutiques for brands such as Rolex, IWC Schaffhausen, Omega, and TAG Heuer—all situated on the same piece of land where the business began. During this process, IJL also underwent a rebrand featuring a new logo and new corporate colours.
"We wanted to create a brand that is new, but also ties in with the legacy that's still Independent Jewellers," Klippenstein-Epp explains.
This legacy plays a crucial role in cementing IJL's well-established place in the Winnipeg community. Although an update was necessary to resolve concerns with shop space, parking, and display configuration, Klippenstein-Epp says preserving the trustworthy foundation laid by his grandfather was essential to maximizing customer loyalty. Indeed, the store's longtime slogan was, "A tradition of trust since 1937." (The slogan was updated to "IJL since 1937" as part of the rebrand.)
"People trust us, and I think to make big purchases like the stuff we're selling, you have to trust whoever you're buying it from," Klippenstein-Epp says. "People come to us because they know we've been around for more than eight decades, we're decent people to deal with, and we'll treat them fairly. I think that's all part of the legacy my grandfather started and Jeremy and I are trying to continue."
Of course, one could still argue a legacy that strong would remain intact even in a new location—and many customers have, Klippenstein-Epp says. However, he adds, this spot offers plenty of advantages in its own right, such as a central location and the fact the family owns the building and land.
"Business is good here," he points out. "We're selling record numbers of everything now. Why would we go when people are coming to us?"
A diamond in the rough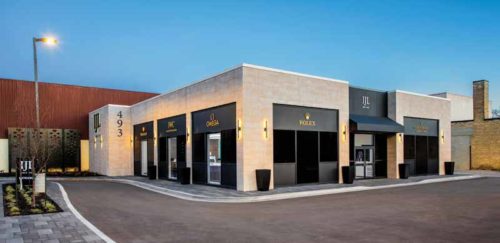 IJL's ability to continually draw customers is no small feat. The store stands somewhat at odds with the surrounding neighbourhood, which suffers from a poor reputation and some undesirable buildings despite slow-but-steady improvements.
"The area is not a place where you'd expect to find a high-end luxury jewellery store," says Klippenstein-Epp. "The new building is definitely what I'd call a diamond in the rough."
Indeed, the store's new design draws inspiration from upscale retail locations across the world, helping it stand out from its environment. Everything from the layout and colour scheme to the lighting is intended to communicate class, elegance, and a sense of luxury.
"Everybody here says walking into our business is like walking into a store in New York or Miami. One of the biggest factors is probably the lighting—I've never seen lighting like this in a jewellery store," Klippenstein-Epp says. "You can take out an engagement ring and literally walk anywhere in the store and it just explodes with light."
The lights also contribute to the store's image in a different way. All are energy-efficient light-emitting diode (LED) fixtures that turn off when no one is in the store. This is one of many features that helped IJL adhere to Manitoba's Power Smart program, minimizing energy use and maximizing environmental responsibility.