Shaking the foundations: Independent Jewellers' quest to build on its legacy
August 12, 2019
By Carly Midgley
How can a business subvert expectations without sacrificing tradition or a hard-won reputation? This is a difficult question and a common one, particularly in the history-rich jewellery industry. It's also one Jonathan Klippenstein-Epp, co-owner of Winnipeg's Independent Jewellers (IJL), is eager to meet head-on.
Now run by Klippenstein-Epp and his brother, Jeremy Epp, IJL was founded by the men's grandfather, John H. Epp, in 1937. In 2017 and 2018, the pair oversaw the construction of a brand-new building with a bigger sales floor and boutiques for brands such as Rolex, IWC Schaffhausen, Omega, and TAG Heuer—all situated on the same piece of land where the business began. During this process, IJL also underwent a rebrand featuring a new logo and new corporate colours.
"We wanted to create a brand that is new, but also ties in with the legacy that's still Independent Jewellers," Klippenstein-Epp explains.
This legacy plays a crucial role in cementing IJL's well-established place in the Winnipeg community. Although an update was necessary to resolve concerns with shop space, parking, and display configuration, Klippenstein-Epp says preserving the trustworthy foundation laid by his grandfather was essential to maximizing customer loyalty. Indeed, the store's longtime slogan was, "A tradition of trust since 1937." (The slogan was updated to "IJL since 1937" as part of the rebrand.)
"People trust us, and I think to make big purchases like the stuff we're selling, you have to trust whoever you're buying it from," Klippenstein-Epp says. "People come to us because they know we've been around for more than eight decades, we're decent people to deal with, and we'll treat them fairly. I think that's all part of the legacy my grandfather started and Jeremy and I are trying to continue."
Of course, one could still argue a legacy that strong would remain intact even in a new location—and many customers have, Klippenstein-Epp says. However, he adds, this spot offers plenty of advantages in its own right, such as a central location and the fact the family owns the building and land.
"Business is good here," he points out. "We're selling record numbers of everything now. Why would we go when people are coming to us?"
A diamond in the rough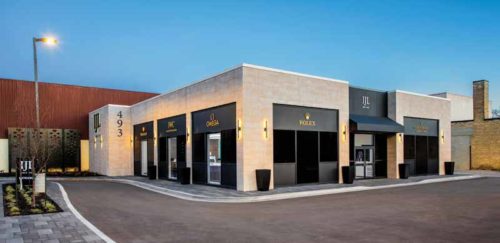 IJL's ability to continually draw customers is no small feat. The store stands somewhat at odds with the surrounding neighbourhood, which suffers from a poor reputation and some undesirable buildings despite slow-but-steady improvements.
"The area is not a place where you'd expect to find a high-end luxury jewellery store," says Klippenstein-Epp. "The new building is definitely what I'd call a diamond in the rough."
Indeed, the store's new design draws inspiration from upscale retail locations across the world, helping it stand out from its environment. Everything from the layout and colour scheme to the lighting is intended to communicate class, elegance, and a sense of luxury.
"Everybody here says walking into our business is like walking into a store in New York or Miami. One of the biggest factors is probably the lighting—I've never seen lighting like this in a jewellery store," Klippenstein-Epp says. "You can take out an engagement ring and literally walk anywhere in the store and it just explodes with light."
The lights also contribute to the store's image in a different way. All are energy-efficient light-emitting diode (LED) fixtures that turn off when no one is in the store. This is one of many features that helped IJL adhere to Manitoba's Power Smart program, minimizing energy use and maximizing environmental responsibility.
Tying it all together
The 'new look' extends beyond the store's physical location to include its branding and overall concept, with the renovation project serving as a springboard for the IJL team to re-envision the business's image. It partnered with a marketing company to develop a fresh, elegant, and modern brand identity inspired by, yet distinct from those of the 'big names' it sells.
The team is also working to spread the improvements to the province and neighbourhood it has called home for so long. IJL committed to be a home build sponsor for the international nonprofit, Habitat for Humanity, in 2019, helping provide affordable housing to low-income families. The goal is not to distance the business from the neighbourhood, but to help raise its profile and improve conditions for everyone, explains Klippenstein-Epp.
"We've committed $100,000 or more next year to build a home that just happens to be in our neighbourhood," he says. "That's one way we're trying to improve our area: by simply rebuilding it one house at a time."
Klippenstein-Epp and his team hope this hands-on approach will not only revitalize their surroundings, but also inspire a greater sense of pride in what Winnipeg residents can do.
"I find a lot of Winnipeggers are quite harsh on their own city and I think we should be a lot more proud of it," he says.
Building a future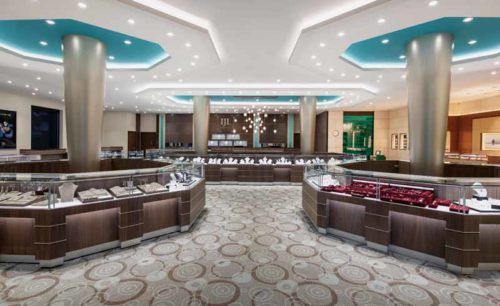 The reinvention is already off to a good start, with the new image and features drawing both positive customer feedback and increased sales.
"We are setting new records when it comes to sales, which is definitely a positive," says Klippenstein-Epp. "It's nice to see people are not only noticing us, but also coming through our door."
However, he is also well aware the work isn't over yet. The IJL team is keeping a constant eye on the future, seeking feedback and trends that will help the business stay ahead of the curve as the market changes. In part, this means continuing to stock high-profile, fashion-forward brands. It also means looking to the 'front lines' for advice.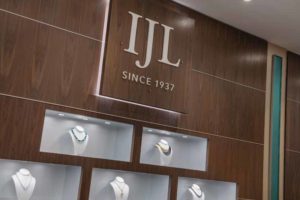 "We very much keep our staff involved with buying decisions. We constantly ask them what brands we should look for or try to get," Klippenstein-Epp explains. "I think having them involved will definitely help us keep up with changes in the long term."
At the heart of all these transformations is that ever-pervasive emphasis on trust. Klippenstein-Epp is keen to build a brand image that makes it clear IJL is still the well-known, respected name it has always been, with the same trusted team and the same reliable service underlying the modern look.
"We are still Independent Jewellers. We've just become an Independent Jewellers that speaks more to luxury," he says. "Personally, I think we have one of the nicest jewellery stores in the Prairies. It's a big step up from where we were before."
Endnotes:
[Image]: https://www.jewellerybusiness.com/wp-content/uploads/2019/08/opener2.jpg
[Image]: https://www.jewellerybusiness.com/wp-content/uploads/2019/08/IJL-Exterior-Full.jpg
[Image]: https://www.jewellerybusiness.com/wp-content/uploads/2019/08/Rolex-Full-Shop.jpg
[Image]: https://www.jewellerybusiness.com/wp-content/uploads/2019/08/IJL-Full-Store.jpg
[Image]: https://www.jewellerybusiness.com/wp-content/uploads/2019/08/IJL-Wall-Display.jpg
Source URL: https://www.jewellerybusiness.com/features/shaking-the-foundations-independent-jewellers-quest-to-build-on-its-legacy/
---