From the boudoir to the aisle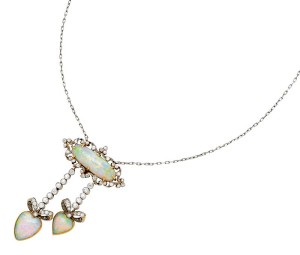 With their slightly different lengths, negligee-style pendants are designed to hang elegantly and the attractively balanced pieces are usually spaced equidistant to bring attention to the cleavage area. It's used very effectively in a necklace format highlighting the oft-admired clavicle region of the bodice. Predominantly, they're set with diamonds, but also with an occasional pearl accent for a distinctive 'toi-et-moi' effect. One delightful Belle Époque example is a rare pendant necklace designed by Tiffany & Co., set with oval and romantic heart-shape crystal opals. The gems exhibit a strong play of colour in a full spectral range and even distribution. The motif has been popular in all its incarnations, flowing across various jewellery periods. A modern refinement of the look comes from Van Cleef & Arpels' 'Magic Alhambra' collection decorated with pavé-set diamond quatrefoils, while Tiffany & Co., has created a simpler lariat rope form. Dangly earrings dripping with multiple-drop girandole or chandelier plaques, and pendeloque styles with their elongated pear-shape stones would be shown to best advantage if the bride's hair was set in an up-do.
Strands of icy delights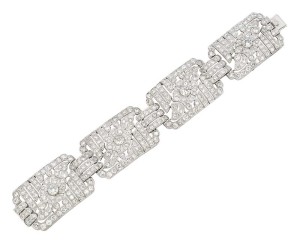 The classic rivière necklace of slightly tapering diamonds leaves a lasting impression. For a little more drama, there are fringe-type and choker necklaces to accent the collarbone. Wide strap bracelets made of platinum are often composed of multiple pierced plaques. Typically, odeonesque arch motifs indicate retro origins, the French houses of Mauboussin and Cartier notable for their particularly fine examples. Broad, articulated bands from the art deco period often depict floral and foliate panels between bar connectors.
Culture, budget, taste, and sometimes chronological age all contribute to the harmony of the main event. No two weddings are alike. Whether the theme is sweet or bold, relaxed and casual, or has the most haute esthetic, gems for the bride are just as infinite in variety as the women wearing them, to paraphrase Mr. Shakespeare.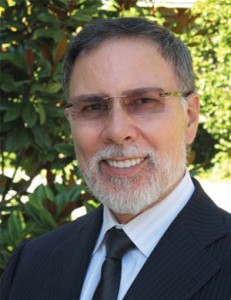 Ron Dupuis is a gemmologist and graduate jeweller with 34 years' experience in the international auction market. He is president and CEO of Toronto-based Dupuis Fine Jewellery Auctioneers and can be reached at ron@dupuis.ca.