Not-so-standard usage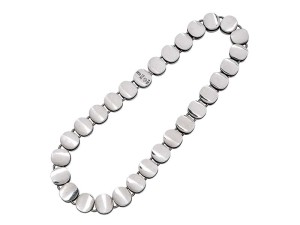 Some of the most significant Roman pieces of silver were unearthed from a farmer's field in England in the 1940s. These magnificent plates, spoons, and trays, known as the Mildenhall Hoard or Treasure, date mostly to 4 AD and the deep and intricate chasing shows the artistry and craftsmanship of master silversmiths. Decorated with leaf and animal motifs; the pleasure-loving gods, Pan and Bacchus; or Greek and Roman lettering, all were suitable for a princely get-together of food and merriment.
Silver is a versatile metal with endless uses, such as edible decorations for cakes and cupcakes, hammered into thin sheets as in silver leaf, ceremonial sword hilts, for medical and dental purposes, in photography prior to the digital age, and for the backings of antique mirrors. There's a theory that in the earliest days of the movies, silver coatings were used on projection screens to improve their light-reflective qualities, hence the phrase 'silver screen.' Many types of electronics, such as computer keyboards and hearing aids contain silver and it's in your LED TV, too. That quartz watch you're wearing may even contain a battery coated with silver. Before the invention of antibiotics, ancient wisdom has it that silver concoctions were used to treat bacterial infections.
In all sorts of competitions, silver has historically represented a second-place finish in medal rankings, behind gold and ahead of bronze. However, amongst prominent jewellery designers, silver is more than just an 'also-ran.' It often holds top spot in popular use with renown jewellers like Tiffany & Co's. broad list of designers, including Elsa Peretti, Paloma Picasso, and Frank Gehry. Not a shabby group at all. And we mustn't forget Scandinavia's Georg Jensen and one of our own, Bill Reid, the late West Coast metal artist. Novice designers at the local community college often get their start using silver, since it's an economical entry point for learning to use fine metals.