By Carly Midgley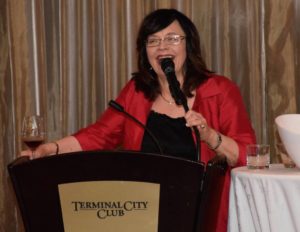 Given the breakneck pace at which the modern jewellery industry moves, trends and target markets are constantly changing, and longevity is something to celebrate. Founded in 1958 by gemmologist Dean S.M. Field, the Canadian Gemmological Association (CGA) has been a mainstay of the nation's gem sector since it branched off from the Gemmological Association of Great Britain (Gem-A) 60 years ago, offering a plethora of educational opportunities and chances to connect.
This year marks the association's 60th anniversary, and CGA has plenty of plans in the works to acknowledge the milestone. Up next is its anniversary conference, bound for the Terminal City Club in Vancouver, B.C., from October 19 to 21.
With the big event upon us, we sat down with CGA president Donna Hawrelko to get an inside look at the group's history, present, and future plans.
JB: How long have you been with CGA? How has the organization changed since you joined it?
DH: I've been with CGA since 1992, and I think we've expanded and become a lot more interactive electronically, with a new website as well as profiles on Facebook, LinkedIn, and other social media platforms. We've also established awards—when I first joined CGA, there were just two awards for students, but now there are several. Also, for our 60th anniversary, we created a Diamond Award to be given to a member of our association or of our educational partner, Gem-A, for outstanding contributions to gemmology. The Diamond Award will be awarded annually from here on in. We also started the Emerging Artist Jewellery Design Competition this year, recognizing up-and-coming jewellery designers or students enrolled in jewellery design programs in Canada.
JB: What's stayed the same during your time at CGA?
DH: CGA is a not-for-profit educational organization, and we have stayed true to our constitution throughout the years. All of the people who run the association are volunteers, with the exception of our executive administrative assistant, who works in the office, and of course our instructors. So we run on a lot of volunteer work and time.
JB: Are there any recent initiatives you'd like to highlight?
DH: We recently signed a partnership agreement with Gem-A, and we are now collaborating with that group on education. We actually use Gem-A notes—which are spectacular—in our classrooms. Rather than constantly redoing and updating our notes, we have partnered in with Gem-A to give our students a great opportunity to gain accreditation through that organization as well after they have completed our program. It's a wonderful, wonderful opportunity for our students to go on and further their education.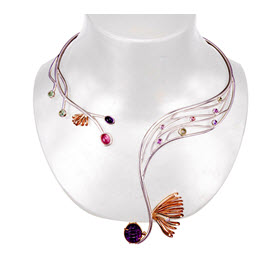 JB: Do you have a favourite fact or anecdote from the association's history and/or your time there?
DH: I think my most prized moment happened when I was a student and I had first graduated. I was actually lucky enough to meet the founder of CGA, Dean Field, and that was certainly an awe-inspiring moment for me as a new gemmologist. He was such a warm, inviting gentleman who seemed genuinely appreciative of young students being interested in gemmology and completing their fellowships. He really warmly welcomed us new students into the organization, and was just a sweet, sweet man.
JB: How do you feel CGA has changed the Canadian gemmological landscape?
DH: I feel we have brought integrity into the foremost part of Canadian gemmology. For example, we've helped rewrite the bylaws the government uses to manage the jewellery industry in Canada. We were part of the team that put together the Canadian Guidelines for Gemstones with respect to the sales and marketing of diamonds, coloured gemstones, and pearls. Certainly, we will continue to do that kind of work; I think it's very important the government turns to us when it looks at those laws. We help compile and set up rules, bylaws, and recommendations about how the jewellery business should be governed in Canada.
JB: How does it feel to have reached the 60-year anniversary of the organization?
DH: We are all so excited! We're just so honoured to actually be here for the 60th anniversary, and of course we're celebrating it. There aren't many organizations around that have lasted that long and have the reputation and credibility our association has. We're particularly proud of the respect we've earned in the world and of the partnerships we've established with not only England, but also Australia and other gemmological associations. It's really just so exciting to be a part of this constantly growing organization.
JB: How is CGA celebrating its 60 years?
DH: We'll certainly be celebrating at our conference! We will be honouring the first recipient of our Diamond Award and the new Emerging Artist Design Award. Besides the two new awards, we've also got a new website that just launched this year. We've also introduced a new corporate logo featuring a diamond, based on the octagon-cut Sirius Star diamond by Mike Botha out of Saskatchewan. So we really are seeing all kinds of new things and new looks, and we're especially excited about launching the new website and all of the things that come with that.
JB: What do you anticipate for the next 60 years?
DH: I hope all of this continues—that we keep setting the standard for gemmological education in Canada and helping establish protocols of integrity for the jewellery and gem trade here. And, of course, I look forward to seeing our students become influential, knowledgeable, and respected once they graduate.
JB: What is one of the best features of CGA, in your opinion?
DH: We're one of the few organizations that have a yearly gemmology conference to educate and update members, as well as delegates that come to the conference, and I think education is vitally important. We always have hands-on workshops, and it really helps the people out there who have nowhere to turn for education to get experience and knowledge from us. I think we are cutting edge on the education front in Canada.
JB: What is your favourite gemstone? Why?
DH: My favourite gemstone is the emerald because of the electrifying green colour, but my favourite Canadian gemstone would have to be our diamonds because of what they have done for Canada and the excitement they have brought and continue to bring!