By Samantha Ashenhurst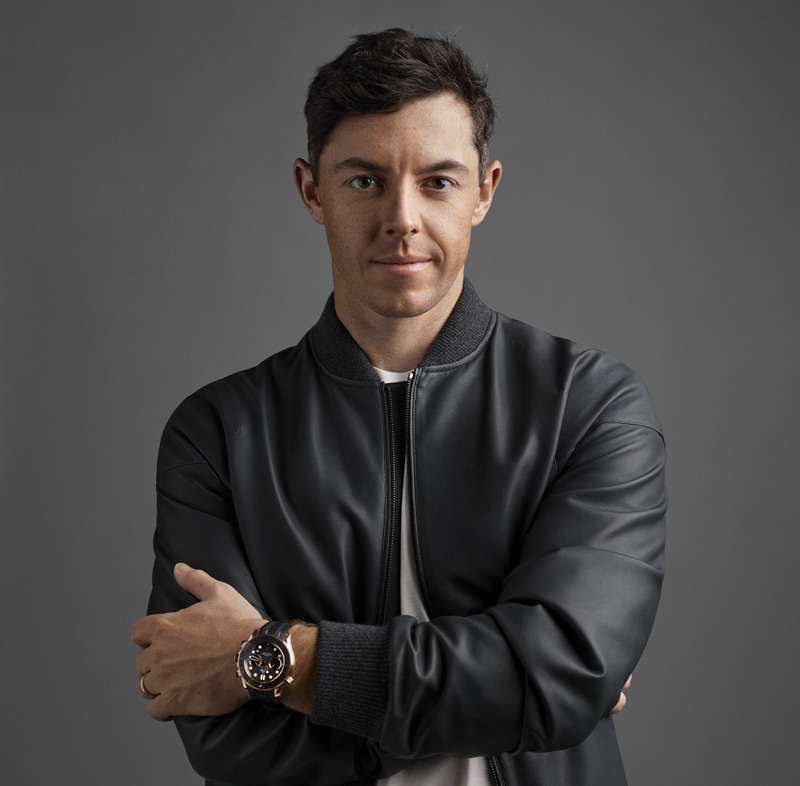 For nearly a decade, professional golfer Rory McIlroy has served as a brand ambassador for Swiss watchmaker Omega. For the linksman, it is a partnership that runs like clockwork on many different levels.
Indeed, while McIlroy's appreciation of timepieces may be obvious—it's nearly impossible to spot him on the green without sporting one of Omega's signature pieces—his involvement with the brand largely hinges on his being part of a forward-thinking company, comprised of like-minded people with a shared passion for esthetics, precision, and timing.
What's more, McIlroy—who, earlier this year, won the Wells Fargo Championship—enjoys a hands-on ambassadorship with the brand, further strengthening his connection to the pieces he wears. In 2019, while playing at the Omega-sponsored European Masters in Switzerland, he debuted the Seamaster Aqua Terra 'Ultra Light,' a lightweight time-only watch he designed in collaboration with the brand.
The release is just one of the many hallmarked moments the golfer has enjoyed throughout his rich partnership with the watchmaker. Jewellery Business recently caught up with McIlroy to learn more about his history with the company and discover why his relationship with the brand is—for lack of a better term—a 'hole in one.'
Jewellery Business (JB): You've worked with Omega since 2013. What does it mean to be a brand ambassador for a company with such a storied legacy and why did the partnership feel like a good fit?
Rory McIlroy (RM): I am very proud of my role as an Omega ambassador. This relationship, now in its ninth year, is one that works for me on many levels. My appreciation of quality timepieces is an obvious passion I share with the brand, but I like to feel I have a deeper involvement with Omega.
While I really enjoy the brand's history, especially the remarkable story of the evolution of the Speedmaster Moonwatch, I also feel part of a progressive company—a group of like-minded people, sharing an obsession with esthetics, precision, and timing. I also get excited by new watchmaking developments and innovation and always welcome a visit to Omega's state-of-the-art facility, located in Bienne, Switzerland.
JB: What appeals to you in a watch? Is it about the technology or the look?
RM: I would definitely say both the look of a watch and its technology (or movement) are of equal importance to me. As watches and watchmaking increasingly become more and more of a passion of mine, I feel a great-looking timepiece is only complete when the watch's internal technology is of the highest standard.
After my FedEx Cup win in 2019, I treated myself to an Omega Tourbillon. This is truly a beautiful and rare piece, but the real meaning to me is in the watch's detail, craftsmanship, and all that is going on in the inside. My appreciation of the Tourbillon is about the hands-on traditional craft of watchmaking—the years of knowledge and exhaustive attention to detail that goes into such a unique timepiece.
JB: You were instrumental in the design of Omega's Seamaster Aqua Terra 'Ultra Light.' What are some of your favourite features of this piece?
RM: Getting involved in the evolution of the 'Ultra Light' was really enjoyable and informative process. The team at Omega reached out with the idea of creating the piece and I was delighted, especially as an ambassador from a sporting background, to offer input and ideas about the look, feel, and performance of the watch.
There were really obvious factors to consider in the watch's design, too. It was an important the piece was light, slim, and anti-reflective, but it also had to have a sporty appearance. The clever use of modern materials and technology, together with a durable fabric strap, give the watch a great feel—and it weighs in at only 5.5 grams! For me, though, the true standout feature of such a lightweight watch is its ability to absorb shock. An all-new titanium case and movement give it an incredible strength, allowing me to drive golf balls at the range all day without having to worry about damage to my watch.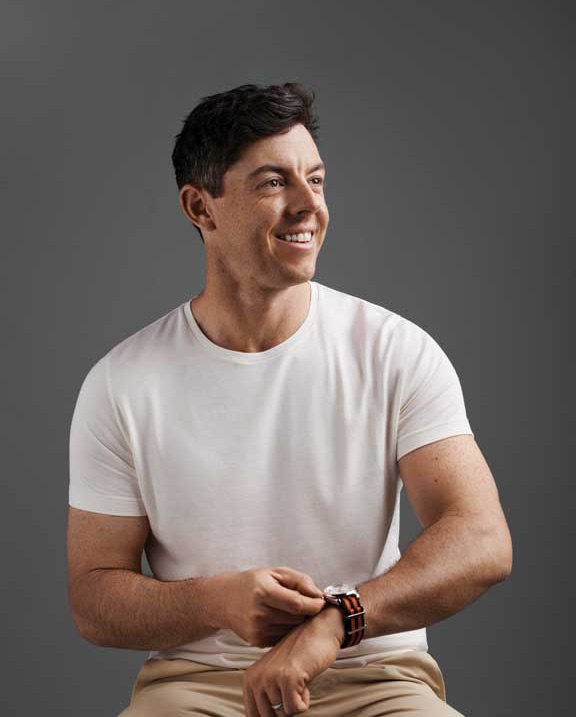 JB: Tell me a bit about the special edition Speedmaster '57. What are some of the design elements of this piece that are significant to you?
RM: The special edition Speedmaster '57 is the watch I wear most often these days. I can't seem to take it off my wrist! It's special to me for a number of reasons—not least because Omega very kindly gave me one as a 30th birthday present. I even went as far as having a new wedding ring made to include gold to complement my watch.
On a serious note, though, the Speedmaster '57 is a modern take on perhaps the world's most iconic chronograph. For the real purist, the 50th anniversary Speedmaster '57 comes with subtle internal and external changes but, for me, the dials, the vintage look, and solid feel of the watch appeal to me the most.
JB: How many timepieces do you own and wear?
RM: I must admit, I am very fortunate to have gathered quite a collection of watches—that number at the moment is, conservatively speaking, around 10. But I am proud to say I make the effort to give each of my watches as much time on my wrist as possible. Typically, I would travel to a tournament with perhaps four watches in a travel pouch and rotate them through the week. If I'm attending corporate functions, dinners, or family nights out, I like to mix it up a bit and wear something special. My Tourbillon or Speedmaster '57, for example, are such exceptional pieces, and I really enjoy talking about them and showing them off. Besides my passion for Omega icons, especially the Speedmaster over the years, I have a great fondness for the Omega watches I have won as a result of hard-fought victories on the PGA and European Tours.
JB: What was your first watch? Is there a story behind it? Do you still own it?
RM: My love of Swiss timepieces began long before I became a brand ambassador or had any significant sponsorship deals. My first watch (from another Swiss watchmaker) really meant a lot to me. In my mind, it was a mature and, perhaps, symbolic decision to buy an expensive watch because I felt it was all part of me beginning to make my way in the golfing world. When I first joined the professional ranks in 2007, it was difficult to justify spending money on an expensive watch—I just couldn't tell then what direction my career would take. However, after a few starts and well-placed finishes, I secured my European Tour card and won enough money to treat myself to my first watch of value. I no longer have the watch because I gave it to a friend a number of years ago, but I still have great memories of my first real timepiece, the confidence it gave me, and its part in my early golfing journey.