Creating a signature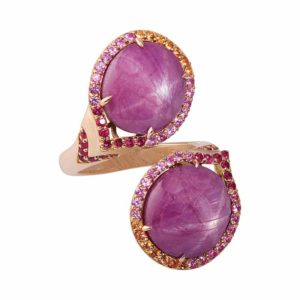 The luxury jewellery designer is an artist who happens to use precious metals and fine gemstones as a medium to expresses a unique perspective. One consideration that distinguishes a luxury designer from a fine jeweller is the ownership of a particular artistic process.
"He or she will spend untold time—years in fact—honing and developing a proprietary technique that becomes their trademark and signature," says Orman. "This research and development (R&D) is a creative and technical exploration, driven by the desire to create something singular with elements that are proper to the specific designer's work."
This proprietary process could be anything from an innovative technique at the bench, the use of a particular cut of gemstone, the creative marrying of materials, the revival and perfection of an ancient process, or simply something no one else is doing.
"This does not happen overnight; it takes years of research and discipline," adds Orman.
Saint Pierre agrees, adding the industry typically places an expectation of three decades on a designer before it can earn the title of a luxury label.
Time, time, time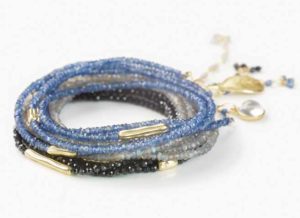 True luxury cannot be mass produced—it has to be made by hand.
"It is layered, created piece by piece," Orman explains.
Indeed, this notion is reinforced by award-winning Parisian ex-pat Laurence Ravon, who is a recipient of the coveted Un des Meilleurs Ouvriers de France. She recently opened her atelier in Montréal after working for more than 25 years hand-finishing couture pieces for Dior, Van Cleef & Arpels, and Cartier—including the celebrated Cartier Panthère.
"The work must be meticulously executed at every stage of the process," she says. "Before assembly can begin, every last surface and crevice of each component of a piece of luxury jewellery is hand-finished and polished to perfection, with thrumbing an integral part of the process—even where we think no one will see."
Of course, as we all know, the true jewellery aficionado will examine and loupe a piece, and, if we want our jewellery to be considered luxury, we have to stand behind it (and be prepared to defend it).
The dedication to creating a luxury product is exemplified in Alexandre Beauregard's Dahlia watches, as each component of these pieces, including the hand-cut petals, is a work of art unto itself. A relative newcomer to the watch world, Beauregard dedicated years to thinking out and engineering every detail, both esthetically and mechanically, and defines this pursuit as the luxury to create and reinvest in your vision. It is neither a passion nor obsession, but rather the foundation of his creative process.
Often imitated, never duplicated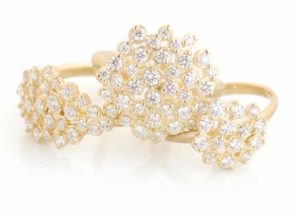 Once a luxury piece is widely admired or popularized, less-prestigious manufacturers will inevitably attempt to duplicate the article—but, in most cases, the lack of craftsmanship is apparent.
"You know when you are holding an authentic piece of luxury jewellery in your hands," says Ravon. "You can see it, feel it."
"There is an expertise and savoir-faire involved in creating luxury jewellery," she adds. "I cannot tell you how many fake 'Panthères' I have seen. Although the Cartier prototypes for the latest incarnations of this series were created in computer-aided design (CAD), they are constructed architecturally. That level of artistry is not easily duplicated."
Indeed, this inimitable skill is perhaps the modern definition exclusivity.
A life-long experience
Similar to Beauregard, Gigi Ferranti, an award-winning designer based in New York City, is clear on her vision of building a luxury brand—and she is unwavering on her principles of noble materials, fine gemstones, and superior craftsmanship. Ferranti, however, adds yet another dimension to the notion of luxury: longevity, and the act of purposely designing jewellery with lasting esthetic appeal. Her one-of-a kind rings and, more specifically, her lockets are a testament to this desire for timelessness.
"When I design, I always think about how the piece can be handed down through the generations," Ferranti says.
Awarded for her excellence in craftsmanship and contemporary design, Anne Sportun, whose fine jewellery brand is among the most iconic collections in Canada, insists on using high-karat gold, fine gemstones, and nothing less than VS G-colour diamonds. Beyond the quality of materials, however, her work is known for what she describes as the 'intangible'—immersive, experiential, and sensorial.
Anne Sportun's signature statement ("Precious. Everyday.") alludes to luxury, and serves as a core philosophy imbued in every experience the consumer has with the brand. The notion is reflected in the styling of her photos, her tone and manner, her product's packaging, and in her overall attention to detail. Indeed, the signature is reflective of the way her brand 'lives' in the world.