Semantics matter

Whether you label it estate or vintage, choosing a term that fits your current clientele and hoped-for newbies gives you an advantageous head start. Word choice aside, the layman's connotation of estate is usually a pretty positive one, and the old stigma attached to 'used' goods is no longer a barrier to sales. The car industry prefers euphemisms like 'executive-driven' and 'pre-owned,' while television programmers entice viewers with 'encore performance' instead of re-run.
In North America alone, there's a multi-billion dollar industry for second-hand jewellery and not just via the traditional methods of buying at auction or thru online operations like eBay, kijjiji, and Craigslist. With the price of gold up 400 per cent in the last 10 years and record highs in 2011 of more than $1900 US per ounce, it's time to get with the program and give the resale idea some thought, time, and money. Tag team your effort to whatever's happening in TV, movies, glamour and fashion magazines, etc., to take advantage of any free publicity on the subject.
A haven for a maven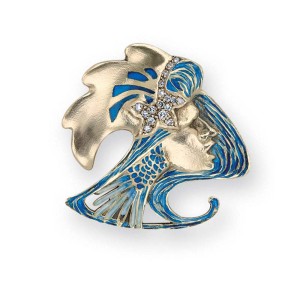 There's a popular theory it takes 10,000 hours of practice or the equivalent of 10 years' experience to become an expert in any specialty. Realistically, you're probably not going to have that sort of time or energy. Yet, it's still possible to do a reasonably good job getting information across to your clients (and educating yourself, too) by relying on establishing trustworthy relationships with various antique jewellery dealers. Beware, though— pricing can be daunting, especially for an item that might be a one-of-a-kind piece.
Markups will be whatever your market bears. Auction house websites are a good resource for values, as they usually maintain archives of recent sale results. Take advantage of this wealth of research material available online, while offline, there are pretty pictures in lushly illustrated full-colour books covering the history of jewellery periods. Bookmark a few reputable compatible sites on your iPad. Don't forget to put trade magazines and periodicals at the top of that list.
Create and curate
A chaotic hodge-podge of various periods could be less effective than having no estate items at all, so maybe concentrate on one era at a time. Base the collection on your particular demographic, location, and market. Pick your top few choices and concentrate your efforts, time, and money.
Rather than a larger all-encompassing history through the periods of jewellery, starting with a small, select grouping might be better perceived and received by customers, and there's always room for expansion.